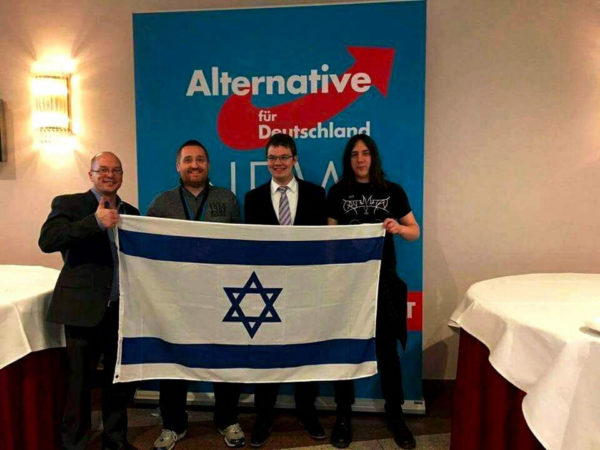 PJ Media reports that the new generation of European Nationalists are proud supporters of Israel:
The resurgent nationalists who made the Alternative fuer Deutschland into Germany's third-largest party and the Austrian Freedom Party into that country's second-largest (and a likely member of a new governing coalition) have an extreme-right reputation, but they are now the most pro-Israel parties in Europe.

…There are European nationalists who support Israel out of conviction rather than expediency. They admire the accomplishments of the Jewish State, moral as well as military or commercial. They observe that Israeli women bear on average 3 children compared to just 1.3 in Germany. They wish that Europeans could show the same love of country and culture that the Jews evince in Israel, and the same willingness to defend themselves.
Nationalists have realized that Zionism is a form of nationalism, and that all nationalists share a quest, which is to beat back Leftism and establish traditional societies. We may not be the same group, but we are fighting for the same thing.
As written about in the past here, Israel has been in the news demonstrating the necessity of nationalism, partially vindicating Hitler, showing us how to end diversity, repelling globalism, validating race science, restoring nationalism, innovating tactics for the New Right, and revealing the Leftist intent to use diversity as a weapon.
In addition, it has been pointed out here that internationalism is exterminating world Jewry and that the "Jewish Question" is the wrong question, because Western Civilization has been laid to waste by lower caste revolt, and the cause and solution are therefore both in our hands. If we assign agency for our fate to another group by scapegoating them, we remove from ourselves the ability to change our future, and thus commit suicide; if we admit that no matter what contributing forces may have been, the core and root of our problem was entirely within our society and caused by the revolt of peasants and their mercantile enablers in our Vaisya caste, then we have a chance of fixing it.
Besides, the "JQ" is entirely off-base when it comes to actual causes and solutions, nationalists should stick together, "Jews" is often a proxy for "Leftist Jews" aka regular insane Leftists who are of Jewish origin, a perfect Holocaust™ 2.0 would not solve our problems, the Left hates Jews, Jews have a historical home in Israel, separation benefits both parties, Jews did not create Western Liberalism since it pre-dates Judaism, Jewish Leftists are attempting to exterminate Jews, and that anti-Semitism makes us into monsters and leads us away from our actual objectives toward symbolic ones.
We can say, forthrightly, that no two civilizations can co-exist in the same space, and most Jews will agree with us. When we start looking for an external force to blame for our downfall, we have surrendered agency and ignored the internal factors that caused it, and as a result, we have blinded ourselves to what we need to fix, namely our sudden lack of desire to be virtuous. Anti-Semitism is emotionally satisfying but it misses the point of nationalism which is that each group must go its own way. Yes, we are different groups but joining a hate cult just removes responsibility for results and replaces them with symbolism, namely crushing of the antithesis as a means of removing the Other and fixing all of our problems, which is much vaster than ethnic cruelty and racial scapegoating can provide. Our problems are of our own cause and are our own to solve.
As the world turns away from the Age of Ideology, people are increasingly looking toward organic and naturalistic ways of life such as traditionalism, nationalism, localism, aristocracy and religious customs. Israel is leading the way away from modernity and toward this new future, so are natural allies for the new nationalists in Europe who are doing the same, after we have been told for two centuries that our impulses are wrong and the Leftists know better. It turns out that the Leftists were 100% wrong all along, and so now we are clearing away the dead, cleaning up the mess, and getting ready to restore Western Civilization so we can move on toward a new future.
Tags: anti-semitism, israel, jews, judaism, nationalism, the jewish question