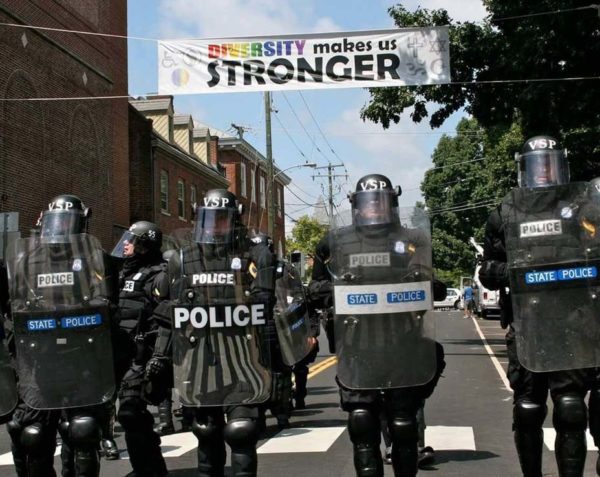 We live in a relative universe where it would not be possible to have good without having bad, and sometimes to see what is good, you have to see who the bad guys are. This is what happened in Charlottesville, and it is why the Alt Right is rising: despite the media chiming in about Nazi flags and "Jews Will Not Replace Us" chants, the world shrugged and thought, "If other ethnic groups can have identity politics, I guess it's only fair that white people do as well."
This flipped the narrative.
Among other things, it rendered the Nazi flags obsolete because now simple statements of European identity are something the media fears more, and so the Hollywood Nazis have lost their power. It introduced many people to the idea of European identity politics which, when presented by well-spoken normal-looking people wearing polo shirts, seems less of a hateful diatribe than another take on a political scene that desperately needs different ideas to escape from its echo-chamber ideological spiral.
Even more, it showed us who the bad guys were. The media, government, police, and big corporations are all on one side, designing a technocratic egalitarian utopia which sounds as boring as Soviet architecture. On the other side were normal people arguing for an organic view of human life which emphasizes positive values, in contrast to the resentment politics of the Left.
It also showed us that our authorities are negligent and seek to instigate violence:
The vast majority of our people enter Lee Park and begin socializing. The shield wall takes up a defensive position at the entrances to Lee Park. This was due to the failure of the police to enforce a neutral barrier. You can also see the shield wall race into the crowd to rescue people who are attacked. #UniteTheRight protesters actually show little interest in engaging with the Antifa.

I've been to dozens of events and have never seen anything resembling the policing on display in the video below. It is incomprehensible. Everywhere else I have been the police established and enforced a neutral barrier. It makes even less sense when you consider the fact that the Department of Homeland Security warned McAuliffe and Charlottesville about the potential for violence.
At every protest where Antifa were unmasked, violence did not occur; at Charlottesville, where the police not only refused to unmask Antifa as required by state law but also pushed the two groups together, violence and chaos resulted. This was their plan: the Leftist mayor wanted to cause violence, then goad the Leftist media into blaming it on the Right, so that Leftist government would act against the Alt Right. This failed because the public did not pick up the media outcry, and Donald Trump made a statement about bad actors "on both sides," implicitly condemning Antifa for their part in instigating the mess.
This negligent policing is going to get these cities sued at some point, but we are lucky they did it. America woke up to a media narrative about Right-wing violence, and saw the opposite, at which point the Left turned on Antifa because politicians like Nancy Pelosi realizes that the Left thrives in the polls, like Angela Merkel, on appearing to be a stable order who is holding back the bad guys who want to take over and wage race war and Holocaust 2.0.
It was the reaction to Charlottesville, rather than the event itself, which fully put the Alt Right on the map: people took the Alt Right seriously and became more vocal in their criticism of the Leftist ideal of multiculturalism, which is to most minds unfair if it allows one group to have an identity and self-advocacy and denies it to another group.
When you get normal-looking people marching on the streets and saying, "If every other group can have identity politics, we want that right, too," then you have a rebellion against the dominant paradigm which is going mainstream; it's not weird guys on meth, living in trailers and dating their sisters, planning for the great race war because they have personally failed at life, as the media narrative repeats to us daily.
Years ago, some rebellious students founded The Hessian Studies Center with two objectives: to parody identity politics, and to encourage the study of heavy metal:
The Hessian Studies Department believes that any truly diverse multicultural population will contain representatives of this world-wide underground culture, with its rich and spanning historical and social contributions.
The Alt Right is similarly part comedy and part serious: we believe that European-descended peoples have the same need for ethnic self-determination as other groups, and by doing this, we turn multiculturalism against itself and reveal it for the parodic idiocy that it is. If we can have black, Asian, Hispanic, LGBT+ studies and other advocacy groups, college majors and politics, why not white versions of the same?
Maybe we can make the casserole our symbol. White people can show up and do typically white things like program computers, have block parties, go to museums, watch nature documentaries and trade stock tips. By adopting the normal white guy attire of polo shirts, slacks and loafers, the white studies team is winning the war of optics.
The point is that either no group gets an identity — this is what assimilationists want, believing that if we unite people with economic and legal systems, they all become good citizens who carry on whatever it is that we're doing — or every group gets its own identity, and there is no way for these groups to exist, but instead they will each live in balkanized "Chinatowns" if not their separate continents.
Americans and Europeans have opened their countries and their wallets and hearts to The Diversity Project only to find their countries broke, themselves marginalized and discriminated against, and their societies converted into alien places that do not resemble any form they recognize from the past. Diversity has failed.
The police at "Unite the Right" were the bad guys, hired by Leftist unions and commanded by a Leftist mayor, and this meant that the Alt Right was the scrappy underdog in an old American trope updated for the present era. The bad guys bet on the wrong trend because they were looking at society as it was during the early Obama years, when praising diversity was a path to government approval and success, and not the later Obama years, when the wreckage of Leftism and diversity left people overworked, feeling persecuted and exhausted.
By the end of Obama term #2, people worldwide had seen quality of life in America collapse alongside American prestige, in the hands of a government which not only refused to recognize the problem, but was doubling down on its ideological agenda. Instead of having fewer racial troubles because it elected a black president, America experienced all of them but worse as a Leftist/minority coalition, emboldened by multicultural propaganda, went on the warpath.
Ironically, this came about because of the rise of neoliberalism, which hybridized socialism and capitalism to make a conservative type of society which was waging war for Leftist ideals:
The book's central indictment is that President Clinton, in submitting his welfare, budget, and tax bills from 1995-1997, "signaled surrender: the Reagan revolution was going to achieve its major goals." The Reagan neoliberal program of small government, tax cuts, deregulation, free trade, and monetarist financial policies was more than just consolidated. In signing the Welfare Reform Bill of 1996 and the subsequent 1997 budget compromise, Clinton broke the back of the New Deal. The government commitment, however modest and poorly implemented, to protect the poor against the worst ravages of the market was thus ended. A central redistributional bargain crumbled as well: the top 20 percent of income earners in the United States would gain after-tax relief, while the bottom 20 percent of Americans would further suffer the marginalization of deepening poverty.
Presidents after Clinton essentially followed his ideal: keep the core of the economy capitalist, then tax the heck out of it and use that to buy the allegiance of a permanent underclass of third world minorities, blue-haired obese feminists, pajama boys and angry single women. This same coalition brought Obama into power and, heavily employed by media and academia, quashed notice of the failure of these policies.
This unstable situation morphed into globalism, or a worldwide extension of both American capitalism and the Leftist ideology, creating misery everywhere as it produced Soviet levels of demands for obedience to dogma while reducing the quality of life for most. Third world nations found themselves lifted up, only to become overpopulated sources of raw labor, and discarded as soon as costs rose; the first world discovered that it was planned to be the host for the world, importing that cheap labor to drive the fires of industry and pay the taxes that bought votes for Leftist leaders.
Globalism brought itself down because of its tendency to homogenize humanity, which put it at odds with the idea of multiculturalism, which is that different cultures would exist. This paradox detonated when it confronted those in minority-majority cities, who realized that the dynamic was not white-versus-black, but many groups, each striving for its own control, laws, leaders, culture and values:
When I recently mentioned, to a friend at the local Pacifica radio station in Houston, the "melting pot" as a concept that had worked well for us throughout most of our history, I was met with utter befuddlement, and the firm rejoinder, "But we should all hold onto our cultures!"
When minorities become the majority, we see that the narrative is not as simple as white oppression of the other, but many others, all struggling against everyone else, because biology, genetics, standards and desires differ. One cannot have multiculturalism and make war against Islam, nor can one be multicultural and deny the right of Germany to be German.
The "diversity is our strength" mantra hit the floor, and the Alt Right has picked up the narrative and re-directed it toward a future where we can escape both multiculturalism and globalism.
Tags: alt-right, assimilation, charlottesville, diversity, hessian studies, multiculturalism, unite the right