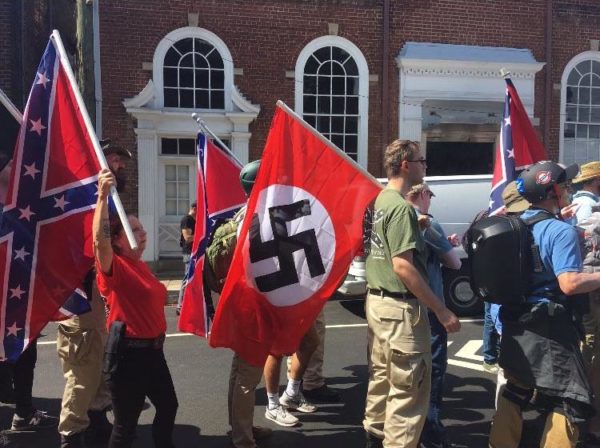 The Unite The Right series of events kicked off in Charlottesville, VA where local authorities — catering to a mixed-race and Leftist population — were agitating to remove monuments to Confederate general Robert E. Lee and other figures from that era. How Americans thought they could create a non-white electorate and have them celebrate white sacrifice is beyond this writer.
According to several media sources, at least one person has died and several others have been injured after a car, surrounded by Leftist protestors beating in its doors and pounding on its windows, accelerated into the vehicle in front of it, sending that car crashing into a herd of Antifa and other Leftist protestors who soon formed an untidy, bloody heap in the gutters.
The lügenpresse was quick to report and distort, claiming a variety of exaggerations as truth:
The city announced earlier this week that the rally must be moved out of Emancipation Park to a larger one, citing safety reasons. The rally and counter-protests wereexpected to draw thousands of people.

Kessler sued, saying the change was a free speech violation. The city said in a statement that it would abide by the judge's decision.

Kessler had led a torch lit procession through the University of Virginia campus on Friday night with burning torches, ending at the statue of Thomas Jefferson.

Almost 200 white nationalists, neo-Confederates, and alt-right activists, were heard chanting 'white lives matter' and 'Jews will not replace us'.
Despite the vast tendency toward cucking in the mainstream Right, the underground Right appears to have attended in unity with Alt Right demonstrators coming from pro-Confederate, National Socialist, Republican, Libertarian, Neoreactionary and other post-egalitarian viewpoints. Flags of different types mingled alongside tshirts, signs and other symbols of opposition to equality, diversity, tolerance and democracy.
They chanted a number of slogans including "You will not replace us," which was distorted by the herd press into "Jews will not replace us," but no reports suggest that the latter was accurate in any way.
Organized by a range of Alt Right and Alt South leaders, the Unite the Right protest was designed to push back against the ongoing destruction of Confederate monuments by anti-Caucasian local forces, almost all of whom have since trashed the historic monuments instead of sending them to museums. In picking Charlottesville, VA, the Alt Right protestors chose a city ill-equipped to manage the events.
Its mayor, Mike Signer, who has been engaging in various manipulations to prevent the protest including denying the venue and declaring the city to be in a state of emergency, eventually got his wish as Antifa counter-protestors initiated violence, causing a spiral that quickly outpaced the abilities of local police.
Armed militia members were in attendance to keep order, and many demonstrators appeared to be armed, keeping the bottle-throwing, bike-lock striking Antifa — a loose coalition of Leftists, heroin addicts, anarchists and communists — at bay. Antifa has traditionally behaved like a criminal gang, funded by Leftist organizations and engaging in violence in exchange for money in an attempt to "de-platform" or censor Right-wing views.
You can view live streams of the event to catch the chaos as it unfolds.
The Alt Right has played this one sensibly by essentially lighting a fuse and walking away. Their presence set off Antifa, who were joined by local SWPLs and SJWs from the University of Virginia, to engage in an orgy of vandalism and destruction, at which point the Alt Right demonstrators mostly withdrew to let Charlottesville reap what it had sewn.
At this time, Alt Right demonstrators plan to return for scheduled events tomorrow, which will further show America and the world exactly how Left-wing protestors behave, and why to reject anything those people stand for. As media converge, this pivotal event could well be the kick-start of Civil War 2.0, which both sides obviously consider to be inevitable.
For many younger members of what is left of Western Civilization, these protests are a chance to be part of something in a world marked steadily by non-events and gradual decline. Like generations before them, they can stand up for what they believe in and alter history, except this time, many of them are pushing it toward health instead of insanity.
Tags: alt-right, antifa, charlottesville, unite the right