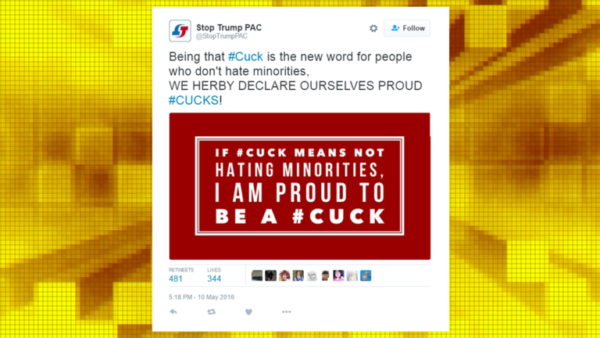 Diversity — the policy of putting different ethnic groups in the same country so that no group can have its own culture compete with the power of ideology and government — is sold to us as a way to protect vulnerable minority groups. In reality, it is a vortex of meaninglessness that will absorb all groups.
Contrary to media image, diversity gives minority groups like African-Americans a choice: be condescend to, or be ignored, but either way, they never get what they want and need, which is rule by themselves, for themselves and control of their future. They will always be a means to an end for the government and its attendant Leftist ideology.
One Leftist African-American Hollywoodite even noticed this:
"If I see another 45-year-old white woman from Williamsburg saying 'black lives matter,' I'm going to punch you in the mouth," the "Saturday Night Live" star said during her recent four-night stint at New York comedy club, Carolines on Broadway. "Stop doing that."

…Currently single, the "Ghostbusters" actress also blames the president on the lack of love in her life.

"I want to be in love," she said. "I want to do that, but it's 2017, and we got a pig in office. The world is about to end."
What we are seeing here is expression of her special interest group: for black people interested in milking the white civilization for more direct benefits and indirect advantages like fame in entertainment, the world is about to end, because a wave of European discontent with diversity and liberal democracy is sweeping through Western culture.
If we think through her statement, she makes a good point, albeit a paradoxical one. Blacks do not want whites commenting on black events, even in support, because they see this as condescension. White people virtue signal using minorities as tools. This is offensively paternalistic.
But on the other hand, for white people to simply mind their own business is also "problematic" because then they ignore black issues. For example, if white hipster women — Jones identifies Gen X from Williamsburg, which are almost certainly aging bloated hipsters — simply ignored black lives matter, that would also be perceived as racist.
We see this kind of damned-if-you-do/damned-if-you-do-not paradox in many places, exploding into hilarity as well-intentioned white suburban nerds screw up Black History Month yet again:
The township schools superintendent apologized to parents for a recent high school lunch menu that served fried chicken to celebrate Black History Month [alongside: corn bread, sweet potato casserole, sauteed spinach, mac & cheese and peach and apple crisps].

…Pomptonian Vice President Cathy Penna said one of their directors worked with an administrator in one of the district's schools on creating a menu event to celebrate Black History Month.

"The suggestion was to do something to celebrate soul food," Penna said in an email. The company tries to offer a diverse menu respecting different cultures, she wrote.
They were trying to respect black culture, you see, but did not realize — being white suburban nerds — that they also tapped into a stereotype. Then again, how could they do anything but use stereotypes, since they are trying to symbolize a race of diverse individuals with a casual token of acknowledgement?
When white people try to help, it ends badly. Then again, if they did nothing for Black History Month, people would call them racist. The only solution that comes to mind is something ludicrous like burgers shaped like Martin Luther King, Jr. This is a common dilemma, damned if you try to be not-racist and damned if you do not vigorously signal anti-racism, even across the pond:
A Cambridge college has been accused of 'cultural misrepresentation' by students after serving 'Jamaican stew' and 'Tunisian rice' on its menus.

Students argued the dishes served at Pembroke College were not authentic to countries they were described to be from.
No one complained about the Greek salad or watery Italian pasta sauce, but a similar cursory treatment — familiar to cafeterias worldwide, apparently — given to minority foods is transformed into something offensive and disturbing. Can the Germans riot for what we have done to beer? Or the English reclaim "Salisbury Steak" from its adulterated modern form, the cheeseburger?
The difference of viewpoint can be explained by a simple fact: majorities do not view themselves as a separate group from the nation, but minorities do. When white people started heading toward minority status, they finally starting "getting" the complaints that minority communities have been issuing for decades.
To be a minority is to never feel at home in a place. You are always of a separate identity than the nation itself, and are either forced to assimilate or to be an outsider, but in neither case do you feel as if you are in the right place. You only feel if you are in the right place if you are in a nation created by people like you, for people like you, ruled by people like you.
African-Americans have never had that. This leads to a condition where they see only two sides, a majority versus united minorities:
"They feel like even if they're illiterate, skin color should give them privilege. Even if they are an illiterate, they feel superior to a black president with a Harvard degree. What interrupted that was a black president and immigrants. Trump plugged in on that. He's talking basically about let's get white males in charge. That was the covert message of this campaign."

Voting for Trump was a way for whites to restore power they felt was usurped by President Obama, Jordan said.
He has discovered why diversity cannot work. Each group has its own self-interest. These conflict when groups are combined under one nation-state roof. As a result, a zero-sum game is created where minority groups feel themselves succeeding only when they are actively beating down, profiting from or displacing the majority.
There is no way out of this crisis, and it is not about who the majority is, so much as the fact that there is a majority and a minority. This explains in part why crises all over the world explode into violence as soon as diversity arises. Where multiple groups coexist, a power struggle is created for whose self-interest will rule the region.
African-Americans are caught in this struggle, which is why they are offended both by white affirmation of Black Lives Matter and white failure to support Black Lives Matter. Either act is a statement of majority power, either by determining what is a valid group to support, or by being self-interested and demonstrating the clash between that and black self-interest.
There is a line of clothing named FUBU which by rumor stands for "For Us, By Us." This is the attitude of nationalists toward the nation. The nation-state, with its magic dirt and proposition nation trimmings, cannot work. Only the homogeneous ethnic state allows people to know that it is created for them, by them, and that they command it for their own self-interest.
FUBU is the only working model for the black community, but as Marcus Garvey noted, this will probably require repatriation to Africa. Without that, blacks will be just another ethnic group vying for power in a group, with each group effectively becoming unstated enemies of all the others, in the usual destruction that diversity visits on us.
Tags: african-americans, black lives matter, fubu, marcus garvey, nationalism, race