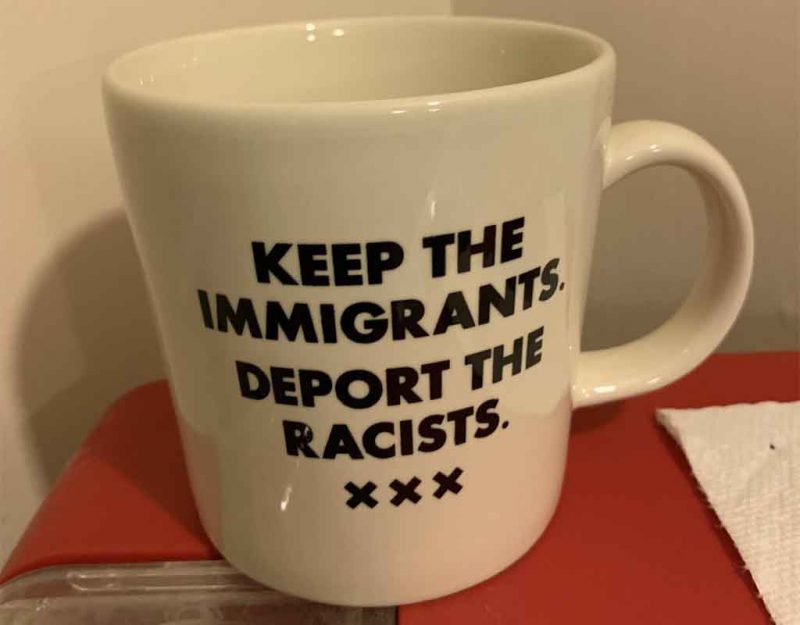 You may be familiar with "woo." In the vernacular, woo means hyperbolic statements taken as fact by groups which they are designed to please based on their viewpoints; for example, Leftists praising the obviously drunk and insane Christine Blasey Ford for her testimony against Brett Kavanaugh.
To the other side, woo seems insane and irritating, but to its target audience, it is comforting. It distills the usual unruly, dirty, gritty, messy, and unmanageable complexity of life into a simple statement or two, and often cuts to the core of the issue.
Woo, like conspiracy theories, is not bad so much as it is metaphorical; not literally true, but accurate (to a degree) in its description of the pattern. For example, PizzaGate might not have been literal, but Jeffrey Epstein (who did not kill himself) was.
We can witness some metaphorically-accurate but factually-inaccurate Right-wing woo here:
How to create a social state by Saul Alinsky:

There are eight levels of control that must be obtained before you are able to create a social state. The first is the most important.

1) Healthcare – Control healthcare and you control the people.

2) Poverty – Increase the Poverty level as high as possible; poor people are easier to control and will not fight back if you are providing everything for them to live.

3) Debt – Increase the debt to an unsustainable level. That way you are able to increase taxes, and this will produce more poverty.

4) Gun Control– Remove the ability to defend themselves from the government. That way you are able to create a police state.

5) Welfare – Take control of every aspect of their lives (Food, Housing, and Income).

6) Education – Take control of what people read and listen to – take control of what children learn in school.

7) Religion – Remove the belief in the God from the government and schools.

8) Class Warfare – Divide the people into the wealthy and the poor. This will cause more discontent, and it will be easier to take (tax) the wealthy with the support of the poor.

Does any of this sound like what is happening to the United States?
This reminds me of other woo like the Protocols of the Learned Elders of Zion. That is, someone observed what was happening to their society, broke it down into bullet points, and then backwards-engineered a manifesto from them based on the simple idea of an invading group taking over.
Widely acknowledged as a forgery, the Protocols makes a salient point to history: if you swap "Jew" for "Leftist" or "Bolshevik," it makes perfect sense and accurately describes the means that these groups used to seize power.
When it comes to historical woo, I would argue that "Jews" are a metaphor for:
Racial degeneration
Loss of purpose; materialism
Leftism and class revolt
After all, Jews were one of the first experiences Europe had with diversity (along with Saami and Roma) and represented to the European a broken group: mostly European, with mixed in Mongol and Berber, maybe Turk, which gave them an appearance and behavior that fell short of the European standard but enabled them to be talented, even insightful, nonetheless.
The woo excerpted above accurately describes the Leftist — liberals when they get enough power approximate Communists — takeover of America. Backward engineered into a manifesto, it seems to both make sense and assign a great deal of agency to the forces of chaos and self-pity.
However, Saul Alinky wrote two major works (Reveille for Radicals and Rules for Radicals) both of which concerned tactics for "community organizing" instead of overall strategy. While heavily Communist-influenced, they were not written to this level.
Consider instead this list of tactics from Rules for Radicals:
Power is not only what you have but what the enemy thinks you have.
Never go outside the experience of your people.
Wherever possible go outside of the experience of the enemy.
Make the enemy live up to their own book of rules.
Ridicule is man's most potent weapon.
A good tactic is one that your people enjoy.
A tactic that drags on too long becomes a drag.
Keep the pressure on.
The major premise for tactics is the development of operations that will maintain a constant pressure upon the opposition.
If you push a negative hard and deep enough it will break through into its counter side.
The price of a successful attack is a constructive alternative.
Pick the target, freeze it, personalize it, and polarize it.

This is a useful list, and can be applied by any group. It basically translates into using social pressure to make the status quo painful for your opposition, then suggest an alternative which seems easier than the painful situation.

In fact, the Alt Right seems to have adopted this platform years ago and made good use of it.

On the other hand, the woo-list reflects more of what the current Leftists are doing, which can simply be described as transforming all aspects of life into their socialist equivalents, knowing that this will make the situation worse and desperate people will never give up "muh benefits."

To make sense of that agenda, it makes more sense to read Plato on tyrants. He says that tyrants are those who rule for their own sake, not that of the civilization they rule. That is, the State becomes a parasite on its host society.

A parasite, like a virus, needs only two things. It must have some way of getting past defenses, like knocking on the door in a UPS uniform. Then, it needs some way of replicating itself. Leftists reproduce by spreading dysfunction and making other people who are as miserable as they are.

With that in mind, the strategies above (both woo and Alinsky) make perfect sense. Replace the complex and subtle with the simplistic and dysfunctional, and soon you have an army of miserable people who depend on you for the next move.

Tags: saul alinsky, tactics