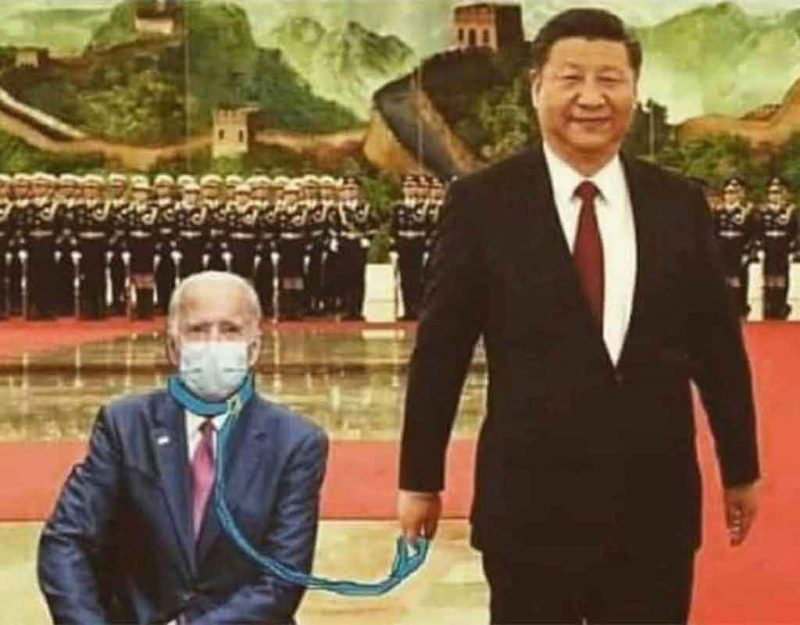 Most human problems consist of an "elephant in the room": a problem so obvious, insoluble, evident, and frightening that everyone has been diligently avoiding it and refuses to mention it.
The hero — think High Noon or Tinker, Tailor, Soldier, Spy — has to come in and identify the real problem, brushing aside the distractions that everyone uses to occupy themselves so that they can deny the real problem, and then tackle what everyone else fears.
We call this the journey of the hero, and it is solitary, because the hardest part is in the mind. How do you visualize a life other than what exists, even if flawed? It takes both analysis and imagination, plus a good dose of intestinal fortitude, a.k.a. "guts" and courage.
In America, the dirty secret for some time has been the control exerted by the Left and their allies in China. As of today, the Kraken unleashed outlines this shadow issue and the elephant in the room by identifying the guilty parties:
As explained and demonstrated in the accompanying redacted declaration of a former electronic intelligence analyst under 305th Military Intelligence with experience gathering SAM missile system electronic intelligence, the Dominion software was accessed by agents acting on behalf of China and Iran in order to monitor and manipulate elections, including the most recent US general election in 2020.
As said here before, the Trump administration used "Kraken"-style human network analysis technology to connect the actors in this drama, probably both on film and international communications, to point out that this election was stolen by those working for at least one foreign power.
Since Iran is the weak man here, that leaves China.
All of this shows that Trump did the right thing by refusing to concede: he has identified the elephant in the room, and now the secret is out, and that dismantles the empire. Most likely, a series of legal challenges overturning the fake vote and conveying power to Trump will follow, plus later, convictions under various espionage acts.
We have been sabotaged by an enemy that, being unstable, hates us for rising above them, and like its ancestors under Genghis Khan, hopes to destroy us and take our wealth instead of fixing its own problems. Like BLM or socialists generally, these fatalistic people do not believe that they can produce their own wealth, so they have become parasitic and criminal.
That in turn will reveal the Democrat political machine operating in many cities which fakes votes and controls all aspects of power through a patronage system.
We have much to look forward to. As with any garden, one clears out the dead and diseased, then nurtures the healthy, so that the healthy replaces the moribund. That is the task ahead for America; with the battle for this election, we begin that task.
The gods favor the brave and true (realistic, good) and they favor us in this quest. We are aspiring to evolve, mature, improve, and become self-actualized instead of living in a mental fog and moral haze as the Left would have us do.
Tags: election 2020, kraken, sidney powell