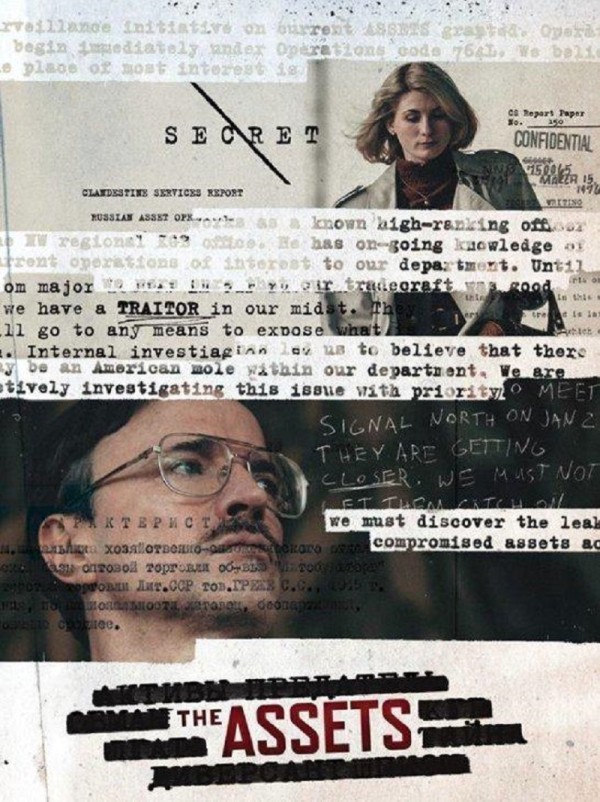 Television chooses its own audience: the witless prospers and the wise disappears, and the case of The Assets is no different. Released in 2014, the show has disappeared from the site of its producer and most movie review sites, yet remains one of the most insightful and compelling narratives unleashed onto the small screen. Portraying realistic spycraft and situations, this show focuses on CIA agent Aldrich Hazen Ames and his decision to become a double agent for the Soviet Union in 1985, passing CIA secrets to his controllers in Moscow.
Filmed in eight episodes of approximately 45 minutes each, the show efficiently tells the complex story of Ames, a CIA case agent with drinking problems and a failed first marriage. When in Mexico, he meets a Colombian woman, Rosario Casas Dupuy, and brings her back to the United States where they get married. Spurred on by the agency's failure to recognize his self-alleged brilliance and Rosario's compulsive spending, Ames meets with KGB agents and begins to sell them CIA secrets. When they demand higher quality information in exchange for the type of money he desires, he delivers to them the complete files on every Russian working for the CIA from within the Soviet bureaucracy. Such people were called assets, and most of them were summarily executed. As this process shocks the CIA, a case officer named Sandy Grimes assembles a team to locate the source of the leaks by determining whether it was a communications failure, sloppy tradecraft or a human intelligence failing that allowed the most massive leak in CIA history to occur. It takes her and the team another nine years, interrupted by bureaucratic bungles, to gather enough evidence to first ascertain that Ames is the leak and second to enable his prosecution.
The Assets suffers for being a brainy show with a brainy topic that will not be appreciated by most Americans who currently want to deny that the Cold War existed because we are both heading toward an ideological rigor like the Soviets, and also having the same problems that reduced that empire to rubble. In addition, people do not like television that struggles with a lack of moral ambiguity and points to life as a greater struggle than for personal achievements that glorify the individual. These officers sacrifice much of their lives in the belief that they are doing something good, including some of the assets especially Dimitri Polyakov, a highly-placed asset who loathed his government and resisted it by giving — without asking for money in return — information to the West. No car chases or glamorous overseas work intrudes on what is a basic narrative of hunter and quarry, but The Assets raises questions of allegiance and morality that resonate throughout all eight episodes. Its portrayal of tradecraft looks accurate and emphasizes the long hours and evasive tactics of spies, and it pulls no punches and refuses to re-write history when it comes to Soviet treatment of those they capture, including ad hoc executions. As a result, this is both a grimly real and highly emotional portrayal of an intricate and deadly game, balancing scenes of intense and compactly-written dialogue with atmospheric intrusions into the lives and personalities of the people involved. In the process, it tells the story of several great friendships, a clash between different empires, and the struggle of individuals to do what they see as right despite overwhelming odds.
Some may complain that this series reveals the Soviets to be brutal and calculating, but it also portrays some of their greatest moments in the strategic calculus of espionage. In addition, while individual Americans are shown as highly principled and thoughtful people, and the CIA is in general cast in the best light, the bureaucracy and complacency of the West also take center stage and show how grindingly slowly this investigation went — with several interruptions — as a result of bureaucracy and public image wrangling that ultimately served no one but the enemy. If any theme can be assigned to this series, it is the primacy of individual morally-inspired action against the brutality of dictatorships and glacial timorousness of bureaucracies alike. The cinematography takes a relatively straightforward approach, halfway between a documentary and a classic film, but the editing takes over by reducing shots to the shortest duration necessary. That technique creates a compelling energy to the process of the story by giving each moment its due without becoming overly focused on any single part of the narrative. The result is a story that draws in the viewer, conveys factual detail and procedure very well, then explodes to an emotional conclusion as all the pieces fall into place and the story arc completes itself. It is a shame this series did not get more attention as it uncovers one of the more interesting stories from a vital period in recent history.
Tags: aldrich ames, espionage, the assets