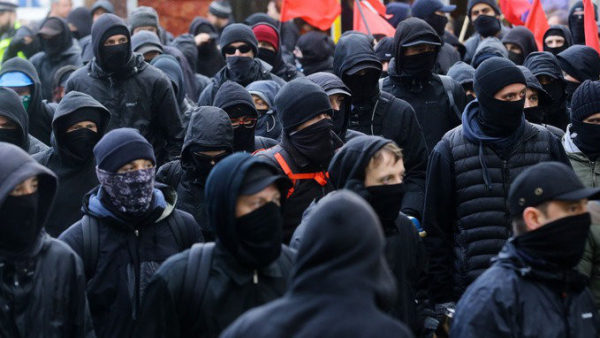 We know democracy is an illusion for two reasons: first, most people are not capable of making the decisions necessary for leadership; second, in groups people — even smart people — behave like ninnies by picking what is socially convenient instead of what is true.
In fact, we might view the election of Donald J. Trump not as a triumph of democracy, but as a vigorous slamming of the barn door after the horse is long gone. Democracy has destroyed the United States as it was, replaced its people and buried them in mountains of nonsense laws. No one in power seems committed to changing anything at a fundamental level, and in fact, we see they oppose it. One election cannot fix the vandalism of hundreds of elections.
Luckily, democracy has begun its death spiral worldwide, starting with the fact that people no longer trust it. Worldwide, distrust of governments is at an epic height; even more, people have lost faith in institutions in general because these have become corrupted:
The government's trust problem certainly predates Donald Trump: trust has been falling for decades. Apart from a short-lived spike in support after the terror attacks on New York in September, 2001, the last time a majority of Americans suggested that the government in Washington, DC could be trusted to do what is right was in 1972, according to the Pew Research Centre. By 2015, less than one in five Americans held that view. And the trust problem spreads beyond government: survey evidence suggests that answers to the question "do you think most people can be trusted?" are also at a historical low in America, with only about a third of people answering in the affirmative.

That suggests that deep-seated, long-term factors might be at play. "Ongoing globalisation and technological change are now further weakening people's trust" suggests Richard Edelman, creator of an eponymous "trust barometer," who notes that it isn't just America and it isn't just government; trust in chief executives and markets is also down around the world. Bill Bishop, commentator and author of "The Big Sort: Why the Clustering of Like-Minded America is Tearing Us Apart," argues that much of modern life works against community and trust. He suggests that low trust in government is linked with the decline of social capital (blame television), globalisation and the cult of the individual.
Decline in social capital comes about because under democracy, anything that people do not share is viewed with suspicion, which means that difficult and complex ideas are discarded and replaced with moronic lies. Globalism is a tempting target, but is relatively recent. The cult of the individual (called "individualism" on this site) related directly to the mentality of the crowd, which is a group of people who want to remove social restraints to their acting as is individually convenient. That allows them to externalize cost to society at large and have few restrictions on their own behavior or moral activity, although over time the crumbling of their society results from this and eventually disadvantages them.
People are fundamentally exhausted with the political process. We have constant elections, television, speeches and other drama, but none of it seems to fix longstanding problems, and people are getting the impression — correctly — that no matter what they do, those who work in government, business, non-profits and religion will simply twist popular opinion to support whatever works best at destroying the public so it remains a helpless, quivering, and paralytic mass ripe for the plunder. We are lost in the hands of parasites.
Undoing democracy is surprisingly easy. We need to appoint a regent to rule in the interim, then select aristocrats, and have them select a king. To find aristocrats, we look at people who are the natural leaders — about five percent of the population — and from them, select those who are simultaneously both of penetrating intelligence and morally good. Those then rise in the hierarchy and from those we select leaders, and then encourage those to breed with the like-minded to produce a permanent aristocracy.
No system is perfect, but the best system is informal and emphasizes strong power with high accountability, or "skin in the game" as those wacky Neoreaction kids say. We either die with democracy, based on our pretense that we are so cool as individuals that our votes will make magic results, or grow up and choose actual leadership, and with it get rid of the idea of government and its Nanny State ways that inevitably make it more powerful to our loss.
Tags: aristocracy, democracy, government, informalism, skin in the game