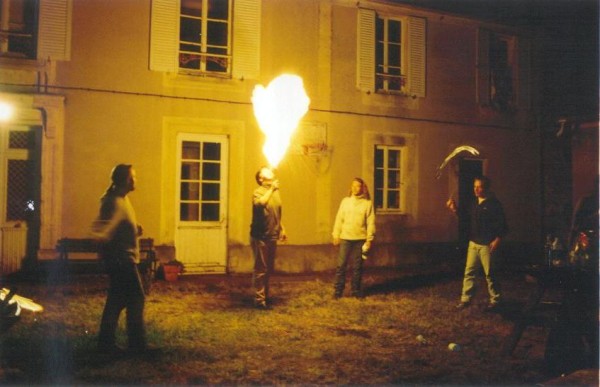 Conservatives and libertarians are getting excited about Allum Bokhari's article over at Breitbar, "Rise of the Cultural Libertarians." In it, he argues that the rising leftist wave of censorship has awakened a new movement of people who are not really conservative, but want to preserve the ability to criticize any beliefs, which includes — to the shock of our media and enfranchised political establishment — criticism of Leftist viewpoints.
Uh oh.
While this new movement, unified and galvanized by the article, seems to have great momentum, it suffers from not having conducted the approach of a philosopher: analyze things through to their ends and compare to what we know of reality. This method, the parent of its less-rigorous cousin The Scientific Method™, means that we look at not what seems like a sensible counter-argument to the dominant paradigm, but what will be the actual results of our acts as planned. This is the only form of accountability and responsibility that exits, and on this blog, we call it "Realism."
The rising leftist wave of censorship was born of a social phenomenon known as "Social Justice Warriors," or SJWs. These people participate in politics as an activity, generally to distract from their personal misery, usually a combination of alcoholism, social ineptitude and obesity. They are strident, angry and gather in swarms to attack all who disagree with them, knowing — like terrorists and guerrillas — that by creating a Public Relations incident, they can force the opposition to apologize, kowtow and change its policies. SJWs are effective mainly because there are always thousands of them on the internet at any given time, ready to mob attack the next target.
The cultural libertarian response is to emphasize independence of thought and resistance to any form of coercive attempt to silence others. In other words, classic American freedom. Here's the summary from the article:
They've also worked out that the people leading the charge in social media mobs have vastly disproportionate influence thanks to their publishing platforms and that not only are they hopelessly out of touch with popular opinion but that their tactics are unpleasant and hectoring, often veering into outright cruelty and persecution.

…Cultural libertarians recognise that efforts to police language and expression are not only counter-productive, but also fragile. The people pushing for greater control are a small segment of the population, whose voice is amplified by media support. To fight them, all you have to do is ignore them – or, better yet, mock them.
This may sound familiar to you, because it re-capitulates what by now is an ancient defense of the right. Faced with the onslaught of the French Revolution, they retreated into "classical liberalism": do whatever you want, on your own property, so long as I can do the same. It sounds so simple and pleasant! It even feels like a social order at times. And yet, it completely fails because it denies the need of a society to have direction: identity, purpose, values, heritage, customs and some sense of the transcendent.
In fact, the "cultural libertarian" approach can be understood as a variant of a well-known political philosophy, pluralism:
Political pluralism usually starts with the observation that there are different value systems in use in the world, and there are various positions that arise out of that observation. Political pluralism is concerned with the question of what sort of restrictions governments can put on people's freedom to act according to their value systems. The strongest version of political pluralism claims that all these value systems are equally true (and thus presumably all ought to be tolerated), a weaker view is that these value systems all ought to be tolerated, and probably the most common version of the view is that some of these systems (the reasonable ones) ought to be tolerated.
The idea that all value systems are equally true, or at least equally valid — a social surrogate for true that purports to regulate behavior — requires us to believe we can base a society on disagreement at a fundamental level. This is not, as the Left would have it, similar to different tastes in food, clothing or attire, or even a tolerance of eccentricity (which, oddly, seems to belong to the Right). It refers to sharing the same basic values and outlook on the world, which is preferable to the alternative, which first looks like a coat of many colors and rapidly begins to resemble an unruly mob.
We can argue that pluralism could go farther and for example, demand freedom of association. With this, we would not have to hire, buy from, sell to, rent to, talk to or do business with others for any reason. While most societies view this as somewhat of a right, or at least a convention, our society sees this as troublesome because it introduces inefficiencies. If Person A wants to buy a gay wedding cake at a baker, and the one near them refuses to sell to them, they can always go down the road. But time is lost, and money is thus lost, and we lose the simple certainty of business which says we can go anywhere and do anything if our credit rating is good. A sane society would see values as more important than commerce, but pluralistic societies have nothing in common but commerce and maybe some ideology, so pluralism inevitably leads to the conditions that necessitated its creation.
Some have tried pluralism by community. In particular, the original government of the United States, and later the Confederate States of America, were committed to the idea of "states rights" or the notion that individual states could choose their own rules. This conflicted with the desire of Northern liberals to control the South, so they picked a fight over slavery because it was a polarizing issue. After that war, it became clear that states rights was a dead concept, replaced by the notion of a Single Right Way. While pluralism opposes the notion of a singular correct path, it cannot overcome the tendency of governments to make rules, laws and regulations "in your best interest" which can then compel obedience to ideological objectives. For example, a government might insist that hospitals admit anyone regardless of whether their staff wants to associate with that person or not, or demand that pharmacies sell abortion drugs in case people "need" them. Pluralism fails the more people demand function and efficiency from their society.
In addition, pluralism fails to take into account that there will be at least one privileged viewpoint: that of The Establishment™, which refers to those who work in government, media and the public face of industry. People who join the establishment are those who have a higher commitment to working within the system — and thus gaining personal success — than to any truth, purpose or ideal. When someone wants to succeed at government, he must invent new ways for government to be important so his future resume can show an addition that was uniquely his creation. In a pure pluralism, government would have one of many perspectives, but in reality, some kind of leadership will have a privileged position by the nature of having to make and enforce rules. If that leadership takes the form of a State, it will create an establishment — hereditary aristocracies do not have this problem, having barred entry to all but the truly exceptional, who are rare — as people compete for personal success. There pluralism will also die under the ambitions of individuals.
This leaves us with the perspective of pluralism as prolonged suicide. Since the Right has been demonized in the decades following the Second World War, it has focused mostly on "thought experiments" which take the form of arguments to circumnavigate the logic of the Left. As an argument, pluralism may have some success because it points to the hypocrisy of the Leftist viewpoint — but only to outsiders. Inside the Left, it is tacitly acknowledged that the one goal is egalitarianism (or "equality") through collective altruism, which throughout history has without exception amounted to taking from the competent to subsidize the rest. For that reason, leftists do not see their jihad against non-egalitarian viewpoints as hypocrisy, since their goal is not "freedom" or even actual equality, but a subset of equality defined by its method of using subsidies. Leftists fear their own insufficiency, and create a barrier through equality which forces society to accept them as part of the in-group regardless of their personal choices. This alone, a malignant form of individualism, represents their only goal and it can never be hypocritical in their eyes.
This returns us to the question, then, of civilization design. How do we design a civilization that is improving in quality, rather than degenerating and hiding that fact behind the facade of "progress"? It starts by recognizing that the real enemy is what undoes the civilization compact, an agreement between people to sacrifice some individualism so that social order can exist. This occurs not so much because social order is efficient, or safe, but because it enables a society to rise above the norm of all but a few human groups, which is poverty and corruption through social disorder. Those who fear insufficiency want the benefits of civilization without the obligation, so they cobble together a set of ideas enabling them to have "anarchy with grocery stores": egalitarianism, anti-hierarchy, altruism and liberalism/progressivism. This destroys the civilization compact but allows the individual to feel safer because they are included by command, and can never be found in a Darwinistic moment to have failed to live up to the civilization compact.
Cultural libertarianism represents the latest attempt by the non-Left to walk back up that path to social order. It does so by demanding that the anti-order order be weakened, but it can only serve as an intermediate step, and will fail for the reasons above and an even more fundamental one. The enemy operates by lumping together individualists into a mob dedicated to establishing individualism by abolishing standards and order; under pluralism, they will still form this mob, and then conveniently declare pluralism over and take their revenge, as they did in the French and Russian Revolutions. While the pushback against SJW ideological imperialism is a noble fight, the danger of being human is that we rely too much on methods, and then go back to sleep. In that role, cultural libertarianism serves as a proxy for the actual quest we must undertake, which is to build a society once again unified by principle and goal.
Tags: anarchy, crowdism, cultural libertarianism, leftism, libertarian, libertarianism, pluralism, SJWs