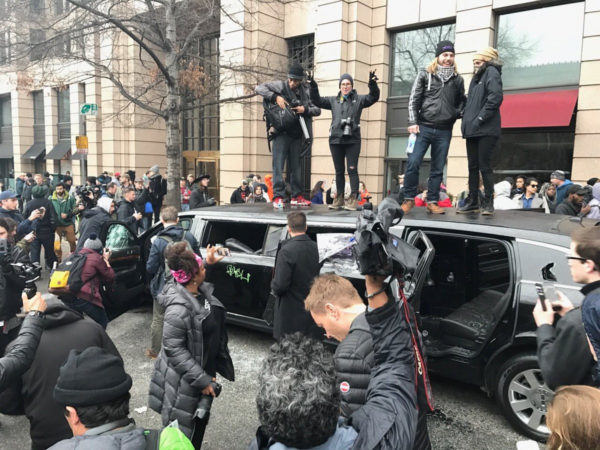 Donald Trump was inaugurated, and the lügenpresse alternated between claiming that the turnout was low and talking about how exciting the rioting was. But in reality, the Left revealed itself, and what the world saw has reflected poorly on the Left.
For starters, the Left managed to achieve nothing but vandalism and assault. This alone makes them look bad in the same way that they are criminal, namely that they relieved at least one Trump supporter of his wallet and phone at the Deploraball. But even more, it makes them look incompetent. America would have been impressed by revolutionary violence. Instead we got ineffectual revolutionary vandalism.
The burnt trash cans will be replaced. The smashed windows will be fixed. The destroyed limo will be reimbursed by insurance. Life goes on, and yet, something has been established: in the face of what they claim is the second coming of Adolf Hitler, the Left did nothing more than have a giant tantrum that left a mess for someone else.
And then there is Fistgate, which happened when an Antifa protester sucker-punched Richard Spencer while Spencer was busy giving an interview. How brave, to attack someone so stealthily when they were otherwise engaged. And yet, Spencer won this one, not only by looking like a purposeful person in a room full of juveniles, but also because the Antifa guy got outed: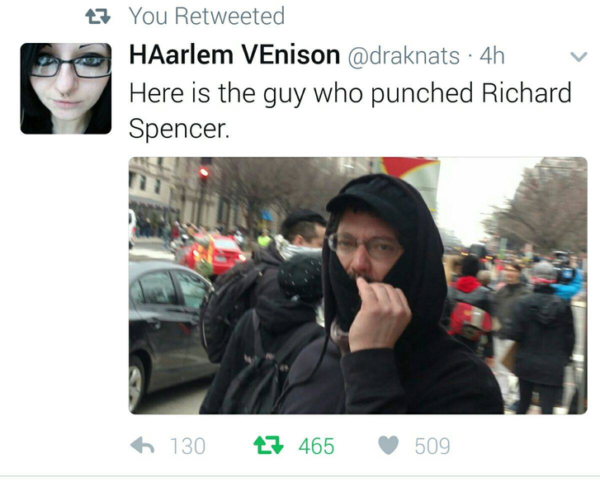 First they got a picture of him. Then some brave souls — glorious internet malcontents — went out and found more on this guy. It turns out that he is a literal cuck who is into degrading excretory sex. Click here for the backstory on this guy [NSFW/L].
Now, normally this would mean little. Most of us have no interest in such things, so leave them to the practitioners in silence. But here we are not talking about "what happens in your bedroom is none of my business." We see a guy who is telling us what we can and cannot think, and by doing that, he is claiming to have his act together enough to tell the difference. And then, we see the ruins of his life and realize: we should not be taking advice from this guy about how to think. We should be arresting him for violence because he is essentially nothing more than a petty criminal.
Richard Spencer came away victorious from that confrontation. In the mind of this antifa assailant, he would be praised for taking out a vicious enemy. The rest of Amerika — newly attentive because it has awakened from the dream of a Leftist-consumerist new world order — saw a man talking get assaulted by some random guy who it turns out embraces practices that most people in America view as a sign of mental illness.
In the same way, everyone witnessing the Trump coronation inauguration saw badly behaved, spoiled children looting the businesses of ordinary people because they were having an emotional tantrum, or an excuse to take a selfie and post it to social media for the attention points they apparently value more than mental stability and personal responsibility.
Perhaps Americans would have been more impressed if anarchist/antifa types charged the mall with machine guns and grenades, occupying territory like a real rebel army. But instead, we saw the true face of the people who have been bullying us for years. These are not responsible, wise and visionary people. They are angry teenagers with no plan except to legitimize degeneracy, and we are done with them.
Tags: anarchists, antifa, donald j. trump, raymond b. bailey, richard spencer