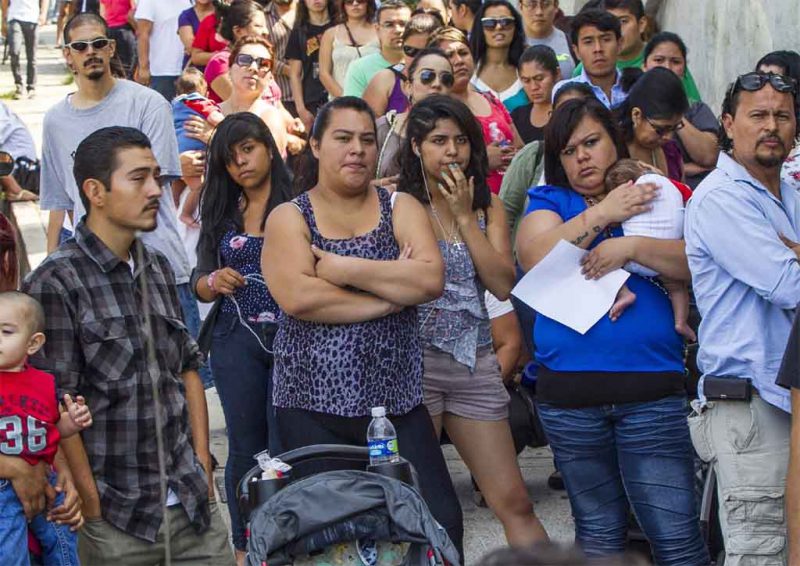 Europe finds itself in crisis again mainly because Europe has always been in crisis since they killed off the kings and brought in republics. It turns out that internal division and perpetual struggle for power do not provide stability, but the opposite, like a drunk person with mood swings trying to navigate an amusement park haunted house.
Right now, EU leaders labor under the assumption that they can continue their reckless immigration policies, forgetting that Europe has now seen what the end result of such immigration will be, and so people simply want diversity by immigration to go away, including the "assimilated" who seem to be very quiet whenever diversity glitches.
Watch a life-long creature of politics advance the narrative while retreating, all in order to save the welfare state and its Leftist agenda:
"We need skilled migrants. The Commission proposals on this have been on the table for some time, so please implement them."

"I am and remain against internal borders. Where they now exist, they must be removed.

"If they remain, they should be an unacceptable backwards step in Europe."

He said: "External borders must be protected more effectively. We are making a plan for the return of the illegal migrants.
In the modern time, we all exist without a consensual hallucination known as public reality, but recognize that if we look beneath the surface, we see the private reality which contains the motivations of people as they actually are.
In public, the EU wants more immigrants for a simple reason: the large generation known as the Baby Boomers or "1968ers" requires its social benefits paid, and these are getting more expensive every year. Since the population is declining because socialist nanny states make people miserable, Europe needs to look elsewhere to bring in more workers so that it can tax them so that they can pay for the welfare state. If you block out everything but raw economics, and close one eye and squint, it kind of makes sense.
Underneath this cash register reasoning lurks a simpler truth. Those who want to rule in perpetuity know that they must destroy the native population of a land so that aimless people are created who need strong government, and the best source of this is foreigners. The more foreign, the better. Both Plato and Aristotle noted this millennia ago; diversity and immigration are tools of the tyrant.
Juncker backpedals somewhat on unchecked immigration, drawing a distinction between legal and illegal immigrants while calling for "skilled" labor, a category that will surely be just as fake as every other yardstick the EU has used to measure immigration. After all, it is easy to claim someone is skilled based on what they fill out on a form at the port of departure, and who would not swear to be an experienced carpenter, electrician, or technician when the only penalty for lying is to be re-educated once in the destination country? Even if they fail, they still get free stuff because once accepted they cannot be deported under current law.
None of this matters to the EU bureaucrats. Once they have a minority-majority electorate, they think, these EU bureaucrats will always remain in power and Leftism can take over and make the EU into a new superpower. This new superpower will be a Leftist superstate like the USSR:
The European Union must turn into a major sovereign power on the global stage making the world in its image, Jean-Claude Juncker has said, setting out plans to make Europe militarily and economically independent from its traditional ally the US.

…Explaining his expansive vision, Juncker said the EU should aim to surpass the dominance of the dollar in the world economy and challenge China in its attempts to become the ascendant influence in Africa.

"It is time Europe took its destiny into its own hands. It is time Europe developed what I coined Weltpolitikfähigkeit – the capacity to play a role, as a union, in shaping global affairs. Europe has to become a more sovereign actor in international relations."
In a rare admission, Juncker stated baldly what the EU wants but its member states really do not: to be a world superpower, ruling through the export of liberal democracy and the civil rights welfare state, and ultimately doing this in order to control world trade. That in turn translates to even greater power.
At the root of their thinking is only that, power. They want power, and since they cannot have it legitimately, they are going to seek it by relying on the hunger of the public for easy solutions and strong, nursemaid-like governments to implement it in a single stroke of irrevocable power.
Like the USSR, the EU wants to be an ideological state, based in a view that is popular rather than realistic, namely that if we make everyone equal and hand out socialist-style subsidies, populations become stable enough that business and government can prosper.
As readers of history know, this will go about as well as every other Utopian plan. Strong government and a welfare state lead to miserable and neurotic citizens, at which point the former prosperity dies out and government must become increasingly repressive to maintain its industry.
Even more, as Americans are now coming to see, eventually the diversity pets vote only for themselves, at which point the old white liberals go out and a third world, Detroit-style republic comes on.
On the other hand, some are looking at the world outside of power and Excel spreadsheets alone, calling for a look at what defines a nation with an eye toward how to make the world healthier:
Speaking at a conference in Sweden's third-largest city of Malmo, home to a large immigrant population, the Dalai Lama — who won the Nobel Peace Prize in 1989 — said Europe was "morally responsible" for helping "a refugee really facing danger against their life".

"Receive them, help them, educate them… but ultimately they should develop their own country," said the 83-year-old Tibetan who fled the capital Lhasa in fear of his life after China poured troops into the region to crush an uprising.

"I think Europe belongs to the Europeans," he said, adding they should make clear to refugees that "they ultimately should rebuild their own country".
Most people have no idea how huge this is. Trump and Brexit broke the taboo on speaking out in favor of the organic nation, instead of the political and economic construct that is the nation-state or federal empire like the EU. People saw not just the bad of diversity, but the lack of good, and then realized that it is inherently paradoxical, since you are asking people to give up their identity for allegiance to ideology, which causes them to become hostile to the majority state as well as warring with other groups in the diversity stew.
Now the Dalai Lama, who apparently deserves whatever salary he gets as a world religious leader, mentions the obvious: Europeans are a distinct group, and they need to have their own future instead of sacrificing themselves on the altar of Leftist ideology, mainly because that "old fashioned" way of living works where the new way is a path to guaranteed instability, all in the name of power, an old and bad human addiction.
Juncker on the other hand has fallen back on WW2 propaganda and wants to erase those old nations, replacing them with ideological states:
Mr Juncker said: "I would like us to say no to unhealthy nationalism and yes to patriotism. The patriotism is two-fold, European and national.

"In order to stand on its own two feet, Europe and nations must move forward by one.

"Patriotism is a virtue. Unchecked nationalism is riddled with poison and deceit. We must remain true to ourselves."
Patriotism means loyalty to the State and the nation-state it has created, which is more of an ideological and economic creation than anything reflecting an organic root. The desire to formalize the nation into a political entity strips it of what makes it unique, and creates endless internal division which will culminate in collapse.
Nationalism, on the other hand, is loyalty to not just a group, but the spirit of that group. It includes the history of it, a continuity with the past, heritage, culture, values, and a sense of purpose or direction which is inherent to that group. This clashes with governments, who want that power for themselves.
Diversity creates internal clashes at the same time it destroys cultural identity, driving people toward extremism and identity with their tribes — a mosaic of religion, culture, genetics, and values — as they experience the existential emptiness of having no real sense of who they are. This creates instability.
If you want a glimpse at the future, look at the surveillance state created in order to make diversity work, since Europe is now overflowing with homegrown terrorists:
The UK government's mass surveillance programme violated human rights and had "no real safeguards", the European Court of Human Rights (EHCR) has said in a landmark ruling.

…"Under the guise of counter-terrorism, the UK has adopted the most authoritarian surveillance regime of any Western state, corroding democracy itself and the rights of the British public.

"This judgment is a vital step towards protecting millions of law-abiding citizens from unjustified intrusion. However, since the new Investigatory Powers Act arguably poses an ever greater threat to civil liberties, our work is far from over."
There will be no end to the mass surveillance. The instant they stop doing it, terrorist attacks of a devastatingly effective nature will resume, and then the people will run screaming to ballot boxes to vote out whoever failed to protect them. Diversity has made society unstable and filled with violence, and totalitarian power is the only solution.
Now we see our future. We go with the Dalai Lama method, in which Europe stands for itself and its nations become more important than the endless and futile quest for more political power. Or we choose diversity and the surveillance state, turning the EU and US into USSR-style global totalitarians who self-destruct from their own excesses.
Tags: claude juncker, dalai lama, diversity, eu, immigration, surveillance state, us, USSR