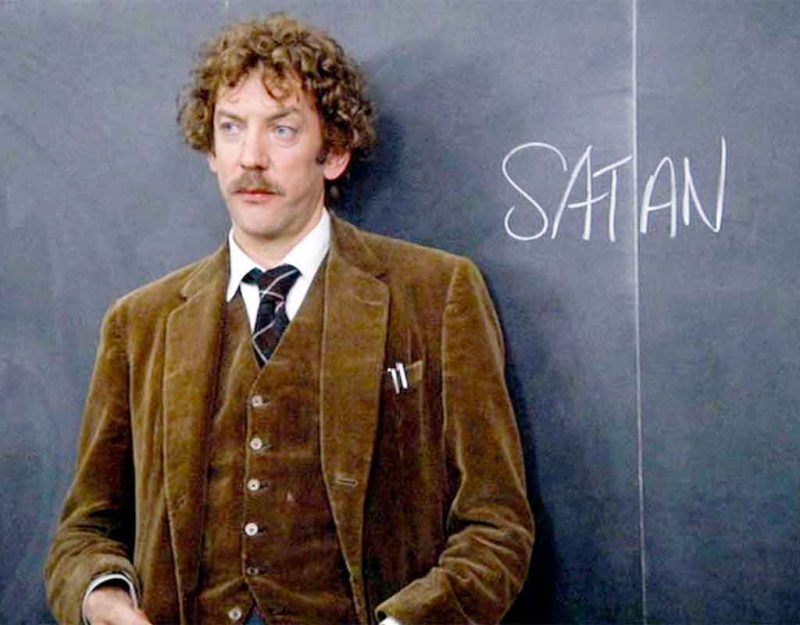 Advertising tells the observant people things that the pitch-men would rather you not comprehend. When we communicate, we totally put ourselves out there. More than just some of it should have probably been left tucked in. It's a natural affliction.
When filtered through groups, this excess becomes multiplied. In the case of education, the worst virtual flatulence comes from nowhere else but the Virtual Flatulence Industry, a/k/a academia.
Higher education has experienced continued growth since the mid-20th century, but the pool of students likely to attend college is projected to rapidly decrease. States in the Upper Midwest and Northeast, which have the greatest concentration of colleges, will see the biggest declines. Even the most selective institutions should expect and prepare for difficulties in meeting enrollment and revenue goals. Threatened by years of financial strain, a steep downturn in the nation's birthrate, and growing skepticism about the price and value of a college degree, higher education must address the enrollment declines quickly and effectively, before this complex challenge becomes an existential crisis.
What's telling here is that you can have a whole pamphlet of these banal insights… for $199. I think they can relook that price, examine the quality of their workmanship, and then completely comprehend their very own existential conundrum. In the meanwhile, here's what the vastly futile minds tell us for about $2.25 per page.
Purchase the report for access to:

Data and analysis on the trends and demographic shifts that are impacting enrollment numbers, including the Great Recession, declining birth rates, and a diversifying student population.

Ten case studies of institutions that are actively combatting declining enrollment numbers by adapting their offerings, redefining their marketing strategy, and cutting costs and tuition.

Analysis from enrollment experts on the front lines with advice on how colleges can adapt and respond to emerging student needs.

A Chronicle survey of more than 250 enrollment officers on their projections and anxieties about the future of higher education.
A more accurate and $198.98 less expensive explanation exists. I'll pitch in my own two cents.
The product no longer even remotely resembles what it was supposed to be. Colleges were not social credential mills, dating apps or temporary adulthood abatement mechanisms prior to 1965. Then, over a gradual descent from 1965 to 1985, colleges became all of those things. From about 1965 to 1972, colleges got brainy or at least smarmy young men out of fighting in Vietnam. From then on, all of these degree-bearing applicants were then let loose in the job market. This led positions which in no way required college degrees to perform job functions to start upgrading the requirements until the secretary needed at least a two-year degree before being allowed to answer any incoming phone traffic.
The product underwent demand-driven price inflation. Old Ivy has gotten form three to four times more expensive over the 34 year period addressed in the linked article.


In during the 1980-81 school year, the average college tuition at private universities was $9,882. By 2014-15, that number exploded to $26,740. For public universities, the tuition figures went from $2,196 to $8,534.
So your private school tuition is going up at a 3.26% rate per year. Had the tuition gone up at a rate equal to historical US inflation (about 2% in recent years), the tuition would have been a hair less than $15,000. The residual $12,000/semester jack-factor is swallowed by a racket. Inflation-Adjusted Tuition was 1.8 times more expensive in 2015 than in 1980. Who here believes the average graduate was 1.8 times more moral, more erudite, and more capable than the average private university graduate in A.D. 1980?
Public tuition bills had the same trend except worse. They inflated at 3.46% per year. You get similar ratios of swag comparing that increase to inflation. Same question: was your typical public university graduate in 2014 twice as capable as the schlubs cranked out of the diploma mills back in 1980? Clearly, neither institution doubled the quality of their product while doubling their credential cost per semester.
Imagine the public reaction if the DMV started selling hyper-expensive drivers' licenses to unqualified drunks who routinely wrapped their vehicles around the neighbors' kids. Colleges now essentially license people as responsible and respectable Middle Class professionals. These officially licensed "decent people like you and me" now increasingly walk around behaving like Lena Dunham did when she was wearing an Oberlin Diploma and regrettably not much else.
People are catching on to this. They are gradually developing work-arounds and secondary credentials. It's getting rather hard to break into USSA Civil Service employment these days without a 2 year internship. This serves two purposes. The bureaucracy gets to observe you two years to see if you really are morally integrated instead of being another freak with a credential. They also spend two years sending you to classes that actually train you to do professional level White Collar work. The US Government has all but acknowledged that colleges and universities no longer accomplish either of these two objectives.
Private employers such as Google and the NFL make hiring decisions based on what are essentially IQ tests that rate your intellect independently of what your diploma says it should be. I can totally get the NFL having heard National Champion Head Coach Ed Orgeron give a few interviews, but Google? Are they unsure of the talent pool coming out of Berkeley and Cal Tech these days? If that answer is a big, fat "No Sirree, Bob", then you don't need to fork over $199 to understand the coming enrollment crisis.
Tags: college, education, inflation, public education