National-Anarchism: A Reader
edited by Troy Southgate
306 pages, Black Front Press (2012), $20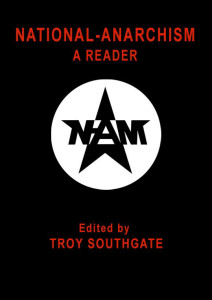 For two centuries people have looked for a way out of the political dichotomy that was created by the French Revolution, which set up the traditionalist party as a necessary opposition to the successful Revolutionaries.
The problem with this split was that it forced people to either adopt the revolutionary ideology or to pick up the mantle not of the ancient regime but of the new ancient-modern hybrid which suspiciously resembled the revolutionary ideal with more national defense and better economists. The problem with conservatism, as it became styled, is thus not that it is ancient, but that it is not ancient enough, and thus many people are trying to escape it alongside leftist.
National-Anarchism: A Reader leaps into the fray by suggesting a certain type of ancient society, namely one from before government became formalized. The National-Anarchist idea is for a society to be formed by bonds of kinship, which is nationalism, and yet to not have a formal State or laws so that it cannot go down the path that led to the French Revolution. It would be an organic society that would not become calcified like others, which become outmaneuvered the instant they formalize any relationships or values.
Southgate's Reader tackles these subjects head-on and attempts to find a "third way" past the conservative-liberal divide. It does this with varied essays that, while they tackle the same two basic issues — anarchist theory and nationalism — with similar insight, do not get swallowed up by those debates like many other books do in attempting to defend them. Rather pragmatically, these essays explore implementation more than abstract theory, which takes away some of the dullness inherent to political theory, especially on ideological issues.
As you may have guessed from the brief historical introduction to this piece, dear reader, the biggest threat to a mixed ideology is that it may be swallowed up by its liberal elements, in this case anarchism. Southgate and company combat this by making a clear case for nationalism as the basis of community cooperation, or "social glue," that would keep a society together without a government:
[T]he 1789 French Revolution transformed a nation of monarchical subjects into citizens of a new republic, but aside from the fact that the jingoistic watchwords of 'liberty, equality and fraternity' were never put into practice, it become possible for individuals to become part of the nation through citizenship alone, rather than it being the result of their French ethnicity. This subtle change has now smoothed the way for modern capitalists to bring in economic migrants from the Third World who, allegedly, are just as 'French', 'English' or 'German' as those of us with a blood-lineage stretching back thousands of years. The 'nations' of today, therefore, are completely false. By giving credence to these artificial entities, the Right actually reinforces the liberal-democratic myth. (123)
National-Anarchism: A Reader features a wide range of anarchist theory, with Southgate and Keith Preston doing the heavy lifting, but also manages to fully explain the rationale for nationalism as a positive social value. True, there is also some fear of Zionism in here, which seems to this reviewer to contradict the idea of supporting strong national cultures, which Zionism is; it's Israeli-Jewish nationalism. However, this rhetoric is in the minority and is rational, principled and generally based in a defense of Palestinian nationalism, so it's hard to conflate it with the rabid Jew-hating that blights both some areas of the right and left at this point.
Highlights include Keith Preston's "Philosophical Anarchism and the Death of Empire," which recontextualizes history in terms of human values, and Southgate's "Revolution." Readers of this blog may enjoy Wolf Herfurth's
"The Traditional Left Failed." One of the more inspiring parts of the book, although short and informal, was Andreas Faust's "Humour as a Weapon." While this piece reads as if it were typed up in an afternoon, a thoughtful outlook pervades it, and it's that outlook and mood more than any specific details that are important to a reader there.
Among the passages marked for further review is this gem which shows how truly "third way" National-Anarchism is, as it levels a devastating critique at its anarchist fellow-travelers who have been assimilated by the left:
Another common these in conventional anarchist thought is an implicit reliance on archaic Marxist and Fabian social democratic economic theory, a set of ideas that have been disastrous in every nation where they have been put into practice. Marxism is a dead faith, except among Western radicals, and the elitist social democratic views advanced by the Fabians have severed to create a permanently entrenched "new class" of bureaucratic parasites that are slowly but surely driving the First World nations toward stagnation, deterioration and eventual collapse. Anarchists are typically the most zealous champions of the cultural ideals of the modern Left — feminism, environmentalism, homosexualism, anti-racism. Yet these ideas are hardly radical in the modern welfare states of the West. (85)
Like many of us, I had horrible experiences with anarchist "theory" back in the chaotic days of college. Generally, it surprised me how people with their mitts on such a radical idea could convert it into the most boring, neutered, don't-forget-dear-wear-a-sweater type ideology on earth. People would pass around huge tomes of pablum in a competition to see who could lobotomize themselves with the largest dose of this. While I'm not going to claim the anarchist sections are my favorites, this book doesn't fall into that pitfall, and makes anarchist theory as interesting as possible. It also makes enticing the idea of organic culture taking over where government has failed.
Where this book is essential is informing the modern Westerner of the scope of the political landscape. Like a good introductory textbook, it shows us the topography and differentiates the parts; like a good higher-level textbook, it reveals in depth the reasons for the principles of this movement, instead of baldly stating them and allowing the usual justifications to absorb them through co-opting their purpose. Engagingly written, widely diverse and full of blunt but commonsense approaches, National-Anarchism: A Reader is a good work to adorn any political science bookshelf.
Tags: anarchism, andreas faust, Books, flavio goncalves, josh bates, keith preston, national anarchism, nationalism, Troy Southgate, wolf herfurth