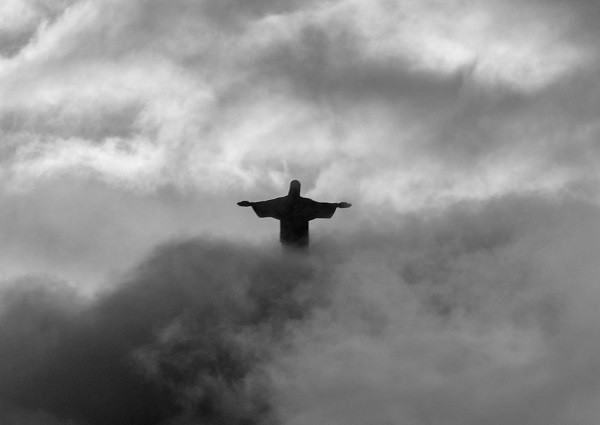 For some reason, many people of a traditional bent believe they are fighting against "nihilism," or the denial of innate value and purpose to life.
They view life as having one of two options: either there is a plan which we must all obey, or all choices are optional, and we might as well do whatever.
That notion, as you will see in the forthcoming words, is an artifact of our time and its belief in equality. It is a false dichotomy and a pointless choice.
Here, for example, from someone who should know better, is a clear statement of their fear:
To take one example, if you say there is no God and then turn around and tell me I should not be a racist, or that I should help someone in need, and I say, "why should I?" how do you respond? If we are all evolutionary accidents, why can't I believe and practice anything I wish?
Let us refresh our historical memories with a short insight from Friedrich Nietzsche:
"Where has God gone?" he cried. "I shall tell you. We have killed him – you and I. We are his murderers. But how have we done this? How were we able to drink up the sea? Who gave us the sponge to wipe away the entire horizon? What did we do when we unchained the earth from its sun? Whither is it moving now? Whither are we moving now? Away from all suns? Are we not perpetually falling? Backward, sideward, forward, in all directions? Is there any up or down left? Are we not straying as through an infinite nothing? Do we not feel the breath of empty space? Has it not become colder? Is it not more and more night coming on all the time? Must not lanterns be lit in the morning? Do we not hear anything yet of the noise of the gravediggers who are burying God? Do we not smell anything yet of God's decomposition? Gods too decompose. God is dead. God remains dead. And we have killed him. How shall we, murderers of all murderers, console ourselves? That which was the holiest and mightiest of all that the world has yet possessed has bled to death under our knives. Who will wipe this blood off us? With what water could we purify ourselves? What festivals of atonement, what sacred games shall we need to invent? Is not the greatness of this deed too great for us? Must we not ourselves become gods simply to be worthy of it? There has never been a greater deed; and whosoever shall be born after us – for the sake of this deed he shall be part of a higher history than all history hitherto."
Nietzsche's point is that God did not die by his own hand, but by ours. We forgot how to value and notice God, and so He passed out of our consciousness.
In other words, choosing God is like everything else, a choice. Before we can make that choice, we must choose to choose, which means we must decide to be good, or that we value good more than its alternatives. Then we can discover what is good and pursue it, but not before we make the conscious election to want good and not any other option.
It is a narrow path, as they say.
It is the same with God. We must choose Him. Otherwise, we continue to live like the other beasts, limited in what they can do. And in fact, many humans have no choice but to be godless as they are unaware of many things. They lack the wiring to understand things more complex than cheeseburgers and the time period until the next paycheck.
We also do not need God for morality. We can choose to be moral the same way.
We need God for an entirely different reason: God is part of reality, and the only sensible answer to many of our questions. Reality without God is incomplete, but reality without being able to speak German is incomplete, too. This is not a binary choice, but an option to optimize our experience.
Pursuit of God is like the pursuit of any other transcendental — such as "the good, the beautiful and the true" — in that these are things above and beyond mere survival, but they enhance life from subsisting to thriving. Thus to those who reach a certain level of understanding, they become essential. This is the philosophy called esotericism.
A human needs food, shelter, and water to survive. Above that, life becomes better, but only when those basics are so well taken care of that the mind can look to other things. This is both Mazlow's hierarchy and our own evolution. As we became more powerful, we turned to questions that required more power.
But in each individual, evolution is recapitulated: we must develop ourselves to the highest levels we can, and we are limited by what we are given to work with. Someone with an IQ of a hundred has far fewer options than someone with an IQ of 130.
Morality comes from realism. We are here to adapt to this world in all of its complexity and, once we become aware of an option, we must either choose it and rise or remain where we are. There is no Hell, only a knowledge of "what could have been" which is beaten into our heads by time. Foreclosure and regret and strong teachers!
All traditional morality consists of choosing the things that work out better than others. The family, culture, tradition, even religion itself — these things are important to us because like other methods of survival, they work better than the other options.
And yet there is no need to choose them. Not everyone can, and not everyone wants to. The human notion of rationalism — based in the presumed but unproven and illogical belief that all people are "equal," an algebraic notion applied to a multi-dimensional space — demands that we see God as universal and therefore accessible to all.
But in reality, like understanding The Republic, God is not open to all. God is not a machine or a wonder-drug. God is first and foremost a state we must reach within ourselves to choose God.
There is no equality. Equality is the death of God because it assumes that what is shared between humans, the human form, is perfection and is therefore superior to God's order a.k.a. reality. Egalitarianism is our arrogance and denial of God, but most insist that it is necessary so that God can be universal instead of optional.
But He is optional, like every other good thing. He is also "racist": God made the different groups with different abilities, and they serve different roles. Race, too, is not universal. Universalism is the bigotry of humans against the complexity and unknowability (for everyone) of God.
And yet, we must beat back our raging human Ego. What is important is reality, including its transcendental dimensions if we can fire up the inner gumption to seek them out. And with that, we will rediscover God, and he will no longer remain dead.
Tags: abraham maslow, fatalism, Friedrich Nietzsche, god is dead, morality, nihilism, rationalism, religion, universalism