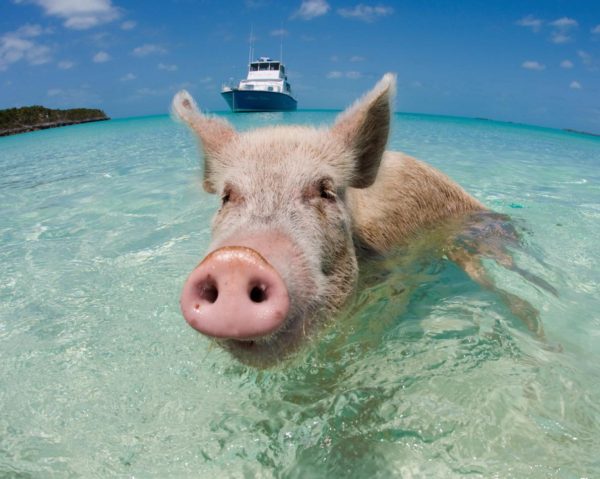 There is a predictable pattern to the way that mass media news outlets report on events.  First reports tend to be highly sensational, and either due to ignorance, bias that favors an ideological narrative, or bias towards the popular ("clickbait"), also tend to leave out or misreport important facts.  This departure from truth is further amplified by social media, which promotes simple explanations that point the blame solely at a guilty few who can be satisfyingly hated due to presumed malicious motivation.  We have explicated the steps in this cycle previously.
So it is with the Bahamian swimming pigs.  After seven of these beloved creatures were found dead on their tiny home island, the first, biggest, wave of mass exposure this event received cast the blame onto a few reckless tourists who through cruel stupidity fed the pigs alcohol.  This was a popular framing, first because it allowed people to indulge in feel-good hate against an unfair oppressor, and second because it allows advertisement of an easily achieved personal moral superiority: look at these pig murderers, I would never murder a pig for laughs, and therefore I am good, even though that's a very low standard for good.
Now, after the Internet outrage mobs have dispersed to new distractions, National Geographic reports that there may not be any malicious oppressors at all:
Though initial reports suggested that tourists had given the pigs fatal doses of alcohol, Humane Society inspector Ventoi Bethune told National Geographic that the dead swine had likely ingested sand.

Veterinarians who visited the site found large quantities of sand in the deceased animals' stomachs, which Bethune says may have been caused by a recent influx of visitors throwing small amounts of food on the beach.

"The pigs have been on the island so long, they are used to foraging for natural food," Bethune says. The pigs would only go the beach for an occasional treat.

But with the increase in tourism, the pigs are relying on humans more than ever.
Though the modern mindset is shaped from an early age to expect harm from intentionally evil agents–like comic book super villains–in reality those threats are not so great, because they're rare, easy to spot, and easy to deal with.  If the pig murderers had been a few malicious individuals, we could imprison, exile, or execute the culprits and the problem would be completely solved; at least until another set of this rare type of person appeared.
What is in fact far more dangerous is carelessness and well-meaning naiveté.  This is commonplace; its negative effects are far more difficult to spot, and there is no obvious solution.
None of the individuals responsible for the pigs' deaths intended to kill the pigs.  None of them expected it to happen, and most likely the vast majority don't even realize that it happened.  If we wanted to assign blame, we would have to hand out a large number of fractional pig murder sentences, which is absurdly impractical and ineffective.  And to hate those responsible, to declare ourselves morally superior, we would need to pass a higher standard than the cartoonish modern conceptions of morality such as "don't be a dick".  Those who fed the pigs probably thought they were being nice, friendly, and good.
But we are able to sketch out some direction that a solution would take if we leave behind the need to blame as the most important component of a solution. Â Assigning blame is important when it means holding people responsible for their failures, but becomes a distraction from solutions when punishment and retribution take the place of identifying causes.
In this case we see that the pigs died because they ate too many bits of food left in the sand, which was the result of a combination of too careless humans, and too many humans. Â From there we can propose either making the human visitors less careless (good luck), or reducing the number of human visitors to the island.
Though this is less satisfying than beating a few assholes, it would mean the remaining cute swimming piggies would be less likely to die — and that is what really matters.
Tags: overpopulation, scapegoating, swimming pigs, virtue signaling