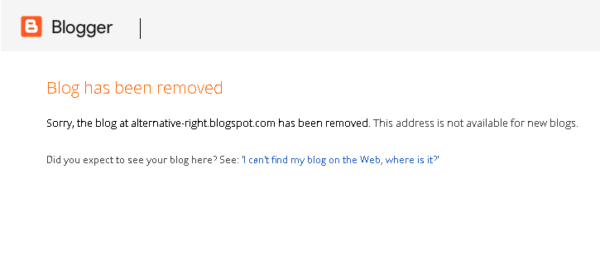 As of this morning, Alternative Right has been removed, presumably by its corporate overlords at Google-Alphabet. Simultaneously, Billy Roper has had his accounts removed at Reddit and Twitter, all on the "interpretive logic" of violating the terms of service or content policy (1990s term: acceptable use policy).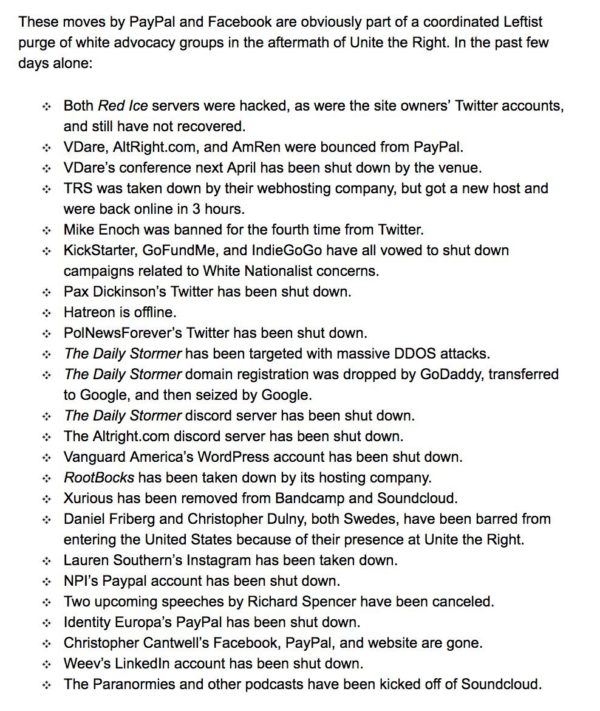 In fact, this is part of a wider pattern of mainstream media — including social media, which has now bought into the industry — censorship of Right-wing and white-wing thinkers since what I have called the Alt Right's victory at Charlottesville. I call this a victory because it forced the Left to admit solidarity with Antifa, and despite media wailing about neo-Nazis and "car terrorism," this is media hype and will be dead in two weeks, while the message the Alt Right sent will remain: you will not erase us; we have a right to a history, culture, heritage, values, symbols and most of all, to act in self-interest for our self-determination as well. And we owe you nothing.
For the Left, Civil Rights is yet another gambit designed to achieve "equality," which means caste revolt, so that the lower classes (proles) prevail over anyone who knows better (natural leaders of intelligence above 125 IQ points) with the aid of the middle classes (115-120ish). This inverts society, so that whatever is dumb and popular with the proles wins out over everything else, and while people are chasing these trends, civilization decays, as happened between the French Revolution in 1789 and the defeat of National Socialism in 1945. Since that time, we have been children of the grave, knowing that we are living in a moribund ruin but unable to stop it because, hey, it's popular.
At Charlottesville, Civil Rights lost its veneer of being "good." It used to be assumed that class warfare and racial equality were always good, but now, we see people protesting these things because they are doing the exact opposite of what they are intended to do, but since it is happening to white people — a majority who must be overthrown for equality to happen — no one has paid much attention. Until now, that is. And now, the Civil Rights and Equality Agenda (CREA) is being seen for what it is: warfare against those who built this society so that those who could not build it can take it over, like a cuckoo laying her egg in the nest of another type of bird. These are parasites, whether they mean to be or not, and whether they are good or not, and Western Civilization is destroyed but wants to rise again, and for it to do that, it must get rid of both these parasites and its own endogenous screwups and predators.
The Left is in full-panic over Charlottesville because they know that while they can spin the "car terrorism" meme for some time, only the media indoctrinated will believe it once they see the video of Antifa attacking the car before the incident, and when the indictment comes out, it is going to be revealed that this was not a deliberate attack, but an attempt to escape by someone who was not mentally all there. At that point, the Left knows that people will shift their views to be against the Left and its defense of parasitism. People have put up with it for decades, but now they see that it is a path to USSR-style doom, and they want out. That is what scares the Left, and is why they are deleting accounts.
President Trump out-maneuvered the press by blaming both sides, which meant that he blamed Antifa as well, which ruined the press narrative that peaceful Leftist protestors had been "attacked" by the Alt Right, and validated what the videos showed, which was police officers corralling the Alt Right into the waiting Antifa, who then attacked. So, from the average American view, we have the fact that the Alt Right tolerated some neo-Nazis the same way they tolerated Alt Lite, libertarian, Proud Boys, etc. among them, but on the other side, we have the Left showing up with bats, bottles of urine, bricks and pepper spray to attack the Alt Right. That makes the Alt-Right possibly not all good, but the Left is looking increasingly all-bad.
This resonates with everyday white Americans who are tired of double standards and a one-sided Establishment narrative to the point that they are willing to excuse the Alt Right for being the underdog in this fight, but oppose the Establishment for its decades of hypocrisy:
But the president's words sat just fine with LaMothe. "I think when he called for the unity of the country, that should have been what was pounded on," LaMothe said in between taking a drag on his cigarette. By pounded on, LaMothe meant respected. He loves Trump and says the president never gets a fair shake from the media.

He says he hates the idea of neo-Nazis and recalls when growing up, he had friends who were black. But now he thinks the white guys he saw on his TV marching in Charlottesville have some reasonable arguments.

"This is a different white supremacy movement than before, because I don't think whites are saying, 'Well, we're better.' They're saying why can't we be treated all as equal?"

LaMothe thinks affirmative action programs should be scrapped. He also thinks neo-Nazis who sparked mayhem in Charlottesville are no worse than a lot of activist groups on the left. "I didn't hear anything from Barack Obama about Black Lives Matter and that was another hate group," he says.
In the meantime, after seeing the same masked rioters destroy the streets of Hamburg during the G20 conference, burn and vandalize London in 2011, and savage Portland and Berkeley — looking more like the LA Riots of 1992 than the peaceful anarchist gathering the Left claimed it was — people are having a different view of Antifa, which is more fair and realistic than the sunny gloss offered by the mainstream media:
After left-wing protesters marched through downtown Minneapolis, Minnesota in response to last weekend's demonstrations in Charlottesville, Virginia, they hoisted the flag of the violent left-wing group "Antifa," raising it in front of the county's government center.

…Antifa, meaning "anti-fascist," has been responsible for several destructive riots and protests, including one in February where members of the group set fires, threw fireworks, attacked the crowd, and damaged property in order to stop Milo Yiannopoulos from speaking at the University of California, Berkeley.

Antifa also vandalized stores, broke windows and rioted during President Donald Trump's inauguration, before being met with armed law enforcement officers.
Even more, it is clear to people out there who is winning. You do not have the world's largest corporations, governments, and media establishment uniting to declare a group terrorist, drop it from industry standard services and censor it unless that tiny group is not just threatening them directly, but threatening to win popular appeal from those who are sick of these parasites using us and doing nothing for us. We can live without Google, Paypal, Twitter, Reddit, Facebook and the Left. We cannot live without our people, and we are being taxed to death to pay for others who now we see intend to destroy us.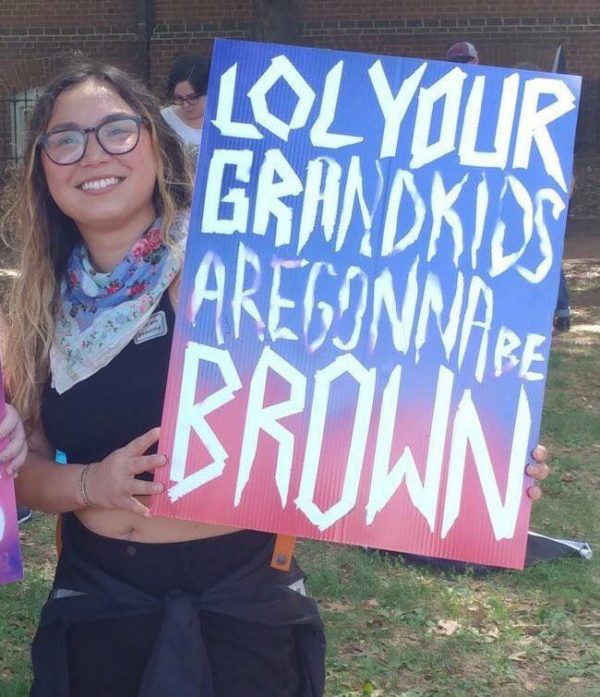 They do not, as they claimed for all those years, just want to coexist with us and be treated fairly. They want to dominate us, take over our countries, destroy us genetically — some call this genocide — and do it by treating us unfairly all while claiming that they are the victim. Diversity is dead. Equality is dead. The remaining mentally alert people in America and Europe have realized that there is a new "one drop" rule: one drop of equality, socialism, diversity or pluralism means that your civilization collapses. It takes two centuries, in which time all sorts of predatory people will profit from you, but it is your death warrant. We want off the death train to nowheresville.
For the last seventy years, they have pushed diversity on us as the right thing to do; the way to avoid Nazis and the KKK; the way to finally have good "race relations"; and more recently, a way of paying for the huge pensions and benefits gap created when the more-numerous Baby Boomers are replaced by the less-numerous Gen X and Millennials. Now people have seen through the lies, and the Establishment is in full panic, so they are censoring us. While they do that, they reveal their fundamental intention toward unfairness and inequality, and since they have shown us their moral emptiness, we no longer trust them, and we are fighting to escape their clutches.
Tags: alt-left, alt-right, alternative right, antifa, billy roper, censorship, charlottesville, diversity, equality, vdare