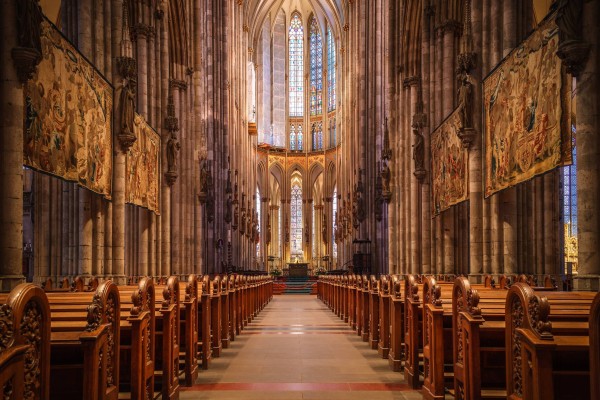 Religion presents a quandary for conservatives. On one side are those who believe that God/country/family is enough; on the other are the Nietzscheans and other realists who recognize that "country" is a substitute for identity, and "family" reduces community to slightly-broadened self-interest. We also see how religion can substitute for these other necessary things.
Religion is part of the answer, but not the answer. It presents a good starting point because it focuses people on the idea that they must reform themselves so that they strive to do good. It introduces reverence for nature, history and the distant future. It frames self-interest in a moral context. But that alone is not enough.
In addition to that reverent outlook, which can happen without religion, we need something else. Conservatives often ignore this and conveniently escalate religion to the universal solution, but even religion indicates our need for culture, heritage and identity. Like most things in life, religion operates in parallel (the theme of this blog) with other necessary elements.
Without culture and identity, and an aristocratic leadership, religion becomes lost and corrupted as it has over the past 200 years since the French Revolution. The fascinating conclusion to this puzzle is that in order to appreciate each of those elements, and most importantly to desire all of them, one must find reason to respect life and take it seriously.
For this reason, religion operates in parallel with "realism," or looking at life through its consequences in reality and the principles thus upheld or denied, much as it requires parallel culture, heritage and aristocracy. None of those can stand without the other. The truth of this can be found in realistic religious writings like Romans 1:18-32:
For the wrath of God is revealed from heaven against all ungodliness and unrighteousness of men, who by their unrighteousness suppress the truth.

For what can be known about God is plain to them, because God has shown it to them.

For his invisible attributes, namely, his eternal power and divine nature, have been clearly perceived, ever since the creation of the world, in the things that have been made. So they are without excuse.

For although they knew God, they did not honor him as God or give thanks to him, but they became futile in their thinking, and their foolish hearts were darkened.

Claiming to be wise, they became fools, and exchanged the glory of the immortal God for images resembling mortal man and birds and animals and creeping things. Therefore God gave them up in the lusts of their hearts to impurity, to the dishonoring of their bodies among themselves, because they exchanged the truth about God for a lie and worshiped and served the creature rather than the Creator, who is blessed forever! Amen.

For this reason God gave them up to dishonorable passions. For their women exchanged natural relations for those that are contrary to nature; and the men likewise gave up natural relations with women and were consumed with passion for one another, men committing shameless acts with men and receiving in themselves the due penalty for their error.

And since they did not see fit to acknowledge God, God gave them up to a debased mind to do what ought not to be done.

They were filled with all manner of unrighteousness, evil, covetousness, malice. They are full of envy, murder, strife, deceit, maliciousness. They are gossips, slanderers, haters of God, insolent, haughty, boastful, inventors of evil, disobedient to parents, foolish, faithless, heartless, ruthless.

Though they know God's righteous decree that those who practice such things deserve to die, they not only do them but give approval to those who practice them.
Those who hate the methods of civilization — religion, identity, aristocracy and culture among them — try to style religion as arbitrary. They wish to portray it as its own domain, which chooses its ideals for its own convenience, rather than what it is: another method of describing reality and regulating individual behavior correspondingly so that civilization can thrive. Through culture, we study success in social and family matters; through aristocracy, success in war, diplomacy and leadership; through identity, principle and purpose. Through religion we discover success in discipline of our souls, but the subject of that study is reality itself.
Witness a similar passage from Plato's Republic, Chapter VIII:
And so the young man returns into the country of the lotus-eaters, and takes up his dwelling there in the face of all men; and if any help be sent by his friends to the oligarchical part of him, the aforesaid vain conceits shut the gate of the king's fastness; and they will neither allow the embassy itself to enter, private if private advisers offer the fatherly counsel of the aged will they listen to them or receive them. There is a battle and they gain the day, and then modesty, which they call silliness, is ignominiously thrust into exile by them, and temperance, which they nickname unmanliness, is trampled in the mire and cast forth; they persuade men that moderation and orderly expenditure are vulgarity and meanness, and so, by the help of a rabble of evil appetites, they drive them beyond the border.

Yes, with a will.

And when they have emptied and swept clean the soul of him who is now in their power and who is being initiated by them in great mysteries, the next thing is to bring back to their house insolence and anarchy and waste and impudence in bright array having garlands on their heads, and a great company with them, hymning their praises and calling them by sweet names; insolence they term breeding, and anarchy liberty, and waste magnificence, and impudence courage. And so the young man passes out of his original nature, which was trained in the school of necessity, into the freedom and libertinism of useless and unnecessary pleasures.

Yes, he said, the change in him is visible enough.

After this he lives on, spending his money and labour and time on unnecessary pleasures quite as much as on necessary ones; but if he be fortunate, and is not too much disordered in his wits, when years have elapsed, and the heyday of passion is over –supposing that he then re-admits into the city some part of the exiled virtues, and does not wholly give himself up to their successors –in that case he balances his pleasures and lives in a sort of equilibrium, putting the government of himself into the hands of the one which comes first and wins the turn; and when he has had enough of that, then into the hands of another; he despises none of them but encourages them all equally.

Very true, he said.

Neither does he receive or let pass into the fortress any true word of advice; if any one says to him that some pleasures are the satisfactions of good and noble desires, and others of evil desires, and that he ought to use and honour some and chastise and master the others –whenever this is repeated to him he shakes his head and says that they are all alike, and that one is as good as another.

Yes, he said; that is the way with him.

Yes, I said, he lives from day to day indulging the appetite of the hour; and sometimes he is lapped in drink and strains of the flute; then he becomes a water-drinker, and tries to get thin; then he takes a turn at gymnastics; sometimes idling and neglecting everything, then once more living the life of a philosopher; often he-is busy with politics, and starts to his feet and says and does whatever comes into his head; and, if he is emulous of any one who is a warrior, off he is in that direction, or of men of business, once more in that. His life has neither law nor order; and this distracted existence he terms joy and bliss and freedom; and so he goes on.

Yes, he replied, he is all liberty and equality.

Yes, I said; his life is motley and manifold and an epitome of the lives of many; –he answers to the State which we described as fair and spangled. And many a man and many a woman will take him for their pattern, and many a constitution and many an example of manners is contained in him.

Just so.

Let him then be set over against democracy; he may truly be called the democratic man.
Both of these passages focus on the symptoms of degeneracy, itself a product of degeneration in the Darwinian sense or loss of higher genetic characteristics because, in the hands of social and cultural influences, they have become less valuable and therefore underused, gradually dropping out of the population. The first step toward degeneracy is changing behavior, which changes the economics of civilization such that bad is rewarded and good, by de facto inversion in the zero-sum game of competition that is society, punished.
Contrary to what is adherents sometimes say, religion alone is not a path to survival but to self-destruction. On the other hand, in conflict with what its detractors say, religion is not arbitrary. These rules exist for a reason which is that they provide the optimal survival of a tribe, and thus longest resistance to degeneration, over the centuries as has been witnessed by wise people in the past, repeatedly. Like science, religion is a repository of knowledge, but it describes the metaphysical using metaphor instead of attempting the detailed approach of science. Abstraction allows flexibility over the changes brought by the passage of time, and for that reason, religion is highly abstract. But it is neither nonsense nor a singular solution.
Tags: collapse, decay, decline, degeneracy, degeneration, democracy, plato, religion