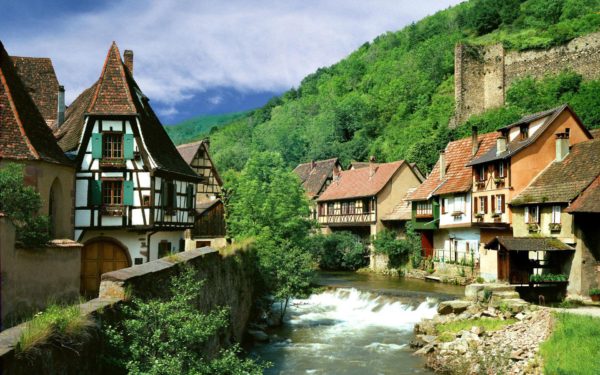 Yesterday in Paris, France the concept of exit died on the floor of the Google headquarters. Leftists worldwide have realized how wealthy the technology sector is and they want their money so they can pay for the bennies that keep the citizens complacent and stupid:
A dawn raid was launched on Google's office in Paris yesterday as part of a probe into 'aggravated tax fraud' and money laundering.

Around 100 police officers, five magistrates, 25 computer experts and about 100 tax officials entered the US internet giant's premises at 5am as France ramped up its efforts to clamp down on alleged tax evasion.

Google is accused of owing the French government £1.2billion in unpaid taxes.
While Google is arrogant enough to hide its money however possible, let us be honest: this is a shakedown. If you have the money, Leftist government will take it because all of the voters want it. Leftism creates a perpetual cycle of not having enough and working too much, and this makes workers angry at anyone who is not in that condition. These shakedowns are frequent and eventually kill off industry so that the Leftist cancer can enter its final phase.
The reason that the concept of "exit" died is that a principle has been formalized: if you have money, They will come to take it from you.
The notion of fairness in laws or some kind of reason existing behind the whole process is fallacy. The French have creatively interpreted their laws, which democratic societies produce in vague abundance, to legitimize the theft of money from Google (who creatively interpreted tax and accounting codes for the opposite purpose). This is what Governments do. They also wage war.
Most "collapse" scenarios are like most human thinking, linear and binary. Suddenly there is a huge SNAP! and society just falls apart, leaving a smouldering ruin through which starvation-crazed people wander. In reality, collapse is like Brazil: a society slowly fades away into third world levels of hygiene, wealth and order. It never really fails, it just becomes useless, kind of like ancient Greece and Rome.
When an empire dies, you are left with vast monuments in front of which illiterate peasants squat to defecate. Brazil is in approximately that condition now. This does not mean an absence of government however, nor the more important problem caused by herd mobilization. In every society, the people create the government. When the herd needs money or fears the competition from an exit-stage, politicians arise who will promise to take action.
This creates the They mentioned above: a vast and desperate herd, needy for plunder, and its enablers — who also have a motive of corruption themselves. The enablers will in fact work both coming and going by taking protection money from businesses, and then confiscating a few to demonstrate their power and keep the rest in line. And when the herd calls for Google's head? Then government will do whatever it has to in order to generate a pretext for seizure.
Not surprisingly, Silicon Valley will react with evasion as it is already doing in response to government demands that it decrypt its customers' data:
In Silicon Valley, there's a new emphasis on putting up barriers to government requests for data. The Apple-FBI case and its aftermath have tech firms racing to employ a variety of tools that would place customer information beyond the reach of a government-ordered search.

The trend is a striking reversal of a long-standing article of faith in the data-hungry tech industry, where companies including Google and the latest start-ups have predicated success on the ability to hoover up as much information as possible about consumers.

Now, some large tech firms are increasingly offering services to consumers that rely far less on collecting data.
Tech companies have already figured out that against governments, especially third world regimes, they cannot win. The internet exists in its wires, switches and servers, and all of those are located in the physical world, and can be controlled. Markets can be closed.
If we had a true Terminator-style collapse of civilization that was nice and crisp and binary, this would not be a problem as people could set up a bootleg internet and keep it running with energy generated from flatulence or something. But in Brazil, there is still government… corrupt, incompetent, and slow, but still able to feed itself.
The anarchist fantasy turns out to be far from the reality (although it sounds cool):
Night City was like a deranged experiment in social Darwinism, designed by a bored researcher who kept one thumb permanently on the fast-forward button. Stop hustling and you sank without a trace, but move a little too swiftly and you'd break the fragile surface tension of the black market; either way, you were gone, with nothing left of you but some vague memory in the mind of a fixture like Ratz, though heart or lungs or kidneys might survive in the service of some stranger with New Yen for the clinic tanks.

Biz here was a constant subliminal hum, and death the accepted punishment for laziness, carelessness, lack of grace, the failure to heed the demands of an intricate protocol.

Alone at a table in the Jarre de Thé, with the octagon coming on, pinheads of sweat starting from his palms, suddenly aware of each tingling hair on his arms and chest, Case knew that at some point he'd started to play a game with himself, a very ancient one that has no name, a final solitaire. He no longer carried a weapon, no longer took the basic precautions. He ran the fastest, loosest deals on the street, and he had a reputation for being able to get whatever you wanted. A part of him knew that the arc of his self-destruction was glaringly obvious to his customers, who grew steadily fewer, but that same part of him basked in the knowledge that it was only a matter of time. — William Gibson, Neuromancer
Human illusions always favor solidly defined and rigidly delineated events instead of the gradualism with which natural events occur. Decay is a natural event, since it is not deliberate like a human command, but the result of human actions in the world and the consequences created by those. This often resembles a "conspiracy of details," with humans accomplishing their goal but experiencing unintended results as well.
For this reason, the concept of "exit" has died: there is no way out of a dying civilization except to overthrow the parasite (the government, the elites, and the less-than-honorable portion of its populace) and deport it, then set up a more sensible social order. This is why the wisdom of our forebears was always to stand and fight rather than try to escape, because in the end, there is no escape from the consequences of our actions, whether individual or collective.
Tags: china, collapse, consequences, decay, decline, downfall, encryption, exit, google, privacy, results