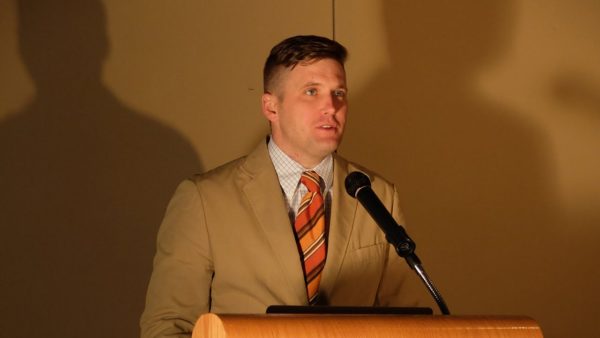 Richard Spencer spoke at Auburn University and advanced the Alt Right cause by pushing back the Left, and in doing so, causing the university and its police to become accountable, at which point they acted in self-interest by disabling Antifa by removing their masks.
This was a complete victory for the Right.
First, Spencer and his supporters cucked the university by forcing it to let him speak, which in turn compelled the university to act against instead of with the Communist protest groups, including antifa, "anarchists" and other thinly-disguised Reds:
Reiterating his key talking points, Spencer denounced diversity as "a way of bringing to an end a nation and a culture" defined by white people.

"There would be no history without us," he said, prompting shouts from the crowd. "The alt-right is really about putting Humpty Dumpty back together again."

…Spencer, 38, director of the white nationalist think tank National Policy Institute, has been a target for his radical beliefs. He has advocated a "peaceful ethnic cleansing," where people who are not of European descent voluntarily leave the United States.
Bonus points if he upgrades that to "people who are not of Western European descent voluntarily leave the United States," presumably as the welfare state and racial subsidy programs like Affirmative Action, Civil Rights and HUD are cut.
Here's his speech:
The importance of this event, in addition to the content of his speech, is that he forced back the usual way of doing things, which is for the Establishment to favor its Leftists pets, the antifa who scare normal people into cucking and supporting whatever Leftism, Inc. is banging the tin drum for during that fiscal quarter.
For example, contrast what happened in Berkeley with what happened in Auburn:
According to Southern, the Berkeley police disarmed the free speech marchers while allowing the black-clad Antifa domestic terrorists to use M-80 explosives, pepper spray and teargas. As soon as Antifa became violent, the Berkeley police stood down and retreated away from the melee, leaving the free speech marchers dangerously exposed.
Part of the reason for this was that Berkeley police were not actually involved in the demonstration. For them, it was another public event, so the right thing to do was to obey union rules and retreat whenever it sounded like an officer might be in danger.
In Auburn, instead, Spencer forced the establishment to take responsibility for its actions. This created an incentive for the university to desire order, since it could not simply externalize chaos onto society at large, and so officers did the sanest thing ever, which was to remove Antifa masks and so make them behave because they were no longer anonymous:
This was necessary because the school had canceled the event because of threats of violence, and once forced by a federal court order to allow the event, they realized that if they did not denature Antifa, they would have violent riots just like in Berkeley. Police adapted:
A supporter of Spencer, a white nationalist leader who is planning a rally at Auburn on Tuesday, filed a motion in court Tuesday seeking an injunction to force the University to allow him to speak. The court on Tuesday granted that motion, attorneys for the plaintiff and the University told The Plainsman.

The motion was filed in U.S. Federal District Court in Montgomery by Cameron Padgett — a Spencer supporter who said he booked Foy Hall for Spencer's speech — and his attorney.

…"This afternoon, a federal judge ruled that Auburn must allow Spencer to speak in the Foy Auditorium tonight," they said in their letter. "It is now more important than ever that we respond in a way that is peaceful, respectful, and maintains civil discourse. We are aware that various campus groups have planned events for this evening. Please know that additional security measures are being taken by the Auburn Police Division to uphold the safety of our community."
Had police demanded this as a matter of course, they might have been accused of discrimination against the Left. But now that the issue had been raised, and then made secondary to a Constitutional need to allow the event to go on, police had to ensure the safety of the event, which required disarming Antifa.
This shows a pattern for us on the Right. Instead of taking on the responsibility for preventing violence, we need to externalize it to the community, and with them finding their backs to the wall, they will respond by unmasking Antifa and Black Bloc types, which has been seen to prevent the violence.
Violence in Berkeley, California, for example broke out because police allowed a large group of black-clad, masked people to gather with primitive weapons in public, and then retreated when firecrackers were thrown. This ensured violence.
On the other extreme, the police in Auburn showed how easy it is to prevent this violence. Mobs act as they do because individuals are anonymous in them, and are empowered by the mob to act out their own pathologies, knowing that the mob will defend them. Remove anonymity and the violence decreases.
In the meantime, America's public universities and cities now have an Alt Right problem: there is law on the record that says that speeches cannot be canceled simply because of the threat of violence, and we now know of a working method for ensuring the violence does not break out.
For those reasons, public venues no longer have a case for blocking the Alt Right. As America spirals downward into disorder and hatred, these events will become more contentious, but now we have a model for making them work, which defeats Antifa in their aim of "no platforming" the Alt Right.
Tags: antifa, black bloc, no platform, police, richard spencer