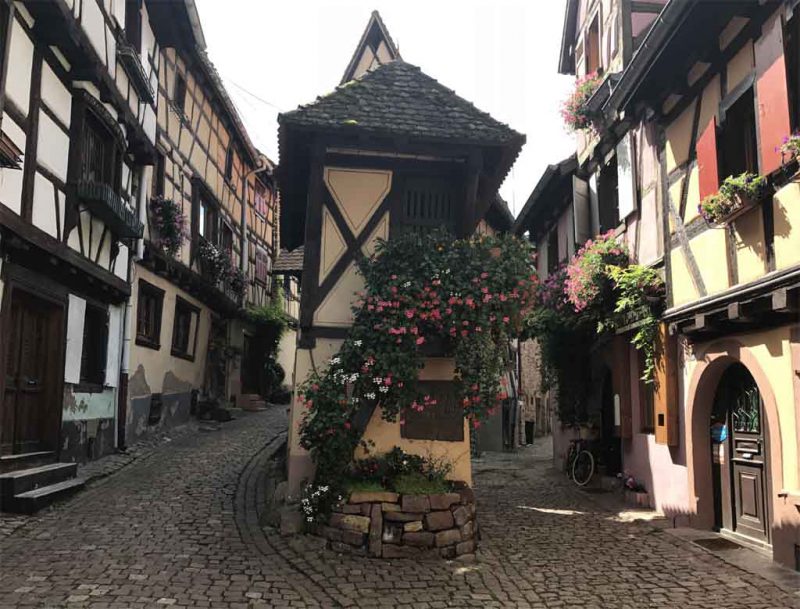 We are accustomed to living in a broken time. Everything good is gradually dragged down to the level of public spectacle, made cheap and mediocre, and then forgotten as the crowd rushes on to the next fascination, trend, fad, or panic. It is a time of herd behavior.
As a result, most have given up on a chance for any sort of functional civilization and hope for the best they believe they can have, which is a chance for personal survival through the right job, social scene, and gated secure community.
That pleasant hybrid between white flight and bourgeois oblivion was shattered during the Obama years when it became clear that the Leftist revolution would not stop when given whatever it demanded last year; its goal was total domination, Soviet Union style, and it would end with our countries too destroyed to even offer escape.
This re-framed the question of race in America. Previously, we had viewed it as a question of protecting vulnerable minority groups from white racists; in response to this, a white nationalist underground arose which suggested that whites were victims of minority behavior. Both sides had merit, but neither told the full story.
As I have written for a little over twenty-five years at this point, the actual story is that diversity itself is a problem because if you put different groups together, they fight for power. Each group wants to define social standards, future direction, and even aesthetics.
If you suppress this conflict, you create an entropy of unknown expectations. There are no longer values or standards except at the broadest level, because they must be stretched like a rubber tent to include all groups, which means you have created a permissive, goalless society based around keeping everyone happy.
Such societies not only cannot make decisions but are alienating places to live. Other than ideology — repeating in new forms the idea that equality, diversity, and pluralism are good — nothing will be approved of by the whole group, and it takes just one complaint to initiate a witch-hunt. People refuse to act under those circumstances.
Looking at the decay around us, it becomes clear that diversity is the hill we have chosen to die upon. Our shared spaces, values, ideas, culture, and aspirations have been abandoned and the gap filled by lowest-common-denominator masturbatory individualism and attention whoring.
This leads us to be less critical of other groups, and more critical of diversity. After all, diversity creates disunity and destroys our sense of who we are:
Returning to the initial confusion, that cultures are often conflated with race, it bears stressing that being wary or critical of multiculturalism is in no way the same thing as being wary or critical of other races or ethnicities (that is, "racism") but rather being wary of disunity.
That in turn springs up another realization: if diversity is disunity, we must figure out who We are in order to choose our path out of the quagmire of diversity and globalism ("international diversity"). That requires us to identify our group and understand its heritage, customs, and values.
Artistic and cultural movements have been inspired by this urge, nationalism or the idea that a nation is defined by its founding ethnic group to the exclusion of all others, over the centuries. People find it compelling because it instills meaning in life by giving them a context within which to operate.
We might see nationalism as an outpouring of culture and a venture toward naturalistic thinking, instead of humanistic thinking that believes "we are all one" and other socially acceptable but artificial and unrealistic notions:
Real, original, nationalism was a tremendously powerful, grass-roots, bottom-up kind of movement; a kind of mania or instinctual welling of emotion and desire that was so strong that (once the spark had been applied) it was very difficult, often impossible, to contain.
With this, heritage — a composite of race, ethnic group, and nationality — takes center stage. We cannot define ourselves by any other group, because all other groups are not-Us and therefore, useless for the purpose of nationalism. They can only destroy, not create, and we need to resurrect who We are and create it anew.
For those of us who have lived in a society as a majority for some time, the need to figure out who-we-are hits us with a bit of shock. As a majority, we identified with the society we created, and got lazy and assumed that our government, economic system, and political system ("muh Constitution") somehow reflected Us.
With the rise of Millennials, it became clear that the founding group of America — Western Europeans, or WASPs — was fading, just like they faded in 1968 when a coalition of near-whites (Irish, Italians, Jews, Greeks, Spaniards) seized power by claiming they were bringing a new, more tolerant way of living.
Millennials, after all, were 40% non-white, and many of the "white" were from these groups who essentially polarized themselves against the pioneers and colonists who created this nation out of thin air. Suddenly, it was not enough to be race-blind or color-blind; race was thrust upon us, yet again, but this time as a future obliterating the past.
This led to a discussion about what it was to be white and even more, an ethnic group within the white race:
How often do white people talk about being white? Not often! So long as we aren't hanging out with white nationalists, marrying into a family of color or chuckling over jokes about our dancing, we have endless opportunities to avoid thinking much about our own race. We generally prefer to frame identity in ethnic terms instead: Identifying as Italian or Irish or Jewish seems to come with zest, pathos and a chance to take pride in some shared history. Plain undifferentiated whiteness, on the other hand, is a "toggle between nothingness and awfulness," writes Nell Irvin Painter, an emeritus professor of history at Princeton and author of the 2010 book "The History of White People."

…White people are losing the luxury of non-self-awareness, an emotionally complicated shift that we are not always taking well…Suddenly it is less tenable than ever for white people to write our whiteness out of the story of race in America or define ourselves only in terms of what we are not.
People identify with their ethnic group, not their race. An Irish-descended person sees himself as Irish first, and white second; same with Italians, Jews, Greeks, Spaniards, and even Anglo-Americans or other WASPs. We do not identify with race because race is too broad.
We can no longer simply say "American" when asked about our nationality or ethnicity; "American" has come to mean anyone who shows up and signs up for citizenship, which is a low bar. Instead, we identify not with race but with our own group, a case in which we group by European region (Southern, Eastern, and Western).
Our ancestors warned us for decades of a "coming apart" of the American experiment. Luckily, it is now here, so we no longer need to fear it. However, we realize that we are the target not of one group, but of every other group because the competition inherent in diversity means a need to squash Other groups, for all groups.
We can see this through the demographic process of whites becoming marginalized by the social disorder created by diversity and the lack of desire to continue living in a multi-racial, multi-ethnic state:
The Census Bureau has projected that whites could drop below 50 percent of the population around 2045, a relatively slow-moving change that has been years in the making. But a new report this week found that whites are dying faster than they are being born now in 26 states, up from 17 just two years earlier, and demographers say that shift might come even sooner.

…Some experts say that rapid demographic change became a potent issue in the 2016 presidential race — and helped drive white voters to support Donald J. Trump.

…Deaths began to exceed births for whites countrywide in 2016, according to the report. But in many states, as in Florida, white people moving in made up the losses. However, in 17 states, including California, Michigan, New Jersey and Ohio, those migrants weren't enough and the white populations declined between 2015 and 2016, said Kenneth M. Johnson, a demographer at the University of New Hampshire and the report's other author. Five of those states registered drops in their total populations that year: Vermont, West Virginia, Pennsylvania, Mississippi and Connecticut.
When we look at this clearly, we see that it is genocide by diversity: our governments introduced foreign citizens in order to have a permanent voting majority, and this created social instability that made white people miserable and caused them to stop reproducing.
Part of this, of course, is who is funding the great diversity experiment; one fifth of the citizens pay nearly nine tenths of the taxes. Want to guess the ethnic group that makes up that fifth, for the most part? The European-American group finds itself subsidizing everyone else, and would prefer to use the money constructively instead.
As the sponsors of this little party, it finds that others are willing to use whatever justifications they can to extract wealth from it. Since groups are unequal, diversity becomes a Jacobean revenge fantasy against the majority in the name of protecting minorities, but really protecting only those in power:
I see two issues here. First: diversity, both the word and the concept, has crimped. It serves a strict, narrow agenda that has little or nothing to do with the productive dynamism of living and working alongside people with widely different upbringings and beliefs. Only particular and, if you will, privileged backgrounds count. Which is why Apple's African-American diversity tsar, Denise Young Smith, got hammered last October after submitting, 'There can be 12 white, blue-eyed, blond men in a room and they're going to be diverse too because they're going to bring a different life experience and life perspective to the conversation.' She hadn't bowed to the newly shackled definition of the word, which has now been effectively removed from the language as a general-purpose noun.

Second: dazzled by this very highest of social goods, many of our institutions have ceased to understand what they are for. Drunk on virtue, Penguin Random House no longer regards the company's raison d'être as the acquisition and dissemination of good books. Rather, the organisation aims to mirror the percentages of minorities in the UK population with statistical precision.

…With rare guts, the softball conservative New York Times columnist David Brooks recently decried the 'misplaced idolisation of diversity'. Although a laudable penultimate aim, he wrote, 'diversity is a midpoint, not an endpoint.… [An] organisation has to be diverse so that different perspectives can serve some end. Diversity for its own sake, without a common telos, is infinitely centri-fugal and leads to social fragmentation.'
Unfortunately for them, diversity always lends itself to such scenarios: equality is not found in nature, so it must be forced, and since the lower cannot be lifted up, it means punishing the higher so that the lower can thrive. This leads to an "affirmative action" environment where minorities are prioritized over the majority.
This in turn creates a pushback reaction where those who are displaced blame those who take their place, while those who are taking new places find that they are still not equal to the original group, and so everyone remains unhappy. Diversity specializes in making everyone an equal victim.
A problem arises from trying to rectify this condition: if groups are equal (already at parity) and unequal (below parity) than to subsidize a below parity group will provoke cries of "racism," but to fail to do so will produce evident results of inequality. For this reason, diversity is always punitive and produces discontent and dissent:
Hitherto, the UK has not extensively employed positive discrimination, which may still seem innocently benevolent in Britain. But, as Coleman Hughes explains opposite, the US has rigorously pursued what we call affirmative action, especially in education, for nearly 50 years. The American experience is cautionary.

Combating injustice with more injustice, and racism with more racism, is philosophically contradictory and pragmatically ham-fisted. In the US, affirmative action has entrenched racial divisions and pitted minorities against one another.

These finger-on-the-scale policies have often benefited the economically well-off who happen to tick a racial box. Intrinsically paternalistic, affirmative action has stigmatised and demoralised the very populations it was designed to help.
At this point, diversity becomes a question of political allegiance. Those who wish to demonstrate allegiance to the current regime find themselves supporting diversity, even if or especially if it fails, which makes them like salesmen manipulating a situation to their advantage.
Since diversity always fails, it becomes a handy litmus test: anyone who supports it is insincere about everything but advancing themselves in the system, which makes them willing tools of those in power. Filter out those who are not enthusiastic about diversity, and you have a list of obedient conformists to exploit.
The most realistic proof of this can be found in diversity policy itself, which is both ardent and insincere:
The first is that, whatever attitude governments take to the migrants, no one truly believes that they are more of an asset than a liability. Madrid's action, for example, was taken on "humanitarian" grounds, rather than because it believed that Spain would benefit from the migrants' presence. When European leaders discuss the migrant question, it is always in terms of sharing the burden, not the assets, equitably. No one speaks of foreign investment in this way, which suggests that European politicians believe, whether rightly or wrongly, that the free movement of people and capital are different in an important way.
In other words, diversity was always a pawn, as chronicled and predicted by Plato:
And who are the devoted band, and where will he procure them?

They will flock to him, he said, of their own accord, if lie pays them.

By the dog! I said, here are more drones, of every sort and from every land.
The tyrants use diversity as a means of guaranteeing their power; the tyrant realizes that a minority will never vote for what the majority wants, merely because the minority has conflicting interests with that majority viewpoint. Therefore, the minority will always support the tyrant as its protector.
That has brought about another realization, namely that the diverse population is not the problem but a symptom of it and a tool of those who have created it. Diversity is a weapon; political correctness is a method; the goal is a subdued population of mixed-race people who forever vote Leftist.
That in turn provokes a different understanding. We must discover who we are and advance that; at the same time, we must remove and suppress the diversity movement because its goal is our genocide and nothing else. It is designed to destroy and replace us.
This leads to zero-sum reasoning like the clarity of Italian politicians after the postmodern age:
And finally, in a quite shocking comment during a BBC documentary on the Italian Interior Minister, Salvini says ominously:

"We need a mass cleansing. Street by street, quarter by quarter" in the EU.
Whether we want it or not, the mass cleansing is upon us. For us to survive, the other must go elsewhere. Diversity must end. Globalism must die. It is one or the other, because they are competing forms of social order. With diversity, a few elites rule over a grey mass; with sanity, a social hierarchy exists and people seek culture.
The next few years will decide the future. Either we decide to rise above all of our forefathers and create an epic civilization, or we bow to the herd mentality and like others join a third-world civilization where everything good is swallowed up by the instinct for togetherness.
The choice lies before us. We cannot get there without positive nationalism, or a sense of who we are independent of all others. As we see diversity fade, people are rediscovering identity at not just a racial but ethnic level, and humanity is fragmenting into many different groups, each seeking autonomy and its own path.
Tags: alienation, atomization, diversity, fragmentation, Globalism, immigration