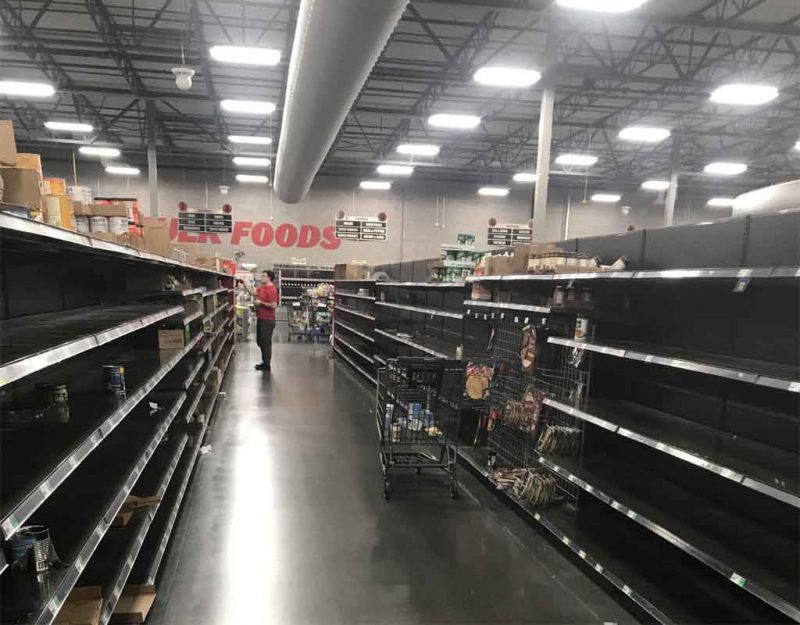 Never let a good crisis go to waste: this sound political logic applies to all who wish to seize power. When people panic, they focus only on the threat as it appears in their daily lives, and are willing to trade off everything else in order to make that pain and fear go away.
Human logic tends to fail from this tendency, universalism, anyway. Something upsets us, so we pretend that everyone is impacted by it the same way and demand that the herd remove it, in theory for its own good, but in reality for our convenience. Universalism is projection is selfishness.
This tendency of humans to see only one point out of many, and to make it into a category by which they address a whole situation as a "problem," creates a first mover advantage to whatever breaks. People drop everything and address that, making more problems as they go.
So will be the case with the coronavirus disease (CoViD-19). Neither harmless nor the end of the world, it is being treated as the apocalypse because this enables the Left to push for their only escape from the failure of their own policies.
When we look back at history, we see a series of plateaus by which the Left (roughly: herd individualism, or group selfishness) took over. First the peasant revolts, then the plague, the French Revolution, the Civil War, the Great Depression, and WW2. Each time no crisis went to waste.
In other words, our society has been shifting Leftward for a long time, meaning that it is in the grip of a prolonged panic causing it to avoid the Right because it fears judgment and ranking for the consequences of its actions. The individualist fears order and hierarchy because then "me first" no longer passes for reasonable thinking.
The Left has seen this latest crisis and want to exploit it. Just like they wanted to use RussiaGate, impeachment, emoluments, Stormy Daniels, and accusations of insanity to derail the Trump presidency, they now want to incite mass panic and crash the economy.
They want to end Trump, since he got in the way of their plan to demographically transform America so that no one but the far Left would ever win elections again. They want to use this pandemic to call for socialized medicine and a Democrat taking over office in the 2020 election.
If they can do that, they will resume inviting in the third world until they have enough voters to ensure that a Republican — or anyone other than a Democrat with the "correct" opinions — will never win office again. They want to seize control forever.
At that point, the voters will see how democracy always ends, which is tyranny. The tyrants import foreigners who, out of fear of the power of the majority, always vote against it and in doing so, vote for the tyrants.
Your risk there is not so much loss of "muh freedom" as living under an ideological regime which acts to perpetuate itself while everyone else suffers. Only those in the inner party get bread; everyone else must OBEY or starve.
We have been following the Soviet Union model, which is to declare symbolic ideology more important than reality and to force everyone to obey it, since the civil rights laws of the 1860s and 1960s. We even adopted market socialism, or socialist entitlement programs funded by taxes on free markets, in the 1930s.
Like the EU, the USA will perish if it follows this path. Symbolic ideological government takes money out of the economy, making it ill, and eventually it runs out of value that it can use to stimulate the economy. Soon it is nothing but people going in to do half-ass work at their make-work jobs.
If given the chance, the Left will seize control and the USA will follow the Soviets into the dustbin of history.
Should they not do so, they realize that they are now in trouble because: (1) they are the Establishment now and (2) all of their policies are failing. Diversity means constant ethnic conflict; entitlements created consumerism; unions made our labor too expensive; feminism has wrecked the family; sexual liberation has alienated men from women; equality means perpetual infighting over power, with the most vicious winning out; democracy means an inability to ever fix problems, so we fight the same battles over and over again, ending up at the same compromises, while our problems get worse and our best people drop out of society and go live in shacks at the edge of the woods (and do not have children).
The Left fears what the coronavirus will do, which is transformation of another form.
Globalism is dead because we now see how "the bigger they are, the harder they fall" applies not just to markets but the movement of people. Viruses arrive from afar quickly and foreign governments act against us in our time of need. Outsourcing means that we cannot get the vital supplies we need.
Liberal democracy is dead because it cannot address the problems it has created, having tied its hands with precedents including civil rights, affirmative action, legal defense of unions, and handouts to keep a permanent underclass.
Diversity ("in-house globalism") has failed because we no longer have unity in our nations, and instead are cultureless shopping malls where people care only about their own interests, and are perfectly willing to ignore quarantine orders.
Equality has failed because clearly, we need some kind of caste structure and aristocratic leaders to enforce a sense of direction, aesthetics, standards, and behavior.
Consumerism — the mix of entitlements and social equality — has failed because it has created a socialist-style economy based on appearances, not productivity. This fragile system of market socialism has collapsed easily with just a few weeks of downtime.
Most people remain oblivious to the fact that this pandemic is less serious than thought, and functional treatments are emerging:
We are also starting to see that not all patients are equal:
Although the coronavirus may not be as severe as people thought, the panic over it has revealed that modern society is fragile underneath the chrome, wealth, polish, slick media, and highly organized governments.
We are going to get our "Berlin 1945 moment" for the modern system. The coronavirus is just one of the steps there. So, take heart! And wash your hands.
Tags: coronAIDS, coronavirus, covid-19, linkpost, panicdemic, wash your hands