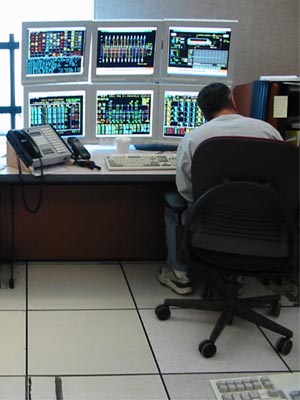 When we go through life, we feel a schizophrenic disconnect between what we think we're doing and the results we see in reality.
Think about the political programs you read about in the news. Almost none of them achieve their desired effect; some do, "on paper," meaning that they meet some arbitrary targets but don't fix a problem.
Most of our worst problems are with us perpetually. Crime, poverty, war, incompetence, corruption, filth, and a seemingly endless stream of people willing to do anything for cash, to themselves, others or the world at large including our environment.
Are we out of touch?
Perhaps the answer lies in how we approach the world. We sample from it, then make a "hypothesis" or agreement to study only some details of a situation with many thousands of details. When we find a way to manipulate that subset of the details, we declare ourselves in control.
Yet no one talks about the context, the forgotten data and that which is not considered because it is not what our big human brains are interested in at that moment:
Ken goes on to point out that:

Cigarette smoking has been shown to increase serum hemoglobin, increase total lung capacity and stimulate weight loss, factors that all contribute to enhanced performance in endurance sports. Despite this scientific evidence, the prevalence of smoking in elite athletes is actually many times lower than in the general population. The reasons for this are unclear; however, there has been little to no effort made on the part of national governing bodies to encourage smoking among athletes.

Now at this point I assume that people are wondering how something this insane came to be published in a respected medical journal (as of 2010, CMAJ was ranked 9th of out 40 medical journals, with an impact factor of 9). The answer, of course, is that the point of Ken's article was to illustrate how you can fashion a review article to support almost any crazy theory if you're willing to cherry-pick the right data. Here is the paper's abstract:

The review paper is a staple of medical literature and, when well executed by an expert in the field, can provide a summary of literature that generates useful recommendations and new conceptualizations of a topic. However, if research results are selectively chosen, a review has the potential to create a convincing argument for a faulty hypothesis. Improper correlation or extrapolation of data can result in dangerously flawed conclusions. The following paper seeks to illustrate this point, using existing research to argue the hypothesis that cigarette smoking enhances endurance performance and should be incorporated into high-level training programs.

While people might be able to spot the implausibility of smoking improving distance running performance, it's a lot harder to spot with more specialized topics. – PLOS
In the past, people have submitted fake articles to humanities and science journals to see if they got through. Often, they did. We have also seen a recent rash of article retractions as scientists have been caught "cherrypicking" data, which is what happens when you keep the results that prove your point and throw out the ones that don't.
But now, we're seeing criticism of the scientific method itself. It's like a cartoon related to reality, a simple primary-colors representation of what goes on out there, with no consideration of context or change over time. An experiment in a lab produces one result and that's all we care about. Any side effects are not our problem.
That approach works great for the basics of science. For example, does aspirin decrease fever? Does gasoline light on fire when you use a spark? Can we overclock our CPUs to 4x their original clock cycle? But it doesn't work so well for broader questions, like social questions and our understanding of the nature of reality itself.
Hints of this have even crept into politics:
SPIEGEL: Chancellor Angela Merkel has said that the environmental crisis and the financial crisis have common causes. Is this true?

Röttgen: I totally agree with the chancellor. The great crises of our time arise from a mindset and a political approach that knows no tomorrow. Countries and financial markets live on borrowed money, the world's social systems — even in Germany — are not sufficiently sustainable, and we derive our prosperity from resources that should actually be available to future generations. We run up financial debts, social debts and environmental debts. This adds up to a life on credit that ignores our responsibility for the future.

SPIEGEL: It sounds like saving the euro isn't our biggest challenge.

Röttgen: The euro crisis is difficult enough, but it's only part of a wider problem. We are dealing with a systemic crisis. Our lifestyle of the past few decades has revolved around a dangerous egotism, which only focuses on our present needs, and which we now have to overcome. – Der Spiegel
We have a "dangerous egotism" mainly because of equality. If every viewpoint is equal, there is no plan. Each person becomes his or her own self-approving world and idea. It's no wonder egotism spreads through the society. Equality itself means approval of the ego is enforced upon society at large.
Naturally, egotism manifests itself in a disconnection from reality. Call it narcissism, self-esteem compensation or my favorite, solipsism, but it's a secession from reality and a withdrawal into the human mind. Judgments, feelings and preferences predominate over hard fact and logic.
It's possible this mentality is born of the same impulse as our mis-use of science as described above. Both may have an origin in our desire to control our world, coupled with an awareness of how to game the system.
We game the system through social consequences, or by manipulating the opinions of others instead of achieving results in reality. For example, if a product is crap but you invent a catchy line to sell it to others, you win vast profits even though technically you're in an inferior position.
That's a reversal of nature, where the best function prevails, even if it's ungainly or perhaps a bit weird. Equality creates a society based on image and appearance, since we assume that the structure beneath is all the same since all individuals are equal. There can be no difference in structure, or equality itself is upset.
In suggesting that the most intelligent people tend to use IQ to over-ride common sense I am unsure of the extent to which this is due to a deficit in the social reasoning ability, perhaps due to a trade-off between cognitive abilities – as suggested by Baron-Cohen's conceptualization of Asperger's syndrome, including the male- versus female-type of systematizing/empathizing brain [22]. Or alternatively it could be more of an habitual tendency to over-use abstract analysis, that might (in principle) be overcome by effort or with training. Observing the apparent universality of 'Silly Clevers' in modernizing societies, I suspect that a higher IQ bias towards over-utilizing abstract reasoning would probably turn-out to be innate and relatively stable.

Indeed, I suggest that higher levels of the personality trait of Openness in higher IQ people may the flip-side of this over-use of abstraction. I regard Openness as the result of deploying abstract analysis for social problems to yield unstable and unpredictable results, when innate social intelligence would tend to yield predictable and stable results. This might plausibly underlie the tendency of the most intelligent people in modernizing societies to hold 'left-wing' political views [10] and [20]. – Bruce Charlton
More intelligent people use IQ in place of common sense because they do not trust the world around them. To a mind of two deviations above average intelligence, our declining civilization seems like a place of disorder, corrupt motivations and confused goals.
Even more, once the principle of "science" is understood and manipulated, it infects the mind with its narrow type of thinking. After all, thinking that way is how you get ahead. That type of narrow thinking, combined with paying attention to social rules more than reality itself, is what makes modern society: an egotistic wasteland in which people pursue symbols of reality instead of connecting with the outside world.
As the years go on, and our problems not only stay with us but thrive despite our "best efforts" to quash them, we are starting to realize that the real problem is in the assumptions we use to approach the world. All of our thoughts are corrupted because some underlying notion is corrupt.
Perhaps this is what we mean when we say our society is "out of touch."
Tags: alienation, atomization, crowdism, externalization, liberalism