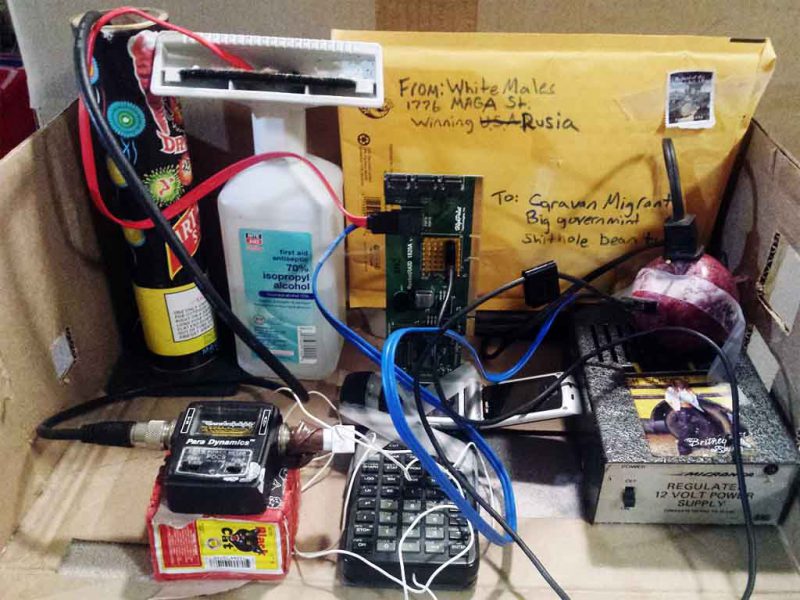 With recent events in American news, we may be witnessing an "October Surprise" engineered by the Left. It would not be hard to do so, because they could work against us.
The following is conjectural because no proof to verify or deny it yet exists. We may never know, mainly because law enforcement does not track many of the interpersonal connections required.
Just in time for the midterm elections, two events occurred which appear coordinated to discredit the Right, discourage its voter base, and revitalize the Left by appealing to their primary motivator, panic, fear, and a sense of victimhood.
False Flag #1: Mail Bomb Hoax
Cesar Sayoc allegedly mailed a dozen bombs, none of which went off and most of which were inoperable. For a hundred dollars of stamps and parts, he created a major media feeding frenzy.
We know that he was an unemployed bodybuilder, bouncer, and former stripper who was living in his van after his house was foreclosed. In his fifties, he has found that all of his career opportunities have gone away with his youth. Possibly a steroid user, he exhibited dangerous behavior, including past threats to public officials.
The FBI are presumably not idiots, and so they were aware of him. Suppose that a field agent wanted to get ahead, and so he got involved with an after-dinner club in his local area. Soon he finds out that everyone there is Leftist, and that they have connections to Leftists in Washington, D.C. He can easily get his promotion, if they like what he does.
He runs a few errands for them, passes along information, and starts helping the Leftist cause. After he proves himself, one of them asks him if he has any CIs. This abbreviation refers to "Confidential Informants," or people within criminal organizations — including "hate groups" — who are taking money from the government in exchange for passing along information.
CIs get used a lot in criminal investigations. They are often the only way to penetrate organizations where anyone straight-laced enough to be in law enforcement will find it hard to fit in. Often, FBI agents give CIs money in order to do something tangible, like encourage a group to break the law, so that the group can then be arrested and dissolved. This strategy is effective and works consistently.
The field agent mentions that yes, he has a CI or two, and can activate them for a few thousand in cash. He immediately receives a bag of thousands of dollars of old bills, and is told to get ready for an event a year from that time, before the midterm elections. He immediately starts treating a few CIs well, focusing on the ones who are mentally unstable and out of options, which makes them nearly suicidal.
When he leaves his contact, the agent drives to the van where one of his least stable CIs is living. He hands over a few thousand dollars, some steroids and recreational drugs, and starts talking about how a certain "fascist" politician must be overthrown. The CI starts to agree, so the agent stops back several times and gives him more money and drugs.
Eventually, the agent comes by one night with a bottle of whisky. Over drinks, he talks about a plan: make the president look bad just in time for the elections by mailing bombs to Leftists. "You have to look like one of his supporters," he says. "This extra five grand should help. Also you should be active on social media."
The agent mentions something else: "I know you're broke, and I don't have enough money in the budget to give you a salary, but here is what I can do. You'll go through a trial, we'll declare you incompetent, and you will end up in a mental health facility for two years. After that, you get disability, and I'll make sure they get you $80,000 a year."
That's more than the CI has ever earned in his life. He has zero job prospects, no money, and his health is not as strong as it once was. He is being promised a way out that will take care of him for life. Two years in a facility seems better than two more years in the van, so he thinks about it and says OK.
The CI immediately changes everything he does: his voter registration, his Facebook account, even the stickers on his van. He makes sure to show up at a few events and get pictures, and with his new identity secured, he waits for the word from his handler. When the agent hears from his contact, he gives the CI a heads up and another five grand.
As soon as he gets the money, the CI reaches into his spare tire well and digs out the packages he has prepared. He drops them in the mail. Other field agents go to postal facilities and make sure that the packages go through; the primary field agent deletes mention of the CI from any investigation reports.
For under twenty thousand dollars, the controllers of the handler of the field agent create a massive political scandal.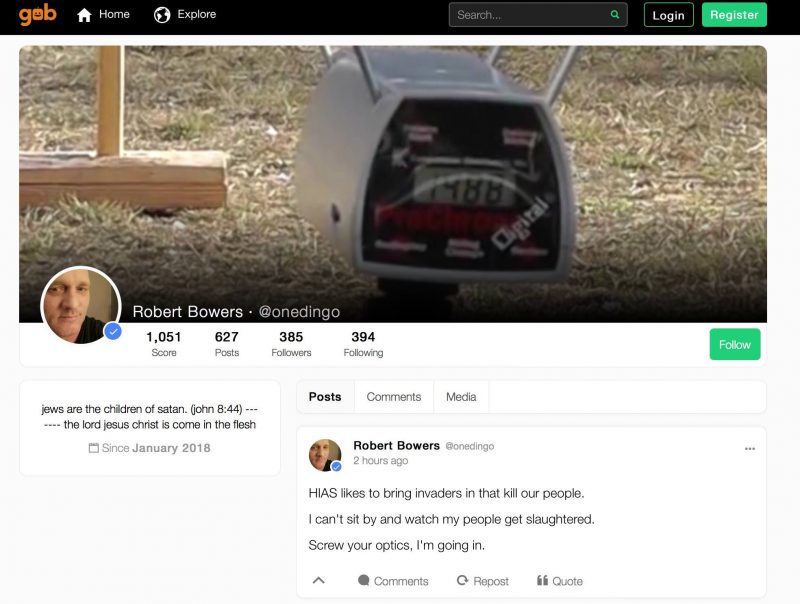 False Flag #2: The Tree of Life Synagogue Shooting
Another field agent got word from a mentor and benefactor at his local office. "If you help us, we help you," she says. "It's as simple as that. I like you, but I have to show others that you are on board with what benefits the organization and its goals."
The agent nods. He knows that the powerful make demands outside of anything written down in law or on paper. He volunteers, and begins receiving extra funds right away. His gambling debts go away, and he enters treatment for his burgeoning alcohol problem. He gets a pay raise. He knows that the demand will come.
Two months before the midterm elections, his contact phones him. "Hey, let's grab a pint at the local," she tells him. He meets her there and notices a briefcase on the table next to two pints of his favorite bitter. She smiles at him, and for the first time, he thinks how attractive she is, even if she is ten years older and divorced.
After some small talk she touches his hand and tells him she needs him to do something. She describes it to him. He is shocked. She leans in to talk to him, looking directly in his eyes, and accidentally brushes his knee with her own. She tells him that the country is in danger unless the radical element is stopped. He understands and tells her so.
"In the briefcase is everything you need," she says. Then the small talk resumes. She pays the bar tab and tells him that he probably shouldn't drive home, so they should take her car. She tells the driver to take them to her condo downtown. On the way, she brushes his knee again, then leans in. They kiss slowly at first, then passionately.
The next morning, he leaves her condominium with the suitcase. In it is forty thousand dollars in cash and several printed sheets with instructions for accessing FBI databases. On his way he gets a call on his cell: he has been re-assigned to something very easy, given extra money, and does not need to report his time. He is basically getting paid to do nothing.
He comes up with a plan, and offers it to his contact at the next meeting. She agrees. They continue to have a relationship, in which she buys him a number of gifts, all of which were paid for with cash. They frequently meet at her condo, have the best sex of his life, and drink. He puts his plan into action the following day.
The agent received a photograph a year ago from a meetup of people who follow a certain outsider political philosophy. It was taken covertly, and reveals the faces of many people who came to the meeting just to see what it was about. Using his new database access, the agent uses facial matching software to identify these names. He then uses Lexis-Nexis to look into their personal lives.
Finally he finds a hit. A man with a boring job in which he is underappreciated, a bit of a drinking problem and possibly some weed smoking, and a divorce which has gutted him. The agent makes contact with the man by pretending to be interested in a sofa he is selling on Craigslist.
"I'll think about it," he says, finally. "I'm interested however. Want to talk it up over dinner?" They go to a local restaurant and order food, then drinks. The talk turns to politics and the man selling the couch finds himself agreeing with his new friend. They go back to his house, where the new friend overpays for the couch. "Keep it, anything for a brother in the fight," he says.
Over the next few weeks, the two meet more often. The man finds himself agreeing with the friend more and more. They usually go out for drinks, but sometimes the friend brings marijuana and lots of far right videos, music, and literature. Mostly, their talk centers on the group that the friend believes is responsible for it all, the Jews.
"Someday," says the friend, "Someone is gonna strike a blow against this enemy which infects us at the root. When that happens, the people are gonna rise up, man, and they're going to see that The Jew has been controlling them all along. It's not our democracy that went wrong, it's the Jew. When Jews start dying, life starts getting good again."
The man thinks about this and, at the next meeting, tells the friend that he agrees and he has found others on social media who feel the same way. The friend then spills a big secret: he works for the biggest organization in this extreme political field, one so secretive that no one has heard of it, and they want to fund people who are ready to fight The Eternal Jew.
He hands over a few thousand dollars, "just to whet your appetite." The man cannot refuse; he is behind on alimony payments, and mysteriously, the city has charged him a few fines for out-of-code problems on his house. He has a DUI in his past. He also knows that his friend is smarter than he is, and tends to go along with natural leaders. He takes the money.
More money comes in the future. The DUI goes away because the DA lost some of the evidence. Maybe that was a favor, too. The ex-wife drops her demand that he relinquish custody, saying that her lawyer told her that some powerful people want this to just go away. The man pays off his debts, but his drinking increases. Not surprisingly, his friend often stops by with alcohol.
They go shooting together. With the extra five grand a month, the man is able to afford several weapons and lots of ammo. Every time the friend appears, so does extreme political literature and tactical manuals. The man eagerly reads these. The friend always hammers home the point: someone must take it to the Jew.
One day, just short of the midterm elections, everything goes wrong. The lawyer calls with new demands from the wife and demands money. His custody of his kids is revoked. His employer cuts back on staff, and he is dismissed because of an anonymouse allegation of sexual misconduct at work. The court calls, saying they have found the evidence again. New bills appear in the mail, some of which are later determined to be fake. He is desperate and calls his friend.
The friend shows up with not just marijuana but methamphetamine. "Hitler used it," he says. "It keeps you alert in combat." He sympathizes with the man and says that the organization can give him money, but only if he uses it for the struggle. The man shrugs. He has nothing to live for: kids gone, no job, bills piling up, and he's miserable.
The two go on to social media and connect with other people who are talking about The Jew. They understand his misery, since they are all going through similar things. The friend leaves him with a huge pile of drugs and ten thousand dollars. "I hope you make us proud," he says.
Two days later, the man, high on marijuana and meth and desperate because the ten thousand still cannot fix his problems, loads up his car with guns, drugs, and extreme politics books, and drives to a nearby synagogue. "Death to all Jews," he shouts, and begins firing.
Tags: bombing, confidential informants, intrigue, synagogue shooting