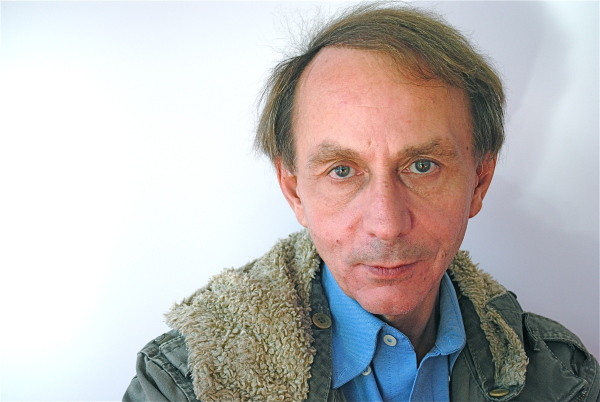 When Michel Houellebecq hits the news for his new novel, Submission, it makes sense to remember his roots: writing about the tedium of modern life and fleeting glimpses of beauty, truth and purity that tempt people from it. Usually, as tragic characters, they cannot realize that beauty because of their broken psychologies and neuroses.
Houellebecq burst onto the scene in 1997 with Whatever, a cynically humorous book — think Louis-Ferdinand Celine or William Burroughs — about the failure of modern life. Its characters struggle through pointless and boring jobs, alienating sexual relationships and dysfunctional families, all while wandering through a 21st-century dystopian wasteland that is both beautiful in its ruin and crassly plastic in the assumptions through which most people survive.
Two years later came Elementary Particles, a classic postmodern novel — think Thomas Pynchon's V — where two characters take opposite versions of the same path. Written much about wave/particle duality, as a metaphor for both the fragmentation caused by individualistic society and the soul itself, this novel traces two brothers as they wander through the endless existential pitfalls and career successes of modern France. It defines the West handily: to succeed while feeling empty and never having what one actually needs.
After that, Houellebecq wrote Platform, a book which compared sex tourism with terrorism and found moral and existential emptiness at the root of both, and The Possibility of an Island which examines isolation through immortality while looking at the nature of cults, as the West increasingly begins to resemble one in the book. He followed that with The Map and the Territory which explored the difference between symbol and meaning, in a nudge toward the idea that nations are more than mere boundaries but are formed of a shared idea, feeling and spirit. All of his books center on the same notion, which is that modern Westerners are hopelessly lonely because they have removed themselves from life through layers of abstraction.
Houellebecq came on the heels of another artistic movement that took up the thread of a chain of ideas:
The downfall of the illusion started with two important thinkers and a musical movement. Ted Kaczynski, a.k.a. the Unabomber, wrote a treatise called "Industrial Society and Its Future" in which he identified technology as the primary enemy of humanity, but also illustrated in clear Nietzschean terms the pernicious influence of Leftism and liberalism through their common origin in egalitarianism. He analyzed them through psychology, not ideology, which helped dig deeper toward the source of our decline. Michel Houellebecq wrote a book in 1997 called Whatever that simultaneously revealed the insanity of liberalism, the inanity of today's style of work, and the empty misery of modern sex lives, also digging into the psychology of modern life rather than taking Leftist ideas at face value. The musical movement of "black metal," a type of violent, alienated heavy metal, reversed the psychology of rock music which described itself as "good" in order to defend the callow pursuit of individual desires and karmic drama. The rock approach was both hedonistic and based in "protest songs" or declarations of the victimhood of the individual, cruelly forced to submit to social order, standards, values, and anything else which stood in the way of self-gratification, echoing the egalitarian ideal of liberalism.

Black metal turned its back on "good"; it aspired to "evil" and rejected all that was popular, human, and based in the individual in favor of a naturalistic wildness and feral self-interest like one might find in a Jack London novel. Where rock music assuaged the fears of teenagers that they would be inadequate in some Darwinian contest, black metal affirmed the need for war, death, and competition to restore the strength, honesty, and appreciation for natural beauty in humanity. In doing so, it transcended the individual, and while much has been written about its tendencies toward Satanism, the real drive behind the occult leanings of black metal seems to have been a rejection of the moral binary that made people believe that "good" came from flattering individuals with equal validity granted to all their desires. In rock, the individual and the social group become one; in black metal, the social impulse and the individualistic are together rejected. The morally obedient shopkeeper is replaced by the feral and lawless warrior, artist, and adventurer.

These rising ideas came only a few years after Francis Fukuyama penned his famous (and now partially retracted) The End of History and the Last Man, which posited a final evolution of humanity into liberal democracy, state-subsidized consumerism, and multiculturalism. Some conservative writers explicitly rejected this notion, most notably Samuel Huntington with his The Clash of Civilizations and the Remaking of World Order, in which he argued that history was very much alive and continuing through conflict between civilizations, which were formed of ethnic, cultural, and moral commonality more than by political and economic ties.
Putting Houellebecq into this context, we see him as one of the steps in the groundwork of ideas that led to the explosion in right-wing thinking that linked nationalism, anti-sexual revolution, anti-modern and anti-consumerist thinking together. This followed the Kaczynski/black metal nexus that linked the right with a more intense form of environmentalism that demands, like the Deep Ecology mission statement, that we re-order our society so that it does not create behaviors that damage the environment, instead of applying the band-aid of regulation and energy efficient appliances that leftist environmentalists like.
Others have seen that Houellebecq is the standard-bearer of the new rightist resurgence:
Last week's Spectator carried a piece about Les nouveaux réactionnaires, French intellectuals who reject the culture of 1968 and the politics of multiculturalism. As Patrick Marnham writes:

The new reactionaries are convinced that one of the cornerstones of French culture, 'freedom of expression', is dying. They reject 'post-colonial guilt' and are appalled by 'cultural relativism'. To get down to the nitty-gritty, they take the view that France's sovereignty is under threat from Arab immigration. Europe's migration crisis has highlighted their fears, and the lip service that President Hollande pays to Angela Merkel's refugee-quota system — widely unpopular in France — has further aided the reactionaries' arguments.

The neo-reactionaries don't appear to be reactionaries as such, just people who have fallen out with the Left over multiculturalism just as neo-conservatives fell out with the Left over Communism. No true reactionary could argue that a "golden age" began in 1789, as the article states – a year that brought about the "regicide state", in the words of the late Fr Jean-Marie Charles-Roux.
It is for this reason that many of us who read Moldbug do so in the context of Houellebecq, or more appropriately, as a series of libertarian arguments designed to make us see Houellebecq's point of view. Other movements like The Red Pill started angry but found themselves coming around to Houellebecq's observations, such as that men are lonely because of a lack of lasting and faithful love. Even the most recent New Right resurgence has a distinctive Houellebecquian tone (that word just broke my spell checker) in that it looks more toward identitarianism as a source of commonality than a pragmatic adaptation of policy.
Others have noticed the insight that Houellebecq is conveying:
Like many people who pretend to parle a little francais but get tired after reading a page, I've only just now read the newly-translated "Submission," Michel Houellebecq's dystopian vision of a near-future French republic that succumbs willingly to a vaguely Tariq Ramadan-esque form of political Islam. When I say "dystopian," the casual reader may infer — as many people did when the book first appeared, literally at the same moment as the "Charlie Hebdo" massacre — that the dystopia is the Islamicized France, that Houellebecq is trying to do for Islamism or "Eurabia" what Orwell once did for Stalinism. But if you've read the keener reviews (or Houellebecq's previous novels) you probably understand that no, actually, the dystopia is the contemporary West, and the Islamified future that Houellebecq's story ushers in is portrayed as a kind of civilizational step forward, or if you prefer a necessary regression back to health.

I sort of knew this going in but even so it was remarkable how — well, I think neo-reactionary is really the only term to use to describe what Houellebecq seems to be doing in his portrait of contemporary France and his mischievous prophecy about its potential trajectory. And I do mean neo-reactionary in the internet-movement, Mencius Moldbug sense of the term (if you aren't familiar with this particular rabbit hole, good luck): The overt political teaching of "Submission" is that Europe is dying from the disease called liberalism, that it can be saved only by a return of hierarchy and patriarchy and patriotism and religion and probably some kind of monarchy as well, but that religion itself is primarily an instrumental good and so the point is to find a faith that actually convinces and inspires and works (and that's, well, a little manly), and on that front European Christianity and particularly Roman Catholicism is basically a dead letter so the future might as well belong to Islam instead.
Kaczynski saw liberalism as a psychological disease; black metal saw it as moral cowardice; Houellebecq sees it as a spiritual disease (calling to mind one of the greats of Swedish death metal, who composed an album entitled Terminal Spirit Disease). Perhaps all three are right. Perhaps it is simply illogical and dismantling of civilization, which in turn creates the effects of all three as people become the particles adrift of Houellebecq's second novel. Like Celine's Journey to the End of the Night, his books feature characters venturing through a society that is on its surface thriving but a few levels deeper as dystopian as Blade Runner. The only movies that come close to portraying this kind of disconnect are Apocalypse Now, Demolition Man and Repo Man which reveal the underlying loneliness of anyone who is awake in a time of sleepwalkers who have bought into whatever political or economic justifications seem to make people feel successful for living in this time. It is why they meet so much resistance: they attack society, true, but more pointedly, they attack our individual illusions of living in a good era, which makes people upset because they rely on those illusions in order to tolerate all of the tedium, parasitism and nonsense.
Another insight from fellow writer Karl Ove Knausgaard gives more of the whole picture of what Houellebecq, like Celine, is evoking:
When François at the beginning of the novel writes that the great majority in Western societies are blinded by avarice and consumerist lust, even more so by the desire to assert themselves, inspired by their idols, athletes, actors and models, unable to see their own lives as they are, utterly devoid of meaning, what he is describing is the function of faith in modern society. The fact that he himself does not possess such faith, that he exists outside of it, within the meaningless, as it were, he explains as follows: "For various psychological reasons that I have neither the skill nor the desire to analyze, I wasn't that way at all."

This is the only place in the novel that opens up for the idea that the emptiness and ennui that François feels is not just universal, a kind of existential condition applicable to us all and which most people hide away behind walls of illusion, it may also have individual causes. That is somewhere he doesn't want to go, and thus a vast and interesting field of tension is set up in the novel, since the narrator is a person who is unable to bond with others, feels no closeness to anyone, not even himself, and moreover understands solitude existentially, that is from a distance, as something general, a universal condition, or as something determined by society, typical of our age, at the same time as he tells us his parents never wanted anything to do with him, that he hardly had any contact with them, and that their deaths are little more than insignificant incidents in his life. Such an understanding, that the ennui and emptiness he feels so strongly are related to his incapacity to feel emotion or establish closeness to others, and that it is difficult, indeed impossible, not to see this as having to do with lifelong rejection, is extraneous to the novel's universe, since nothing would be remoter to François's worldview, an intimate model of explanation would be impossible for him to accept, a mere addition to the list of things in which he doesn't believe: love, politics, psychology, religion.
The point here is that most of us are accustomed to "Systems" like democracy, capitalism, etc. and we tend to see solutions the same way. "Get religion in there!" screams the American Republican. But that, alone, will not do it. Religion is not a system of rules like our regulatory state or EU laws, but a compulsion within the individual to charge life with meaning and thus, want to do good. Similarly we cannot like the Nazis impose Nationalism by rules, but need to come together as a people toward a common idea of positive logic, or what we want to create on an ongoing basis. National identity is like that, as is religion, and also the alertness to life itself that Houellebecq's characters get a whiff of but can never complete. We must regrow our souls, and this cannot be done externally. It can only be done through vague and amorphous ideas like identity, reverence, and transcendence. We must re-grow the love for life in our souls to see what good is, and through that, to re-animate the corpses of religion, identity and culture.
Houellebecq is not as popular on the internet as those who offer Systems. Moldbug offers us the idea of taking the gated community to the next level and creating libertarian micro-states within the dying realms of the West, but that does not address the internal problem, which is that people have not beaten their internal rottenness. The Orthosphere offers us religious fanaticism informed by history, which beats out the fundamentalist and extremist variants and is mostly right, but not a solution in itself. Cramming people into religion without having their souls ready to come to it will turn religion into an ideology and, as a glance over the alt-right Traditionalist and Catholic blogs show us, has already done so. Even capitalism can become ideological, or externally-imposed as a universal, when designated as The Solution. Those ideas are simpler than the thought of a spiritual revival against disease, and so they win out over Houellebecq on the blogs of the world, but none seem satisfying because ultimately they lack what Houellebecq has given us: a map out of the territory of darkness of the soul by noticing beauty and making ourselves receptive to the possibility of goodness, joy and delight in our world.