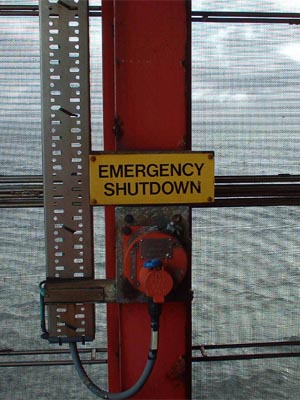 In a previous post, our two options for future civilization were revealed:
Managerial. Like attending a job, days at an American high school or going to a mall, the managerial state consists of people who have nothing in common except wanting to make money and not get murdered. As a result, a strong nanny/police state is needed to make lots of little laws, enforce them, and subject children to intense propaganda for the "morally right" way to behave.
Organic. More like an extended family, this society has an organic values system arising from culture in the form of shared values, customs, language, heritage and beliefs. As a result, less police enforcement is needed and commerce is restrained by what the people value based on their shared ideals.
Naturally, government and commercial interests hate the latter example. It doesn't need them like an addict needs heroin, a battered wife in a codependent relationship needs her husband, or Bugs Bunny needs Elmer Fudd.
Cops need robbers to chase, government needs problems to legislate, and commerce needs fears to sell products. An organic society rewards each of these with less in the way of power and future options. In fact, an organic society forces government and commerce to serve the people, not the other way around.
This problem became obvious shortly after the French Revolution in 1789. The solution they saw then is the same as the one seen now: smash, destroy and deconstruct all culture and values and replace them with "social values" of the "we must all get along" variety you remember from kindergarten and pre-school.
In other words, instead of trying to find answers to our problems and a direction for our society, we are forced into increasingly restrictive structures to force us to get along with each other. The totalitarian future will not come under a swastika or hammer and sickle, but a picture of Gandhi and John Lennon.
Globalism arose from this movement. A form of liberalism taken to its logical conclusion, globalism aims to destroy all national cultures and replace them with commerce and the nanny/police state. Through consumerism, and a mass media that teaches us anything but globalism is racist and evil, this new empire will compel us to enforce it through our own self-interest.
In a social values system, you get ahead by convincing people that you are nice and inoffensive. This means approving of everyone, always demanding compromise, always getting along and never having any conflicting opinions. The result is utterly conformity, compliant and easily manipulated people.
However, a backlash has begun:
We face a powerful and determined source of corruption in globalism. By disguising itself as government by the people, it makes itself the target of much criticism, none of it directed at the legitimacy of its rule. This makes globalism safe from attacks from within.
Attacks from without are difficult as well. Citizens of globalist states are propagandized to fear anything smacking of communism or extremism, which means the globalism media is incentivized to sell newspapers by finding fascists under every rug.
Awareness within the population is also difficult, since globalism operates more like a social fashion or trend than a culture. It motivates people to push others down for failure to adhere to the dogma; those who display the best obedience are those who are blameless, and thus promoted and socially popular.
It is a perfect reign of control. It pits us against each other, and makes us fear anything but it. Like a domineering parent, it sabotages our self-esteem and then makes us addicted to its comfortingly secure but unsettling domain:
There is an old true story told about financier Jay Gould. When asked what he would do if there were ever a threat of a genuine revolution in America he answered, "I can hire one-half of the working class to kill the other half." This is not a facetious statement. He was deadly serious because this tactic always works. It has been refined since then to encourage letting off steam rather than letting off gunpowder, yet it is generally the same. – Taki's Magazine
Despite this near-total control, the backlash has begun the best way possible: by whispered conversations, by general grumbling, by a lack of faith in a system that has failed to produce the Utopian results it promised, but has instead brought us a society laden with crime, corruption, advertising, ugliness and fear.
So far, using the most powerful media establishment in history, the globalist elite have managed to keep this criticism to a minimum. They are counting on the selfishness, lack of attention span and general apathy of the citizens around them. But as the days pass and the misery intensifies, even oblivion loses ground.
Tags: liberalism, nanny state, organicism, police state