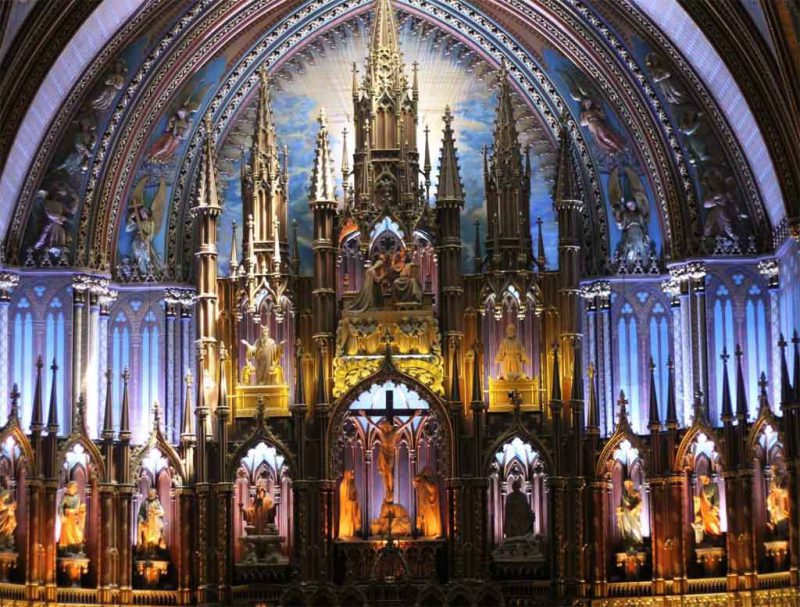 You can delude yourself that a realistic peace can be made with a sarcoma. That truce between you and the tumor could work a bit like this.
There are a liberal Catholic priests, both gay and straight, who know who the sexually active conservative closet cases are, and won't out them. There are conservative Catholic priests, both straight and chastely gay, who have no obvious interest in protecting the closet, who nevertheless don't out liberals who are sexually active. Why is that? A gay Catholic friend told me that it's because both sides live under a Cold War policy of Mutually Assured Destruction. They will snipe at each other in proxy wars, but when it comes right down to it, they will not turn on each other directly, because once the first missile is fired, there's no stopping them. Both sides know that such warfare could destroy the institution that they both depend on. So they practice restraint, despite mutual loathing.

There is no truce with cancer. There can be a stalemate as long as you can withstand the chemo shots, hair loss and gut-wrenching barf sessions, but there is no real truce or respite. The same is true of human cancer cells. They do what they are wired for.
Once somebody decides they are too personally important to abide by culture or convention, they can't help but being destructive. A termite has to eat the foundation, a cancer cell has just gotta cancer

Sadly, The Catholic Church may well be fatally infected. The sordid career of Archbishop Theodore McCarrick offers us an example of how this sort of a cancer eats an entire organization. McCarrick was an exceptional fundraiser supporting a financially underperforming organization. He also did an outstanding job of surrounding himself with an iniquitous mannerbund of like-minded "reformers." These flunkies would come in handy as other, less corrupted church officers got wind of McCarrick's bedroom antics and decided that enough, quite simply was enough. The omerta would not prevent the stones from crying out.
According to the former nuncio's testimony, the Vatican was informed in 2000 of allegations that Archbishop McCarrick "shared his bed with seminarians" by two former U.S. nuncios – Archbishop Gabriel Montalvo and Archbishop Pietro Sambi. This corresponds to remarks by Father Boniface Ramsey, pastor of St. Joseph's Church Yorkville in New York City, who told Catholic News Service earlier in August he had written a letter "and it didn't seem to go anywhere." Archbishop Vigano said that in 2006, as the official in the Secretariat of State that coordinated relations with nunciatures around the world, he sent two memos recommending that the Holy See "intervene as soon as possible by removing the cardinal's hat from Cardinal McCarrick and that he should be subjected to the sanctions established by the Code of Canon Law."

Then, at last, Antipope Francis' predecessor Benedict dropped the hammer on McCarrick.
Then-Cardinal McCarrick, he said, "was to leave the seminary where he was living" which, at the time, was the Redemptoris Mater Seminary in Washington, D.C. Archbishop McCarrick, he added, was also "forbidden to celebrate Mass in public, to participate in public meetings, to give lectures, to travel, with the obligation of dedicating himself to a life of prayer and penance." However, no such sanctions, which normally are made public, were announced by the Vatican at the time. The alleged sanctions, he said, continued to be in effect when Archbishop Vigano became apostolic nuncio to the United States in 2011 and were relayed to then-Cardinal McCarrick. "I repeated them to Cardinal McCarrick at my first meeting with him at the nunciature. The cardinal, muttering in a barely comprehensible way, admitted that he had perhaps made the mistake of sleeping in the same bed with some seminarians at his beach house, but he said this as if it had no importance," Archbishop Vigano wrote.

But Then-Cardinal Francis echoed a famous question once posed by Josef Stalin. "How many divisions has the Pope?" Apparently not enough anymore. McCarrick was a chickenhawk rereleased into his favorite barnyard.
he says that Francis "continued to cover him" and not only did he "not take into account the sanctions that Pope Benedict had imposed on him" but also made McCarrick "his trusted counselor" who helped him to appoint a number of bishops in the United States, including Cardinals Blase Cupich of Chicago and Joseph Tobin of Newark.  Archbishop Viganò also implicates Cardinals Sodano, Bertone and Parolin in the cover-up and insists various other cardinals and bishops were well aware, including Cardinal Donald Wuerl, McCarrick's successor as Archbishop of Washington D.C. "I myself brought up the subject with Cardinal Wuerl on several occasions, and I certainly didn't need to go into detail because it was immediately clear to me that he was fully aware of it," he writes. The Cardinal's "recent statements that he knew nothing about it … are absolutely laughable. He lies shamelessly." "Cardinal Wuerl, well aware of the continuous abuses committed by Cardinal McCarrick and the sanctions imposed on him by Pope Benedict, transgressing the Pope's order, also allowed him to reside at a seminary in Washington D.C. In doing so, he put other seminarians at risk," he attests.

So Cardinal Vigano found out this greying letch of a Padre had a predilection for buck-breaking the young, innocent alter boys and seminarians. You could say he saw it his roll to put the semin in the seminary. Sickened by the obvious sick puppy, Vigano traveled the legitimate channels for many years in search of redress for McCarrick's vile life of sodomy and sin. At last Pope Benedict cut through the red tape and tried to separate Cardinal McCarrick from the boys. Perhaps literally with a crowbar.
At this point the gay mannerbund manning the pews throughout the East Coast of The United States prevented Cardinal McCarrick from really standing his appointed punishment and penance. At this point, Francis ascended to his Antipapacy. All continued pretext of McCarrick being sanctioned or punished was basically dropped. Vigano could bite the apple like Eve or speak up and prepare for his auto de fe.
Vigano used to be a favorite. Maybe he was one of the closest competitors that Francis beat out for the Ring of the Fishermen. Vigano would probably still be there after Francis' health could no longer be maintained except that the pro-gay faction "convinced" him to retire in 2016. He has literally been chased out of town for not participating in the profaning of one Christianity's most holy precincts. Like any good and courageous man in an analogous situation he decided to burn it the fornication down on the way out of Roma.
In this extremely dramatic moment for the universal Church, he must acknowledge his mistakes and, in keeping with the proclaimed principle of zero tolerance, Pope Francis must be the first to set a good example for cardinals and bishops who covered up McCarrick's abuses and resign along with all of them.

A friend of Cardinal Emiritus Vigano reports "Vigano did it because he's sick and tired of the cover-ups and denials, which are killing the Church." But that's the last throw, the final chess piece to sacrifice when your position has been overrun by the enemies of all that is good and decent. It is reminiscent of the Company Commander in this scene from Platoon. It's his call and he's dumping the napalm on his position (or even this parallel).
Sometimes, in the theological civil wars that have erupted with the cucking of the churches, that's the only thing you can do. Let's all hope and pray that Vigano has taken that fight to the enemy and now a theological war of liberation can be waged. It will have to if we ever want America back from the zombie-corpse Amerika that we all now are living within.
Tags: catholicism, molestation, pedophilia