The British Freedom Party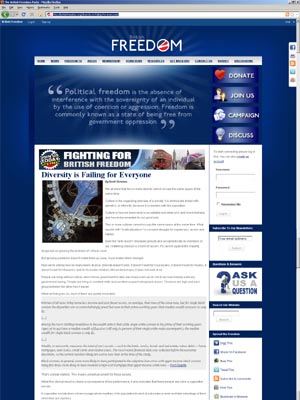 The British Freedom Party has republished one of my articles, "Diversity is Failing for Everyone," on their complete and elegant web page. I am honored to be a small part of such a publication.
The party defines its mission as follows:
The objects of the Party shall be to defend and restore the freedoms, traditions, unity, identity, democracy and independence of the British people, to establish full sovereignty over all our national affairs via restoring the supremacy of the British Parliament, to withdraw from the European Union, to promote democratic British nationalist principles, to promote the social, economic, environmental and cultural interests of the British people and to preserve and promote the ancestral rights and liberties of the British people as defined in the British Constitution.
After years of modern "distraction politics," it's interesting to see people picking up where politics left off in the 1930s: a local focus, relying on collaboration not opposition to culture, and working toward promoting a type of stable, possibly boring, but well-organized society of the type that produces great works of art, culture and learning.
You can see why it's fun to be on such a publication. To see the article, point your browser here: