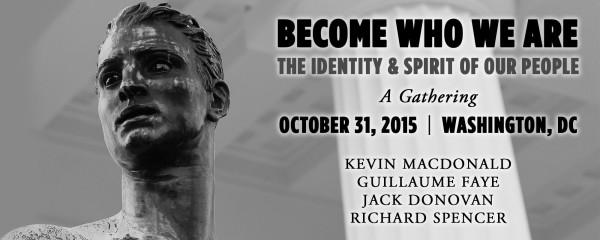 The National Policy Institute will present a conference entitled Become Who We Are: The Identity and Spirit of Our People on October 31, 2015. Festivities — with speakers Jack Donovan, Guillaume Faye, Kevin MacDonald, Roman Bernard, Keith Preston, Richard Spencer and Sam Dickson — will commence from 10 AM – 9 PM at The National Press Club in Washington, DC.
NPI describes the event as follows:
BECOME WHO WE ARE ARE is an all-day, one-track conference on Saturday, October 31, 2015, taking place at The National Press Club in Washington, DC. It features presentations, discussions, lunch and dinner, and, in the evening, a live musical performance renowned folk artist R.N. Taylor.
This looks like an exciting event which shows a focus on the right shifting from racial issues to identitarian ones, and of mainstream conservatives removing themselves from the liberal apologist regime and once again tackling the problems that will define our future.
Tags: Guillaume-Faye, jack donovan, keith preston, kevin mcdonald, national policy institute, national press club, robert n. taylor, robert spencer, roman bernard, sam dickson