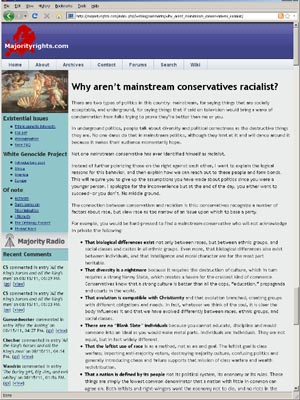 Hoping not to be an egomaniac, but to spread the word about a piece of writing I'm proud of, I'll mention this here: I have a guest piece on the well-known white nationalistish blog Majority Rights.
I am not a white nationalist, and never will be; I am not a racist, and never will be. Those things don't fit my mindset or what I believe to be true. However, I think white nationalists remind us of an awkward truth: diversity doesn't work, the proposition nation is dysfunctional, and nationalism is the best possible social order for all human beings.
We cannot ignore race. We cannot smooth it over. Instead we need pan-nationalism, or nationalism for all ethnic groups worldwide. In other words, white power = black power = Zionism = Maori power = Inuit rights = Germany for Germans = Turanian nationalism = Basque separatism = nationalism for every ethnic group, race and cultural group on earth.
My personal view is that conservatism has the most comprehensive view of race because it puts it in the context of culture, customs, language, values and identity. This takes race from a source of division, and makes it into a source of unity. Conservatives conserve: culture, land, heritage, customs, values, traditions and identities. We build where liberals destroy.
Majority Rights has always offered insightful viewpoints that cut into our modern hypocrisy about race, caste, class and individual differences. I hope to reach out to the folks there, and maybe erect a bridge between conservatism and white nationalism that does away with confusion over racism, and replaces it with positive and constructive nationalism for all races.
Here's the article:
I hope this enables us to further bridge between mainstream conservative, underground conservative, and nationalist groups of all types, races, ethnies and cultures. We share a struggle: a world governed by a conservative order, which includes biocultural ethnonationalism but is not limited to it.