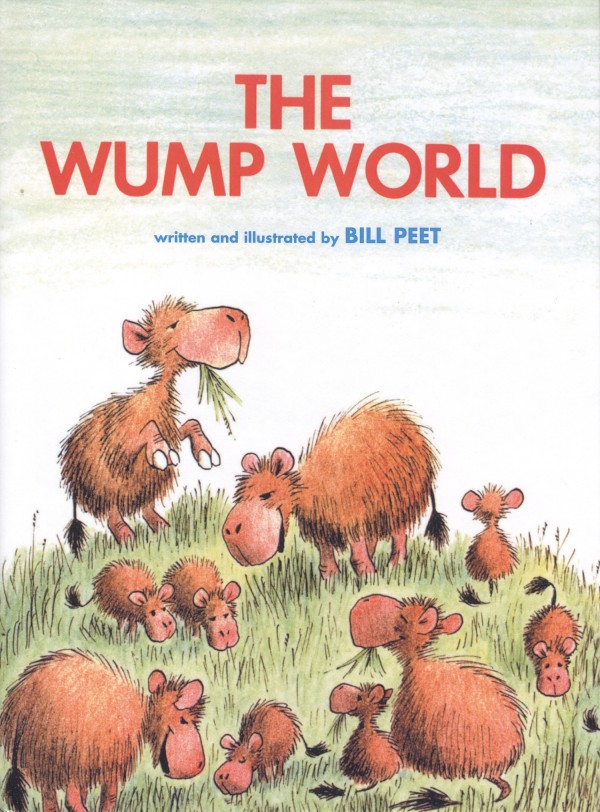 The Wump World (1970)
by Bill Peet
Houghton Mifflin, 44 pages. $9

On the surface, this serves as a parable for children about the environmental damage that humans can do. Underneath however as in most of Bill Peet's work another agenda is at play, which is a confrontation between humanity and the doubt, emptiness and fear that makes the empty pursuit of status and material prestige seem a tempting option.
The Wump World features a planet inhabited by Wumps, who are friendly capybara-like animals who are not particularly exceptional. Like Hobbits, or most people, Wumps specialize in nothing in particular except existence itself. They munch the sweet green grass and frolic in the sun and probably think very little about the big questions of life. Like small children or other innocents, they are still somewhat in love with life itself and concern themselves with nothing greater.
A spaceship lands and discharges a new species, called — in the kind of dead-hand obvious imagery one can use in children's books — the Pollutians. They have come from a "worn-out world" and are glad to have found a new one for their use. In short order, they tear down the trees and rip up the grass and replace them with concrete, on which they build giant cities complete with "hundred-story skyscrapers." They are noisy, frenetic, and dump trash in the rivers and fill the skies with smoke.
The Wumps retreat to underground caves where they cower and await deliverance. In the meantime, the cities expand to cover the entire world. The Pollutians work hard at this transformation, but also bicker among themselves and generally seem aimless outside of their hard work in transforming the new world. In the meantime, their own pollution makes the world uninhabitable for them, so they declare it worn-out as well and seek another one. Spaceships explore and find a new place. Then the Pollutians leave.
The story is unexceptional and obvious, even manipulative at its core. To most of us, it seems a preachy parable of environmentalism and nothing more, about what we might expect from the late 1960s and the hippie era. But there is more to this than meets the initial eye. The story of the Pollutians is not so much the external effects of their actions, but the internal hollowness which propels them. These are people without purpose for whom consumption and destruction have become a life quest, even if a suicidal one.
Within the bright colors didacticism of this story lurks the story of emptiness in the soul. The Pollutians have no depth to them and no concern for anything but their own comforts and wealth. This void propels them forward into outer space as it sucks them into inner space, turning them into a type of yeast which consumes all resources and then either moves on or dies. They are their own self-destruction but, unable to suicide, they perpetrate that destruction on others.
For those of us who grew up in Generation X, both stories were familiar. We saw firsthand as our childhood play areas were consumed by an endless procession of condominiums, apartments, factories and skyscrapers. We were told by well-meaning but fatalistic adults that this was simply progress, or humanity advancing, and that all these new people needed places to sleep, work and live. But it also rang hollow, because we saw the haunted looks on the faces of adults going to work and the misery and rage they took out on us after another fun day at the office. Soon it became clear that the plan was no plan except more, more and more of everything to conceal our lack of direction and even more, our absence of a Wump-like innocence and enjoyment of life. It was as if the curse of Eden's apple finally bit us back.
This book remains vivid in the imaginations of those who read it because it perfectly diagnoses our modern morass, which begins in the soul and not the fingertips. We have no purpose. Lacking any motivation for something larger than ourselves — something for which God is a surrogate, since to know God we must first love the process of life itself or we are simply projecting self-interest into the realm of the spirit — we have fallen into our inner voids and like Stockholm Syndrome victims, have embraced that dark emptiness and now wield it as a sword, consuming all that falls under our control and replacing it with literal garbage as if in the image of our discarded hopes. The innocents, children born into this age, have carried this burden for too long. Either we end it or it ends us, but not first before purging all goodness and innocence wherever we go.
Tags: bill peet, Books, crowdism, decline, deep ecology, environmentalism, existential despair