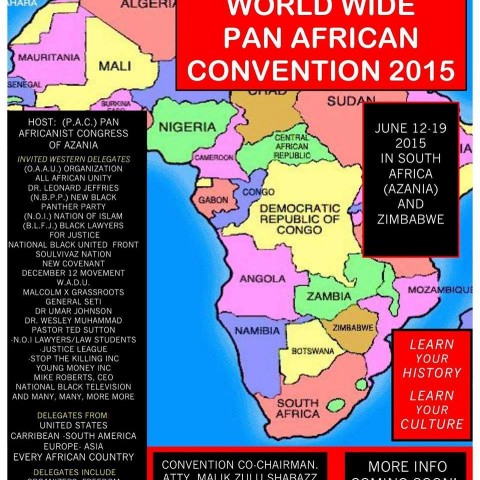 World Wide Pan Africanist Convention to be held in Azania (south africa), 2015, June 12 to 19.
AIMS AND GUIDELINES OF THE CONVENTION: HERE ARE THE FOLLOWING:
-We Aim to influence individuals in Africa and diaspora an open dialogue with and between their various REVOLUTIONARY MOVEMENT to work for the good common and the advancement of African people at home and diaspora.
–To identify and mobilize all GENUINE AFRICAN PROGRESSIVE REVOLUTIONARY FORCES, PAN AFRICANIST MOVEMENT AND BLACK CONSCIOUSNESS MOVEMENT with the aim uniting and forming-up one giant World Wide Pan Africanist Revolutionary Movement that must UNITE, ADVANCE and DEFEND ALL AFRICANS/BLACKS AT HOME AND DIASPORA.
–To create ONE WORLD WIDE REVOLUTIONARY PROGRAM OF ACTION.
–To promote ONE AFRICA WITHOUT BORDERS.
–To inspire creation on a meaning-full partnership with the aim to identify and create SELF RELIANCE programs and projects that must support our struggle/organisation also must help to fight poverty.-eg: self-funding projects, news paper, TV, website, musicians, writers, recording studios, recording, photographers, designers and etc.
–To create one Pan Africanist Ideology College with the aim to stop political confusion and disunity among our organisation and our people at large with its research and development department.
FOR MORE INFO CONTACT:
Chris Sankara in Azania (PAC)"south africa": Email chris.sankara7@gmail.com
Contact: +2784 627 5805 or Skype Chris Sankara
Dr Malik Zulu Shabazz in US (NBPP/BLACK LAWYERS FOR JUSTICE) : Email shabazz/awoffice@yahoo.com
Contact: +12023699986
Dr Hughie Rose in UK (NBPP): hughierose@gmail.com
Contact: +44774008151 or Skype Hughierose.
Mbarika Kazingizi in Zimbabwe (ZANU-PF): karenharley57@yahoo.co.uk
Dr Ngila Michael Muendane (PAC): Email mike@soultalk.co.za
Contact: +2774 8742245
Mafa Kwanisai Mafaa in Zimbabwe (ZANU-PF) : Email cdemafa@gmail.com
Contact +26377334750 or Skype Cde Kwanisai Mafa.
Great Great-King Adeleye /Nicholas Idemudia – in Nigeria (Loggers Confederacists). Email: leyito15@yahoo.co.uk
Contact: +2348146624374
Vusi Oldman Mahlangu Mahlangu in Azania (PAC): Email. vemahlangu@gmail.com
Number: +2772 500 1455
Ras Aviwe Chimurenga Tyumre Poqo in Azania (PAC/RUF)
Email-rasmenelikazania@gmail.com
Contact: 0781109292
IZWE LETHU/ BLACK POWER (LAND IS OURS)
WE THANK YOU IN ADVANCE WITH LOVE.
Tags: african nationalism, identitarianism, nationalism, pan-africanism, pan-nationalism