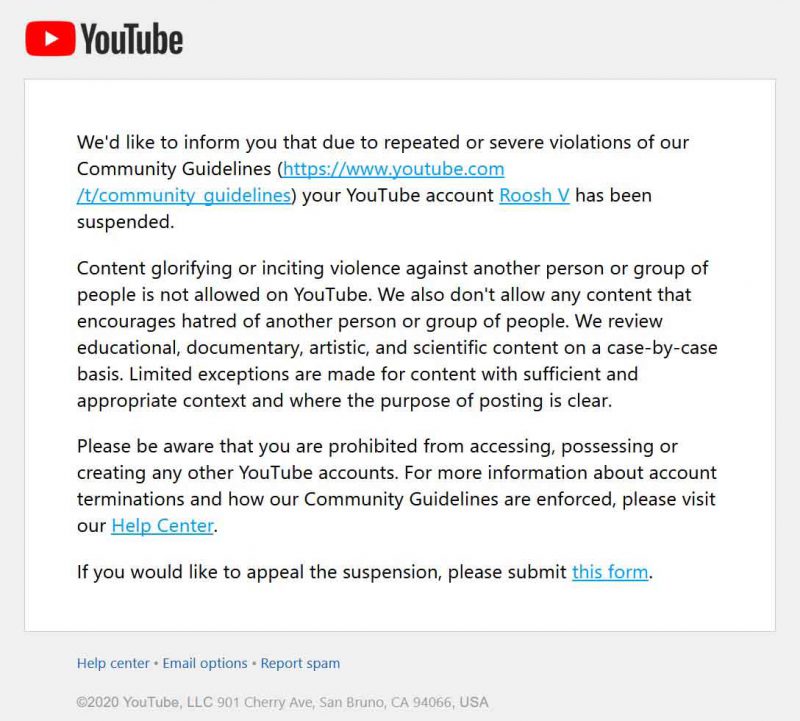 As of yesterday, YouTube deleted the channel belonging to RooshV, whose writing has been covered on this site before. In my view, it does not matter if he is of foreign origin; I consider his writing and ideas as we find them and on their own merits. I have written for his site before and would do so again.
I call what has happened to him "vandalism" because effectively YouTube just deleted many hours of his work and blocked him from possessing that material. Sure, he should have kept backups, as they say, but managing the masses of information we deal with already is onerous enough. Most likely, he lost everything.
In its original form, the internet worked because it operated on the principle of route around it. If someone blocked one site, you connected to someone else who would connect you to that information. This shows the power of networks versus fixed connections like phone lines.
That system continued operating because of mutual tolerance in the pure sense of pluralism: we did not expect to like other people, but expected to maintain their speech and data as we wanted our own maintained. This mutualism, or digital golden rule, kept the internet functional.
It faltered under two assaults. First, spammers came out of every corner of the aether and began scamming their way to short-term profits; second, the general public came online, and generated a stream of antisocial, cruel, destructive, obscene, and illegal content.
As if someone said "send in the clowns," government got involved and made everything worse by making it better. They took away the need for the internet to solve its own problems. This enabled commerce to flourish but also destroyed the old internet.
Now we have a problem because we expect cyberspace, but instead we are getting the same horrible customer service that we traditionally get from big corporations because as a company bloats, it hires more morons and bean-counters and soon, quality plummets.
These companies follow the rule of business that says one must avoid controversy and focus on what generates the bottom line, and since we have no wise aristocrats to fix the situation, they are busily deleting content from individuals who put many hours into it.
They can do this because technically, they made no promises; internet law is still based on the idea of an open collaborative space, and has not yet addressed issues like the rights of a user to their data or free speech. The Wild West age ended, and now we have a void before the new laws are written.
If anyone were thinking, they would see that we benefit from a cyberspace free of link rot and lost content. In this model, YouTube would delete nothing; if there were copyright violations, it would have some form of automatic licensing and payment model to the actual owners. If something was illegal, it would be taken down and a notice of the court case put up in its place. The links would not die, even if the content ended.
Instead, we find ourselves in a wasteland of dead addresses. Machines go down, content is lost; accounts get deleted, and more content is lost. The companies congratulate themselves on having avoided risk, even though they are lessening the quality of the experience.
Not surprisingly, people are drifting away from hosting content on these big services, and this guarantees their doom. The guy who might have spent an hour crafting an intelligent message on social media will now figure, what the heck, it will just get deleted, and go do something else.
Humanity suffers a net loss as internet communication devolves to careless riffing and one-liners. Everything gets dumbed down. Nothing persists, and so knowledge does not accumulate. This pleases business and our Leftist overlords who want to sell pap to morons, but harms our species.
Who was actually harmed by the content RooshV uploaded? No one except those who cannot control their own emotions, and those belong in asylums anyway. What is lost? The ability to know what was going on in the discussion on a certain topic, even if from some fairly marginalized people.
Human history follows a relatively predictable path as far as knowledge is concerned. At some point, everyone agrees that something is true; a generation later, they all believe the opposite. Our knowledge increases and the old models fail, so we widen the model and achieve greater accuracy.
Right now, we are trying to decide as a species whether to hang on to the Enlightenment™ model where the individual human is the most important structure in society, or embrace something more traditional and futuristic where some kind of bigger pattern gives meaning and direction to our lives.
Ironically, the people who claim that they have "new" ideas tend to be the ones stuck five hundred years in the past, hammering out their post-medieval notions as if those were new. Some of us are ready to move on to a new existence where we can escape those old and broken ways of thinking.
Our model fits the pattern of the new replacing the old because it offers more specificity. Instead of fixating on the human individual, it looks at the interaction between the individual and society to see where meaning can be found. It gives all that the old did, plus more.
RooshV and others — I'd like to think I count in this group — have been pushing this society past its old, crusty ways to something which is more real than what we have been living. Naturally those who fear change are going to lash out, but in doing so, they make all of us victims.