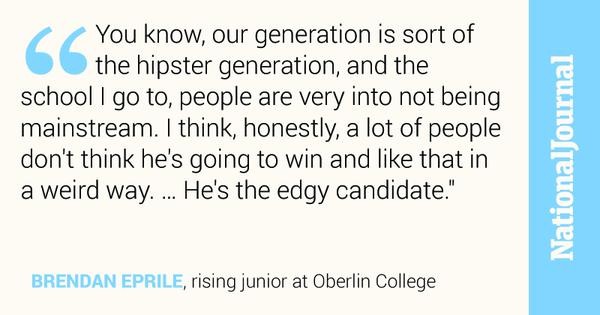 Apparently some millennials feel that they are "The Hipster Generation," and there is some evidence to support this. In particular, many millennials seem to be hipsters, and millennial culture values the type of hipster lifestyle that "bohemian bourgeois" aging Baby Boomers pioneered in the 1980s: a justification of lifestyle by unique, ethical and self-expressive behavior, products and values.
Part of this originates in the fact that millennials were educated by the people that Baby Boomers put into the schools, colleges and career placement offices; they know only the reality that was considered "new and exciting" (by morons) in 1968. Millennials were born thirty years behind because they got such old, moldy and discredited theories preached to them as truth since they were in the womb. They are the spawn of hippies, and since hippies have lost their revolutionary status and become boutique identity scenesters since the hippies took over, it is only natural that the millennials end up as hipsters.
For ease of understanding what hipsters are, we should turn to the AdBusters article that initiated the postmodern understanding of what makes a hipster:
Ever since the Allies bombed the Axis into submission, Western civilization has had a succession of counter-culture movements that have energetically challenged the status quo. Each successive decade of the post-war era has seen it smash social standards, riot and fight to revolutionize every aspect of music, art, government and civil society.

But after punk was plasticized and hip hop lost its impetus for social change, all of the formerly dominant streams of "counter-culture" have merged together. Now, one mutating, trans-Atlantic melting pot of styles, tastes and behavior has come to define the generally indefinable idea of the "Hipster."

An artificial appropriation of different styles from different eras, the hipster represents the end of Western civilization – a culture lost in the superficiality of its past and unable to create any new meaning. Not only is it unsustainable, it is suicidal. While previous youth movements have challenged the dysfunction and decadence of their elders, today we have the "hipster" – a youth subculture that mirrors the doomed shallowness of mainstream society.
As the title says, hipsters are the dead end of Western civilization. When there are no longer values and goals, we have only the ability to make ourselves look cool and unique. This requires pandering to populism by vigorously affirming the validity and importance of every precious snowflake, which is why hipsters are so PC (at least in public). It also requires the endless chasing of fads and trends so that this person appears to be "in the know." It also requires dressing up in motley, being random in behavior and preferences, just for the sake of being different than others. In every way, the hipster is comprised of exterior traits designed to communicate with others and compensate for a lack of inner traits; with the hipster, "the medium is the message."
Such non-people exist only because all inner traits have been abolished. Success in this time depends on conformity to a certification process in propaganda-based education, making the right polite noises about the right topics in conversation, and having enough oddball but admirable activities to have an interesting biography to paste below your CV on job applications. In such a backward approach to life, the inner traits of a human being become justifications for outer appearance, which is more important because social reality and not physical reality predominates. Under social reality, what people think of you is more important than who you are; it is essential to be seen doing the right things, but the quality of those things is secondary to having the right quantities, much in like political correctness there must be certain issues raised in all speech. This environment creates people like hipsters who are 100% external signaling to others, and as a result, have nothing of themselves left inside.
Tags: cogs, drones, hipsters, hollow men, political correctness