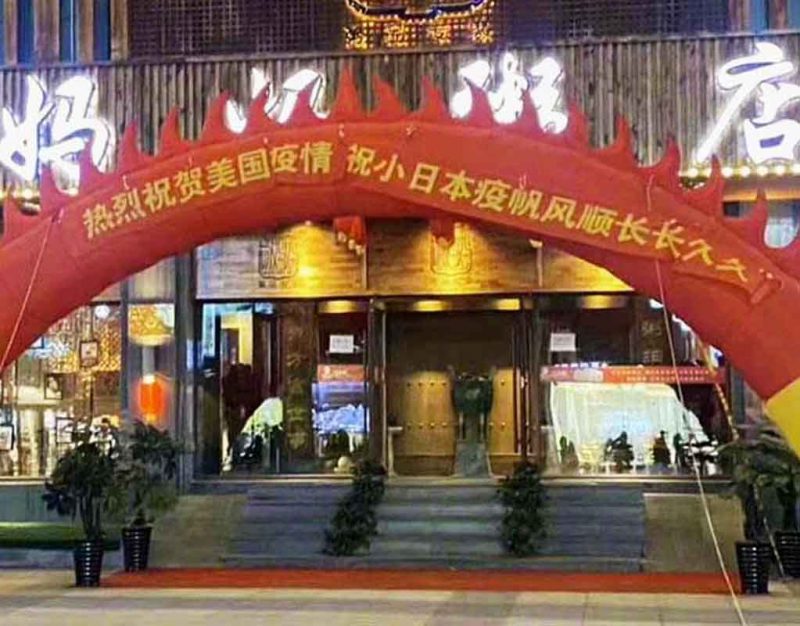 This absurd mask theater is symbolic nonsense.
I often eat at a small restaurant that is located downtown in the small city where I work. They are locally-owned, have reasonable prices, good food, and quality staff. I always sit facing the windows and the entrance door so that I can watch people. It looks like a foreign land full of so much pollution that people cannot breathe in the toxic fumes. And yet it is the Deep South, USA. There is no major pollution in this small city. No fumes from a local plant belting them out.
A couple will walk into the restaurant, faces covered. One of them will say how many in the party through that mask. Then this otherwise well-meaning couple will remove their masks when they sit down, wherein they have now potentially contaminated the restaurant. The owner and waiters wear their symbolic face gear while handing the patrons silverware wrapped in napkins. They do not wear gloves. This is all done as a symbolic gesture to placate the mandate put in place by our state's Governor. Everyone knows it, but everyone conjures up their own reasons for maintaining the ridiculous spectacle.
Recently I stood in a pizza chain known for mediocre pizza-pizza at cheap prices. I stood there, face utterly naked to the shame of any nearby Karen and looked around. Out of seven, only two of us were not wearing masks. I watched the young man cutting the pizzas, mask pulled down to chin. As he used the same cutter each time he sliced an order (and breathed on the pizzas), I couldn't help but chuckle. The writer of this silly play had not noticed the gigantic mistake in the whole show: the kid contaminated every single pizza. Each customer, masked up or otherwise, would be exposed to this Wuhan virus.
If you've never met a gun-toting, right-wing East Indian, you should have the pleasure. A gas station I visit is also locally-owned. The couple that run it are interesting people. As I said, they are East Indian and right-wing, gun-toting Christians. When our governor instituted the mask mandate, he put the signs up but would refuse no one service if they weren't wearing one. He also did not cordon off the soft drink section. I asked him if he minded me refilling the same cup. "My God no, this is all ridiculous nonsense that is nothing but a pointless gesture. We all have been exposed by now, so please, help yourself." And so I did.
No matter how potent the design of a symbol, its power comes from people. We either reject it or ingest it into our psyche as something worth accepting or we merely give into its presence because we feel powerless to do otherwise. The face mask has become a sigil given power by the peer pressure, outrage, and ridiculous legal mandates that surround it, and dare anyone to ignore this power. Still it is a symbol, and nothing more, and it can be denied.
And this theater has two sides. There are those who don the symbolic mask and those who refuse, and almost daily we're shown spectacles on both sides. Whether it is someone wearing a mask pouring coffee on someone who is not, and getting summarily beaten down, or it is someone refusing to wear the symbol acting out in a tantrum in public. Since most of humanity seems to know nothing of symbolism, most don't understand that both sides of this theater render their power back to the symbol. The mask is not meant to unify people against this Wuhan virus. It is meant to divide. We are not, in fact, 'all in this together,' and I believe that everyone, at least somewhere deep down, knows this by now. This theater will enter a final act at some point, and when it does, lines will have been fully drawn out.
This democracy is closing in on itself. Much like an addict, the United States has adopted the mentality of, "I don't have a problem, you have the problem." No one is ever wrong. 'Facts' based on consensus have replaced logical facts and deductive reasoning. Everywhere you go, there's a Karen waiting to find you breaking symbolic rules, approach you about your sin, and cry out in pain as she slaps you. The consequences for remaining sane and acting as such will grow, and so it seems apparent to me that now is the time to batten down the hatches, reject the symbolic nonsense, and find a network of like-minded people. And above all: keep living.