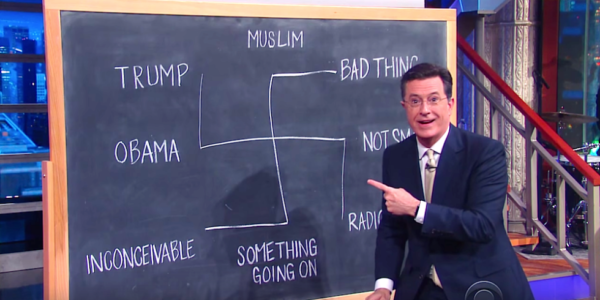 This video below demonstrates that our airwaves teem with a virus of fake news.
Hillary Rodham Clinton has finally made a statement I agree with. Completely. Fake news is just awful.
It's now clear that so-called 'fake news' can have real world consequences," Mrs Clinton told lawmakers on Capitol Hill on Thursday. "This isn't about politics or partisanship. Lives are at risk. Lives of ordinary people just trying to go about their days, to do their jobs, contribute to their communities. It's imperative that leaders from the private sector and the public sector step up to protect our democracy and innocent lives," she added.

She didn't really mean this the way I chose to interpret her words. But then again, the woman who claimed to have dodged sniper fire from the grim genocidiers in Tuzla, Bosnia has no real gravamen to complain about how people interpret her pathetically solipsistic ramblings.
To understand why fake news is such an awful thing, we go back to the tragic events of July 27, 1996. At 1:20 AM a bomb went off at The Atlanta Olympics and killed two and wounded 111. Richard Jewell had the profound misfortune of working security near where the bomb went off. His actions on site and the consequences that came his way perhaps prove that good deeds never go unpunished.
Richard Jewell, 33, was stationed as a security guard, Jewell had noticed a small backpack lying unattended nearby. He pointed it out to an agent of the Georgia Bureau of Investigation, who summoned bomb technicians. Jewell participated in helping to evacuate the area as the bomb exploded. Initially, news reports portrayed him in heroic terms.
But soon, that all changed for the worse.
The FBI believed the blast was probably an act of domestic, not foreign, terrorism. And the early attention investigators paid to an extremist militia organization in Alabama was reported promptly. Jewell was interviewed by the Secret Service, the Georgia Bureau of Investigation and the FBI on July 27, the day of the explosion, and again on July 28. In those interviews, investigators considered him a witness, not a suspect.
Then, the FBI leaked Richard Jewell's name as a suspect. Soon The Atlanta Journal Constitution was printing that Jewell "fits the profile of the lone bomber." The paper would not reveal its source for this assertion, but felt that Jewell had garnered enough publicity by that time so that he would under the "absence of malice" standard if he tried to accuse them of libel. Soon Jewell's parents' house was swarming with journalists.
On 30 July 1996, the same day the FBI began to doubt that Jewell had planted the bomb, The Atlanta Journal Constitution ran the story that began Richard Jewell's ultimate road to ruin. It was entitled "FBI suspects 'hero' guard may have planted bomb."
The story than hit the Television networks. Tom Brokaw at NBC News was the antithesis of Officer Friday.
On NBC, Tom Brokaw said, "The speculation is that the FBI is close to 'making the case,' in their language. They probably have enough on him to arrest him right now . . . but you always want to have enough to convict him as well."
Nice elaboration there, Tom. The only thing missing was a rowdy "Roll Tide!" Perhaps Brian Williams was somewhere off stage taking notes to see how it was done. Jay Leno called him "Una-doofus," Time Magazine dubbed him "Una-Bubba."
88 days of purgatory after the bombing, Richard Jewell was cleared. Too bad they couldn't also issue him a certificate that would renew his good name and reputation. Janet Reno, US Attorney General at the time, was a real sweetheart and told Jewell she was sorry. Can you imagine how much better he felt?
And meanwhile this plague of fake news negatively impacted people other than Richard Jewell. In 1998, Two years after Richard Jewell's life had been detonated by the respectable, accurate US Media, Eric Robert Rudolph was finally brought to justice for the Centennial Park Bombing. The US Department of Just-Us issued the following self-congratulatory memorandum.
Federal authorities today charged Eric Robert Rudolph with the fatal bombing two years ago at Atlanta's Centennial Olympic Park, as well as the 1997 bombings at an Atlanta area health clinic and a nightclub, the Southeast Bomb Task Force announced. In a criminal complaint filed today in Atlanta, together with a sealed affidavit, the Justice Department charged that the 32 year old resident of Murphy, North Carolina, was responsible for the Centennial Olympic Park bombing in Atlanta on July 27, 1996, the double bombing at the Sandy Springs Professional Building in north Atlanta on January 16, 1997, and the double bombing at The Otherside Lounge in Atlanta on February 21, 1997. An arrest warrant was issued today for his arrest on these charges. Rudolph, who authorities had previously sought for questioning in connection with the three bombings, was charged in February 1998, with the bombing at the New Woman All Women Health Care Clinic in Birmingham, Alabama on January 29. That bomb killed Birmingham police officer Robert Sanderson, and severely injured the clinic's head nurse, Emily Lyons.
So that's at least three additional bombs that Eric Rudolph set off after Tommy Terrific Brokaw waved his ego in front of the cameras at Richard Jewell's expense. Rudolph was finally caught in 2003. Again, I'm sure Richard Jewell was just fascinated. Perhaps not. He died a poor and dispirited man on August 29, 2007.
He was the ultimate victim of the sort of fake news we hear every damn day of CNN, NBC, MSNBC, CBS, Time, Newsweek, etc… I eagerly await the day that Mark Zuckerberg saves us from this problem by banning every publication I just named from the Facebook newsfeed. He could do it memory of poor Richard Jewell.
Tags: censorship, eric rudolph, fake news, mainstream media, richard jewell