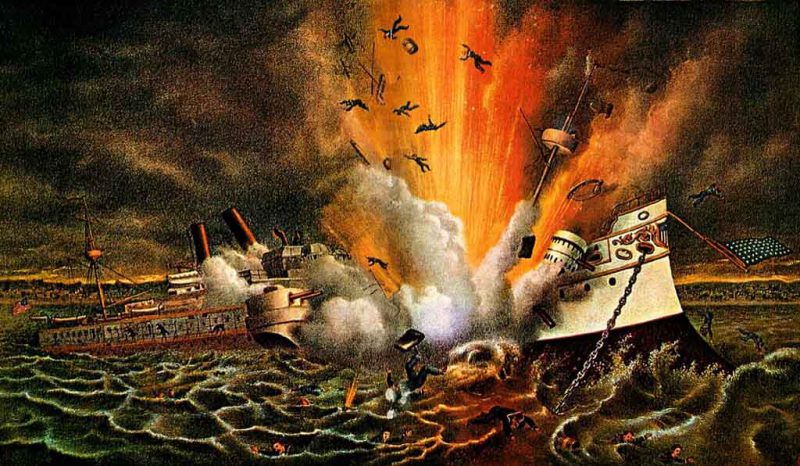 Thomas Jefferson once famously remarked he would rather have newspapers without government rather than government without newspapers. He predated George Orwell, and can therefore be given a pass for not understanding that newspapers were nothing more than another arm of the meddlesome cuttlefish of empire. One wonders what TJ would have made of William Randolph Hearst's iniquitous role in instigating The Spanish American War.
Well, our "muscle" sat there in the harbor for a couple of weeks until, tragically, it blew up along with 200 of its sailors. Immediately the American newspapers put forth the story that the Spaniards had treacherously used a mine to destroy the ship. Hence the headlines: "Remember the Maine!"….So—"Remember the Maine"—remember? Well, the thing is, it wasn't blown up by a mine at all. Most experts now agree that the cause of the fateful explosion was a fire in a coal bunker. Yes, our old friend coal. It was big in 1898. Sure glad we've moved on from the stuff here in the "modern" world. The slowly growing fire in one of the battleship's coal bunkers eventually ignited the ship's powder stores. Boom! War! History!

So a major media outlet ran early with an incorrect version of a story. They did so in full knowledge of the fact that it just so happened to support what they and their buddies wanted to see happen next. Spain was sent packing from Cuba and we got to exploit it instead. Teddy got his Bully Little War and The Legend of The Rough Riders spread like a pernicious Spanish Flu bug. Another piece of the American Republic died and was replaced by The Amerikan Empire. Journalism with a mission had impelled governance and events rather than merely reporting upon them.
The good news is as that we learned from all of that and "Yellow Journalism" is regarded as a scourge. I kid. It's decried in the manner that !RACISM! is right before the virtue-signaler blames all evil on The White Man the way peasants in Beowulf blamed their woes upon The Grendel. So it is with justified skepticism that I view the following with the skepticism of a seedy gumshoe asking "What's their angle, anyway?"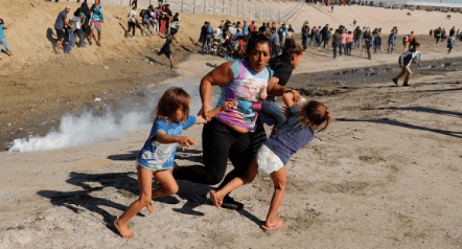 A migrant family, part of a caravan of thousands traveling from Central America en route to the United States, runs away from tear gas in front of the U.S.-Mexico border wall in Tijuana, Mexico. — Kim Kyung-Hoon/Reuters

Then, predictably, the mantra began that the United States is "gassing babies"…
If gassing babies was so bad, then I fail to comprehend how Barack Obama avoided impeachment. The US Border Patrol passed the gasses to the teeming masses about 80 times during his enlightened and liberal reign over the empire. The Washington Times attempts to rehabilitate his laughably homosexual beta male image with the following reporting.
U.S. Customs and Border Protection has used 2-chlorobenzylidene malononitrile, or CS, since 2010, and deployed it 26 times in fiscal 2012 and 27 times in 2013. The use dropped after that, but was still deployed three times in 2016, Mr. Obama's final full year in office. Use of CS rose again in fiscal 2017, which was split between Mr. Obama and Mr. Trump, and reached 29 deployments in fiscal 2018, which ended two months ago, according to CBP data seen by The Washington Times. Border authorities also use another agent, pepper spray, frequently — including a decade-high record of 151 instances in 2013, also under Mr. Obama. Pepper spray, officially known as Pava Capsaicin, was used 43 times in fiscal year 2018, according to the CBP numbers. The data poses a challenge to the current anger over the Border Patrol's use of tear gas Sunday to prevent a mob from busting through sections of old border fence in California. Critics, including Latin American leaders, immigrant-rights advocates and congressional Democrats, have said use of tear gas is "un-American."

No wonder John McCain and Mitt Romney had no prayer! The only thing missing was the mortar barrage using VXII-tipped neuerotoxin rounds. If Trump's use of the bug juice reminds Alexandra Ocasio-Crazy of Auschwitz, then Barack Ostengropenfuhrer Obama must have her dreaming at night of being ravished by vicious Nazi gauleiters. It may only be a fever-dream, but apparently the PTSD it gives her is for real. Using gas on border-crashers is un-American, dammit! Isn't un-American what the left voted for twice with Barack Obama?
So why, whines the Cuckservative Catamite, does Barack Obama get to serve up the Jim Jones Kool-Aid at San Yisidro and not face harsher criticism, while Donald Trump does it once and get accused of being Josef Mengele without the Evil Genious IQ? The answer to that one is "Umm, duh!!" The media couldn't just put their thumb on the scale. They've totally sat on it. Remember The Maine and screw the media! They are utterly invested in the business of lying to us all.
Tags: media, propaganda, u.s.s. maine, yellow journalism