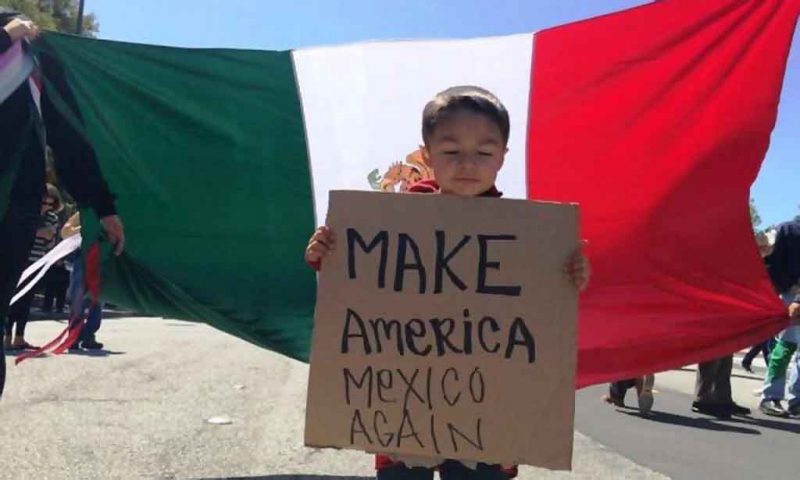 We can all appreciate the wisdom of #WalkAway, which basically told minority groups that the Left was using them as useful idiots. No surprise there; that is what the Left does to everyone. However, it makes no sense to expect minority groups to vote for what will be perceived as a majority party, defending the nation that the majority created.
As if on queue, here come the Hispanics to remind us that as proud Mongolian-descended Amerinds, they will not be supporting the white party:
In California, the flourishing Latino population has helped put in play some Republican-controlled House districts Democrats hope to flip.

The Reuters/Ipsos poll, taken Sept. 1 to Oct. 29, found that 36 percent of Hispanic voters said they were "certain" to vote, up from 27 percent in 2014. That increase is nearly double the five percentage point rise in voter enthusiasm among all Americans over the same period, the poll showed.

Among likely Hispanic voters, 60 percent said they will vote for a Democratic candidate for the House, and 32 percent would back a Republican.
We all know the story of California: it was the test bed for the Left, who wanted to see if they could make a state into a permanent Leftist stronghold by flooding it with minorities. This worked, at least in local elections, so they went ahead with the 1965 Immigration and Nationality Act which restricted immigration from Europe in order to bring in people from third world countries.
Since that time, the Left has been steadily working to replace the European-descended electorate with as many minorities as it can, promising them free welfare, guaranteed jobs with affirmative action, and subsidized living in a stable first-world country. These new citizens can be counted on to do one thing: vote against majority interests.
Leftists do not care about this as, for them, politics resembles a football game and they just want to win. Their ideology says that equality is more important than anything else, so they will sacrifice the nation in order to achieve it, in the cult-like delusion that it will somehow make them happy. Their zeal is merely disguised revenge, envy, and bitterness.
Minority groups on the other hand find themselves facing a difficult situation. Until they are in charge, the majority group can kick them out at its pleasure, which it inevitably will because everyone can tell that diversity does not work. For that reason, minority groups always work against the majority, because if they work for it, they work against their own interests.
Even more, minority groups form an unstable coalition, supporting each other when advantageous but turning on each other when the majority is out of the way. We see this in small communities where African, Hispanic, Indian, Arab, Amerind, and Asian gangs war it out over turf. In a smaller degree, we saw this with the Roof Koreans during the L.A. Riots of 1992.
Leaders from these minority groups often openly admit their anti-majority bias:
Farrakhan said at a meeting with the Secretary of Iran's Expediency Council Mohsen Rezaei that America is conspiring against Iran.

He claimed, "America has never been a democracy and has always leaned towards the wealthy and powerful class."

In addition, he stated that African-Americans are part of Iran's Islamic revolution.

At the end of his talk, Farrakhan led the chanting of the common Iranian refrains "Death to Israel" and "Death to America," and was joined by members of the audience.
We can judge him, or see that he is simply doing what he sees as best for his people: overthrowing the majority, abolishing the nation they created, and replacing it with one that works for his people. Most agree with him, because they know that any group which is subordinate to another will be ruled by that group, and they want their freedom as a group.
Even if African-Americans #WalkAway now, in the future, they will face difficult choices. Much of their support comes from their ongoing displacement by Hispanics, who are dominating jobs traditionally available to African-Americans throughout the Southwest. As the Hispanic wave goes nationwide, it will become more difficult for African-Americans to find decent work.
As conservatives warned fifty years ago, diversity does not work. It cannot unite, and only divides, which is why the Left is always talking about how it unites us. America has chosen diversity as its hill to die upon and has subsidized a third world underclass for some time, but now that policy comes into collision with its future.
Tags: diversity, hispanics, lous farrakhan, walkaway