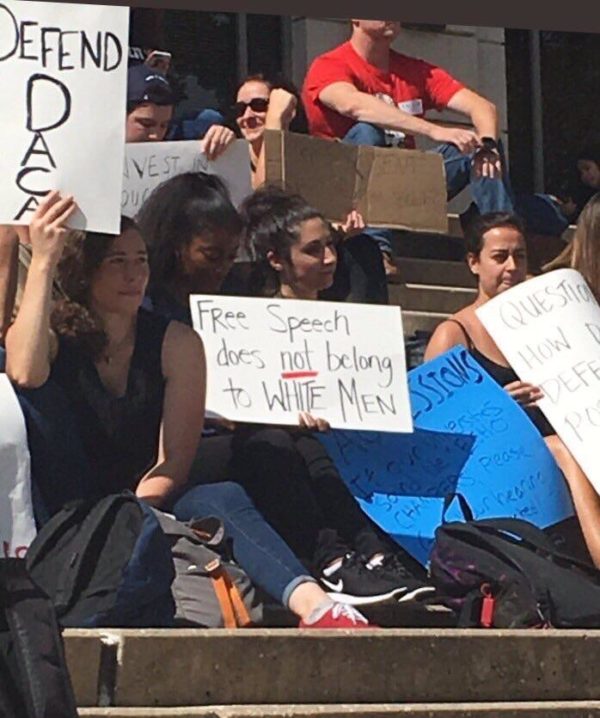 One of the worst Cuck Jobs you'll ever hear from the pulpit happens when your contemporary Reverend Iwanna SWPLToo opens The Good Book to Acts 10:9-18. After sitting through purge-and-vomit instead fire-and-brimstone, I wanted to log into to my training program at work and see if could claim that homily as my annual diworsity brainwashing session and skip the pablum from HR.
About noon the following day as they were on their journey and approaching the city, Peter went up on the roof to pray. He became hungry and wanted something to eat, and while the meal was being prepared, he fell into a trance. He saw heaven opened and something like a large sheet being let down to earth by its four corners. It contained all kinds of four-footed animals, as well as reptiles and birds. Then a voice told him, "Get up, Peter. Kill and eat." "Surely not, Lord!" Peter replied. "I have never eaten anything impure or unclean." The voice spoke to him a second time, "Do not call anything impure that God has made clean." This happened three times, and immediately the sheet was taken back to heaven. While Peter was wondering about the meaning of the vision, the men sent by Cornelius found out where Simon's house was and stopped at the gate. They called out, asking if Simon who was known as Peter was staying there.

You see, Reverand Iwanna SWPLToo seems to believe we just need to take anyone into the church who claims to want in the door. That excluding them on any grounds makes you a sinner that fails to understand Christianity. Putting a high-pass filter in place would lead us straight down the broad thoroughfare of damnation that AC/DC sings about so nicely. He then informed us if we didn't all agree with this message he would take his act back home to Arlington, Texas. I figured it was nice he favored open borders and free movement and hoped to someday soon bid him a fond farewell while the church looked for a minister who could read The New Testament and not imbue it with Progressive, New-Fangled Amorality.
So what's wrong with the SWPL interpretation of this old tale from the scriptures? According to Der Spiegel, nothing the old East German Stasi couldn't stitch right up. I mean once you've decided everyone, literally everyone, regardless of their standards of personal conduct are welcome, you get pretty much what you tolerate. It's just plain common sense to ask if God would call sepsis clean. Maybe God would call intestinal rotifers and cancer tumors clean as well. It was pretty harsh of Old Jesus to discriminate against Legion for having an excremental résumé. He did ask Christ nicely not to render him homeless.
How would the secret police get involved in a theological discussion with Communism now consigned to corrupt, declining institutions like The United States Military Academy at West Point, New York? It gets involved once Reverend Iwanna SWPLToo's vision completely dominates a society. You see Germany deigns to assume anything that crap and take a walk has been called clean by whatever they believe in since Nietzsche signed Gnon's death certificate. So as the old game show trope goes, "Show 'em what they win, Dom Pardo!"
The assassin from Breitscheidplatz, Anis Amri, murdered twelve people and injured almost 100 more. Many of them are traumatized to the present day, some still in the hospital, some will remain nursing care for their whole lives. Could the attack have been prevented? In his report, former Federal Prosecutor Jost assumes at least that Amri could have been arrested in the summer or autumn of 2016 with "high probability" – if the police and the public prosecutors had done their work properly.

Pretty typical conclusion. Better police work would prevent criminals from doing crime. How does this even implicitly indict our true Cuck-Christian duty to !CELEBRATE! diversity? Umm, let's discuss what proper police work has to entail in order to run the managerial state that can manage diversity.
The LKA observed Amri only for a few weeks. And even though the Berlin police in the meantime considered him to be the most urgent case in the capital, she observed the Islamists only sporadically during this period. Jost is sober: "All observations are limited to the weekdays Monday to Friday, even during the weeks in which Amri ranks first among the" Berliners ". On weekends and holidays, no observers take place." The ex-federal prosecutor concludes that the findings of Amris's Islamist activities alone would not have sufficed to put him under investigation. However, from his point of view, it would have given him a great opportunity to get him out of circulation because of drug trafficking.

So my questions are not whether the German neo-Stazis should have received better direction from Zee Merkel's totally non-Communist politburo. My question is why do we allow elements into Western Society that require us to emulate the failures of the CCCP to avoid having them deliberately and maliciously blow us up or run us over at a Christmas Market? Who in their right mind wants to live like that? Acts 10 aside, we were told by a higher authority than Saint Luke that you can judge a tree by its fruits and that those who don't bear the desired fruit for the Kingdom of Heaven are tossed into the fire and burned.
We have a theological duty to to read our scripture properly. The injunction is against rejecting that which God made clean. Where does Acts or any other book of the New Testament claim everything is de facto clean? It doesn't. Reverend Iwanna SWPLToo is deliberately implying valid philosophical induction without an effective base case. Accepting Cornelius the highly decent and squared away Roman Centurian is several standard deviations away from accepting anything that walks out of Left Point with a commission as a 2LT. Peter knew it. Rev. SWPLToo and Angela Merkel know it well. Acts 10:9-18 is being used as a normative bait and switch. Buy not the used mechanical conveyance using an internal combustion engine from any preacher quoting Chapter 10 of Acts.
Why the dishonesty from people we should otherwise be able to rely upon and trust? Maybe I asked the wrong question when I asked who in their right minds would want to live in a society that requires a Stasi? The real question here is who benefits from deracinating a society and culture until it requires a Stasi. Importing fear imports the need for control. The need for control empowers the tyrant. The society that accepts literally everything can only be preserved in the end by a despotism. It can only exist under the baleful, watching glare of The Lidless Eye.
Tags: christianity, cuckservatism, faith, false prophets, immigration, neo-communism, pharisees, religion