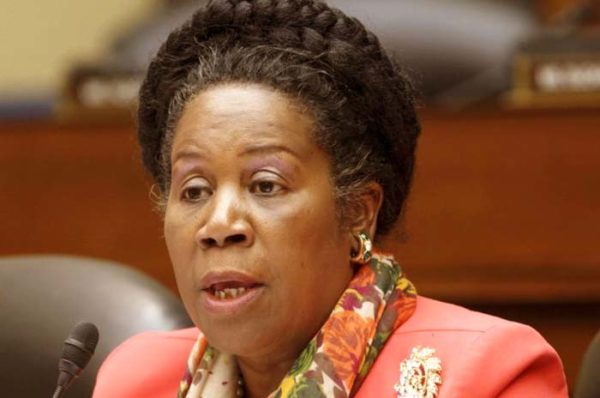 Houston needs disaster relief. It has needed such succor since Jan 3, 1995. On that tragic date in history, Sheila Jackson Lee joined the nefarious ranks of Congress.
Jackson-Lee is perhaps the worst member of Congress ever for three reasons: She is stupid. She is evil. She is greedy. She is also obnoxious, but I said three reasons and we on the Alt-Right never give out extra credit. Other than that, she has an opaque and unfathomable character. If she were not in Congress, she would be that woman whose fundamentally bitchy and malignant nature would be driving otherwise dutiful Christians out of a low church Baptist congregation. She is an execration.
She is not merely stupid. She is the long and wrong tail of the intellectual bell curve. She is to stupid what Harvey was to rainy weather. Her real objection to Harvey is that NOAA didn't name it Hurricane Jamarquavious. I wish I were kidding. I.AM.NOT.KIDDING.
Texas congresswoman Sheila Jackson-Lee complained in 2003 that storm names were too white. "All racial groups should be represented," she said, and asked officials to "try to be inclusive of African-American names."

And in case you thing President Trump needs more advice on how to handle Kim Jong-un, here's who not to call. Sheila displays her geographical cluelessness below.
"I stand here asking us to do what we did not do in Vietnam, (which) was to recognize the valiant and outstanding service of our men and women, and to understand victory had been achieved," she said during the special order speech, which House members can give on any topic at the end of a day's legislative work. "Today, we have two Vietnams, side by side, North and South, exchanging and working," she said. "We may not agree with all that North Vietnam is doing, but they are living in peace. I would look for a better human rights record for North Vietnam, but they are living side by side."

And I would have you know, I am not a liar when I call The She-Jack an outlier. Her visit to NASA JPL will go down in history. Winston Smith's Memory Hole can burn it over and over again. Yet the stupid cannot die!
In 1997, while on a trip to the Mars Pathfinder operations center in California, Jackson Lee asked if the Pathfinder had succeeded in taking a picture of the flag planted on Mars by Neil Armstrong in 1969. Needless to say, Jackson Lee, then a member of the House Science Committee, had confused Mars with the Moon.

I find myself sick and tired of genius tech overlords who are evil. I don't like being tired, so today I'll discuss low tech evil. It's She-Jack, so I'll be discussing evil that may well require a job that's one or two steps below automation. It's low, mean-spirited, hyper-aggressive nasty. In Amerika, that typically involves an absolutely moronic obsession with race. She won't drink Pepsi-Cola, so let me ask you a very personal question, Amerika… Is your cola dark enough?
Jackson Lee recently blasted a Pepsi advertisement shown during the Super Bowl in which a black woman throws a can of soda at her husband for ogling an attractive white woman next to them. "It was not humorous. It was demeaning — an African-American woman throwing something at an African-American male and winding up hitting a Caucasian woman," she thundered from the House floor.

And then there is the Sheila Jackson Lee management style.
Rep. Sheila Jackson Lee of Texas also hands out nicknames to the people who work for her. The Houston Democrat addressed one of her employees as "you stupid motherfucker." And not just once, but "constantly," recalls the staffer, "like, all the time."

It wasn't just limited to demeaning sobriquets.
Capitol Hill is famous for its demanding, insensitive bosses. Yet even by the harsh standards of Congress, Sheila Jackson Lee stands out. She may be the worst boss in Washington. "It's like being an Iraq War veteran," says someone who worked for her. Strangers may say, "'oh I know what you've been through.' No, you really don't. Because until you've experienced it…. People don't tell the worst of the stories, because they're really unbelievable." For some, a job in Jackson Lee's office proved not just emotionally but physically perilous. One staffer recalls a frank conversation with his doctor, who told him he needed to quit. "It's your life or your job," the doctor told him…

And it wasn't just her employees who were in danger when the intellectual and moral Low Pressure System known as She-Jack blew into town.
Her former drivers say the congresswoman demanded they run red lights and drive on highway shoulders around traffic. This caused at least one accident. As Jackson Lee was yelling at a staffer to drive faster she turned too sharply, smashing the side of her car into a wall. Jackson Lee's requests don't stop at the end of a normal working day. "In the middle of the night, people had to go get her garlic. She'll call you at two in the morning for garlic because she takes them as supplements," a former staffer said. Jackson Lee's garlic runs were confirmed by other staffers, too, though no one could remember the exact brand of the supplement. The deputy chief of staff "would have to go get it, and he would have to go drop it off. It was some kind of a multi-vitamin," another former staffer said. On Christmas Eve, one staffer was at a midnight mass ceremony at her church. When the boss called, the staffer didn't answer. "She got so irritated that I wasn't answering her call on Christmas Eve. So she called me every minute for 56 minutes," the source recalled.

Evil is bad, stupid is worse. Greed makes it quite the trifecta. Nepotism, like charity, begins in the home. Members of The House of Representatives have the power of the purse. Representative Jackson-Lee opened up that purse and made it rain over where her husband worked.
Rep. Sheila Jackson Lee (D-Tex.) steered more than $5 million in tax dollars to the University of Houston, where her husband is an official. The Washington Post revealed in an investigative report dubbed "Family Ties" that Jackson ensured her husband's university was well subsidized.

Then there was what happened a hospital her husband had ties to had monetary problems.
Houston Riverside General Hospital specialized in the kind of medicine its better-heeled brethren did their best to avoid. Like treating the poor, the mentally ill, the drug-addled. So it's no surprise that the 95-year-old nonprofit — formerly known as Houston Negro Hospital — shared the same broken finances as the people it served. Most patients couldn't pay their own way, leaving Riverside to survive off the rock-bottom reimbursement rates of Medicare and Medicaid. At one point, it was losing $10,000 a day. That's when executives decided to cauterize the wound with a hot poker of fraud.

So they were about to go down hard. Then Representative Jackson Lee went up to bat for her friends.
In 1996, the State of Texas accused Riverside of padding fees and billing for drug rehabilitation services it never provided. Texas canceled $1 million in contracts and demanded that the hospital repay another $763,000. It also urged the feds to audit Riverside's Medicare and Medicaid payments. Yet charges of fraud weren't enough for bureaucrats to fully close the spigot. The money continued to flow.
It would take another eight years before the state finally had enough. In 2004, it moved most of its drug-treatment contracts to more trusted providers, slashing Riverside's funding by 75 percent.

Unfortunately for the taxpayers, CEO Earnest Gibson III had friends in influential places. Congresswoman Sheila Jackson Lee (D-Texas) demanded an investigation of the cuts, calling on Governor Rick Perry to restore the money. Perry, who had appointed Gibson to the Board of Regents at Texas Southern University, was happy to oblige. By the time it was over, Riverside emerged with another $3 million.

Thus, like garbage, Congresswoman Jackson Lee floats to the top of the harbor as the Houston bayous are flooded by the City of Houston and the Army Corps of Engineers deciding to use half of the city as a reservoir pond. She is demanding $150Bn in recovery money.
Houston congresswoman Sheila Jackson Lee (D-Texas) said federal lawmakers should begin working on a Hurricane Harvey aid package worth about $150 billion, more than double the amount Hurricane Sandy needed five years ago. Jackson Lee told CNN today that the funding to recover from the massive flooding is needed "because this not only includes the Houston Harris County area, which is 6 million in its metroplex, but all of our areas, such as Beaumont, that was hit last night, Victoria and Corpus and places in south Texas." "We don't know where else Hurricane Harvey will come," she said. "And we understand it may turn back to Houston on tomorrow and the next day."

If it were just hurricane relief, and if somebody could produce an estimate that demonstrated where this money is needed, then it would be logical to vote for the funds and get Houston back on its feet. But this is not the case with hurricane relief bills. They are demotic vehicles for the grifters and the greedy. Hurricane Sandy's $75 billion relief bill only spent $25 billion on actual storm relief.
If the same proves true of the Harvey relief bill, and if She-Jack gets her way, we're talking $100 billion stolen from the American taxpayer. Nobody in their right mind would ever put somebody like Sheila Jackson Lee in charge of a $150 billion hedge fund with little or no administrative control on how she invested it. But this, by its very nature, is what happens under government by and for the people, who after all elected fraudster Sylvester Turner, the Kwame Kilpatrick of Texas.
Harvey's floodwaters will recede. Brave and hard-working people will feed the starving, shelter the dispossessed, rescue the stranded and rebuild among the sodden refuse and wreckage. Then Joel Osteen will go back to asking for more of your money. Sadly, Sheila Jackson Lee will remain an anthropogenic disaster that infects both Houston and the United States Congress until the various tribes of Houston emerge from their primeval state of demotism.
Tags: democracy, demotism, houston, hurricane harvey, kwame kilpatrick, sheila jackson-lee, sylvester turner, texas