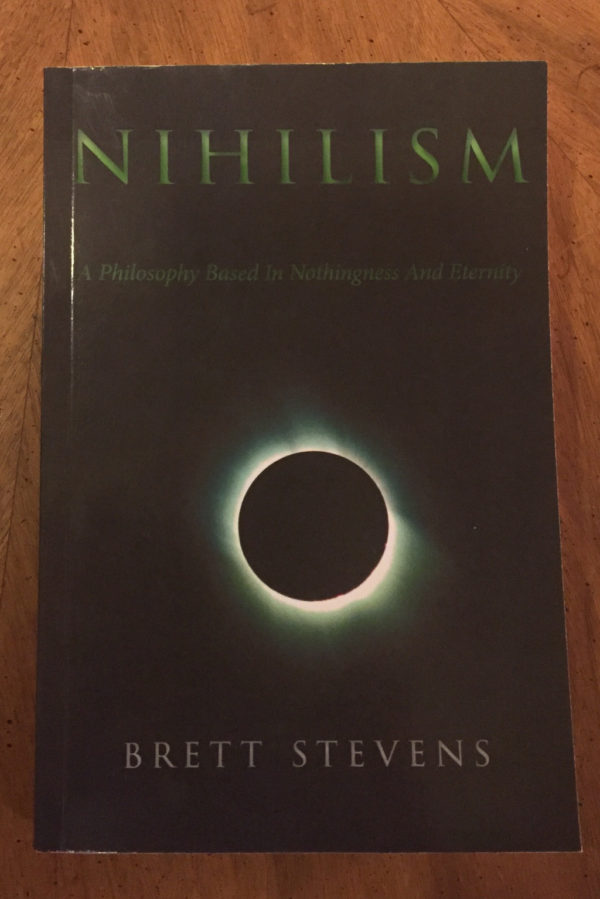 Over at Dissident Right, August J. Rush has reviewed Nihilism: A Philosophy Based In Nothingness And Eternity by tackling assumptions about the meaning of "nihilism."
Ultimately, Stevens rejects the Idealism of previous philosophers and instead notes that inherent truth (or meaning) does not exist; all that does is a world external to ourselves which experiences an objective reality, regardless of how we experience it.

…Stevens thus embraces ontological realism, and otherwise argues that while we can never fully be sure that The-World-We-Experience is The-World-As-It-Is, if our mental maps allow us to survive and thrive over a long enough time period, we thus must have an accurate (or at least advantageous) understanding of external reality. Thus, to Stevens, the question of epistemological realism is ultimately answered by the evolutionary fitness of an individual (he also extends this to societal-level phenomenon, with civilizational attainment serving as a stand-in for evolutionary fitness for these phenomena).

…Societies of any scale will have to integrate individual illusions into a cohesive framework that members can reasonably work within. This means that as a society scales, the collective mental map of reality gets further and further from The-World-As-It-Is. This process is inevitable.
This is a great synopsis of the book and of its challenge: how to find a realism that does not betray us. Its answer, presented more at the margins, is elitism and aristocracy, but the main point of the book is what this review captures, which is that we need a force of epistemological destruction like nihilism in order to slow the process of entropy of purpose that happens with civilization.
Nihilism: A Philosophy Based In Nothingness And Eternity has been fortunate to have a number of great reviews by talented writers:
Tags: august j. rush, Books, dissident right, nihilism-reviews, Nihilism: A Philosophy Based in Nothingness and Eternity