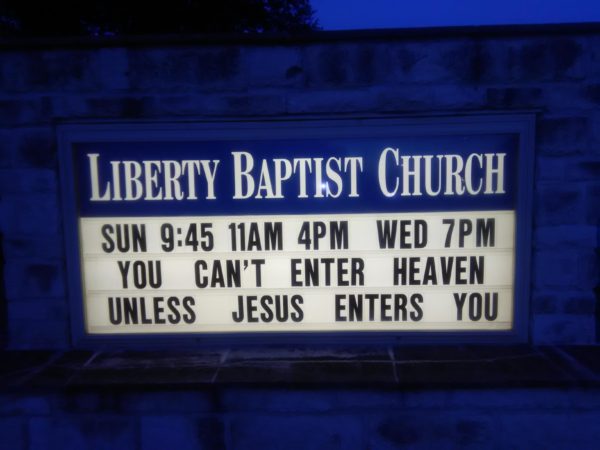 In his dimly lit attic workroom, the inventor tightened the final screw, and flipped the power switch. The robot lit up and awoke, taking in his surroundings with an unchanging gaze that shone aggression through bright red eyes.
"Who are you?" His maker stood in front of the robot with stern anticipation, his eagerness to see the fruits of his life's labour still held in check by lingering sceptical doubts.
The robot quickly turned its head and took in the form of the man before him.  "I AM SODOMOTRON."  The voice was loud, monotone, and clouded in a raspy distortion that seemed to give the crudely computer generated sound an organic feeling. "WHO ARE YOU?"
This was new.  None of the previous failed prototypes had posed its own question so soon after awakening.  Could this be a sign that he'd succeeded?  The maker tried restraining his joy at his promising creation's animation, knowing that the true test of the robot had yet to come.  But the attempt was futile, and his face beamed out a wild jubilant desire for the manifestation of his greatest dream.  
"I–I am your maker," he said. The moment of truth lay ahead.
Sodomotron glared motionlessly, his prominent inflected brow seeming to exude pure disgust at the weakness of the squishy, quivering, flesh bag in his way.  The light from those eyes was unpleasant, and filled the man's vision to the edges with red, as if becoming drenched in blood, but he forced himself to stare directly back into them, straining to show no sign of self-doubt or fear. 
The sound of a short hydraulic twitch originating in the robot's lower structure caused his heart to jump and rail against its cage of ribs, but his overriding drive to live to see the metal beast unleashed upon the world, to know that it would make the world a better place was the anchor with which he forced himself calm.  Finally, the voice once again bellowed, this time at a subtly lowered tone, "ABOVE WEAKNESS THRESHOLD."
Dual relief washed over the man.  He would be spared, he would remain unviolated.  But more important than that, he had looked into the eyes of the beast and therein gained an inexplicable confidence in the soundness of his creation.  He'd done it.  His dream had become real.
For years, the inventor had observed that in human society, the natural predators became the prey and so a mouse-like ineptitude had prevailed in all that humanity did. Evil and stupidity always won, usually on the backs of vast popularity by people who were as casual with the truth as they were with their paychecks, and anything good or honest was smashed down to the roars of pleasure by the jubilant crowd. The only solution was a mass purge of the weak, and in this instrument of terror, the inventor felt he may have created the true salvation of his race.
He addressed the mechanical embodiment of domination.  "Sodomotron!"  The maker's eye's glowed back red light as little embers, scorching away any remaining doubt.  "What is your purpose?"
Waiting no longer, the robot arose to its full towering height, rapidly thudded across the room and crashed through the door.  Not pausing to look back, it rumbled one last time in a bowel-loosening timbre:
"I AM SODOMOTRON.  I SODOMIZE THE WEAK."
Tags: fiction, idiocracy, sodomize the weak, sodomotron, the purge