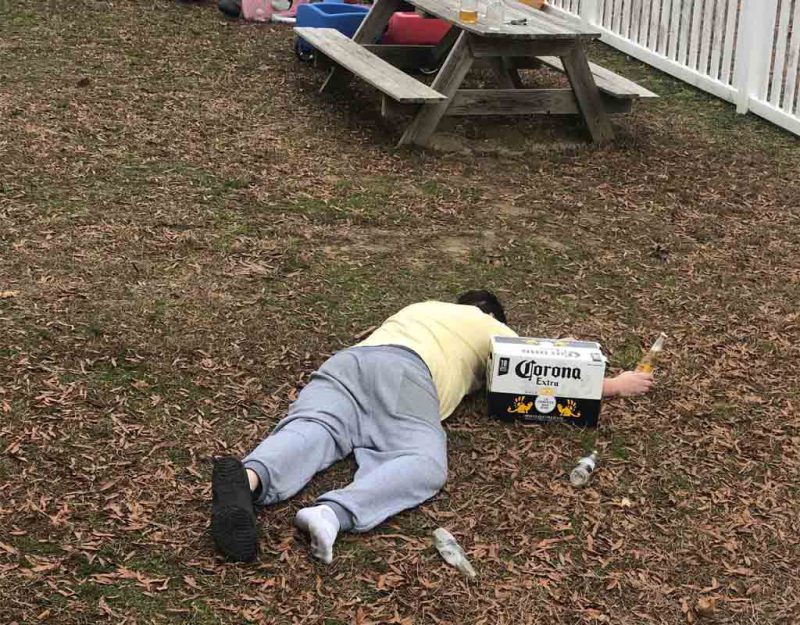 The COVID-19 outbreak shows us an exercise in duality: we are all held hostage by fear of inaction on a risk, but we also do not trust our media or governments to tell us anything like the actual situation.
Time has shown that by the numbers, the coronavirus is nowhere near the disaster it was portrayed to be, although it is still a nasty virus that victimizes some viciously and spreads quite rapidly. You do not want the coronavirus, although most of you will have mild symptoms.
Few want to say it, but this coronavirus may be a lot like another well-known coronavirus, the common cold. It may simply be with us from this day forward. Those who are healthy will shrug it off; some will have a genetic susceptibility to it and die horribly; those with compromised health will die.
Two hundred years ago, people died all the time from common colds if their bodies could not overcome the pathogen. Somewhere in the last few thousand years, those who were exceptionally susceptible to the common cold got weeded out, and now most of us can survive it unless we are already weakened.
In two hundred years, the coronavirus will likely be the same. With this realization slowly sinking in, people are slowing their panic, especially as the number of new cases drops. How did this come about? Let's find out!
Our first important data point comes from the knowledge that more people have the virus than we knew which means the infection and kill rates are lower:
An analysis of the blood of some 3,300 people living in Santa Clara county in early April found that one in every 66 people had been infected with SARS-CoV-2. On the basis of that finding, the researchers estimate that between 48,000 and 82,000 of the county's roughly 2 million inhabitants were infected with the virus at that time — numbers that contrast sharply with the official case count of some 1,000 people reported in early April, according to the analysis posted today on medRxiv.

The Santa Clara team estimated an IFR for the county of 0.1–0.2%, which would equate to about 100 deaths in 48,000-82,000 infections. As of 10 April, the county's official death count was 50 people. The study's IFR is lower than the IFR used in models by researchers at Imperial College London, which estimated an IFR for Great Britain on the basis of data from China to be 0.9%. In another study, the same group estimated an IFR for China of 0.66%, and a study of deaths on the Diamond Princess cruise ship estimated an IFR of 0.5%.
So far, most of our testing has focused on people who were at risk, like having traveled to Wuhan, China, or who showed some symptoms that could be those of the disease. With wider assessments, we see that more people have been exposed than we thought, and relatively few of them got sick.
Other data seemed to confirm this as reports suggest most who are infected do not develop symptoms:
The head of the U.S. Centers for Disease Control and Prevention says 25% of infected people might not have symptoms. The vice chairman of the Joint Chiefs of Staff, Gen. John Hyten, thinks it may be as high as 60% to 70% among military personnel.

None of these numbers can be fully trusted because they're based on flawed and inadequate testing, said Dr. Michael Mina of Harvard's School of Public Health.

Collectively, though, they suggest "we have just been off the mark by huge, huge numbers" for estimating total infections, he said.
In other words, it is still a nasty disease which spreads rapidly and kills people, but relatively few people. The panic over the number of deaths now seems overblown, although none of us want to have to try to survive a full-blown COVID-19 infection.
From that, the question rises: how should we have handled this? The 1918 Spanish Flu was beat mostly by making everyone wear masks and stop congregating in large groups. Eventually, enough people became immune to it that it died out, like many of our recent bouts of nasty flu-like diseases.
Sweden took a controversial approach by essentially making countermeasures voluntary, and relying on social trust and a sense of collective interest in survival to cut the pandemic to manageable levels:
As of Sunday, Sweden had reported 1,540 deaths tied to Covid-19, an increase of 29 from Saturday. That's considerably more than in the rest of Scandinavia, but much less than in Italy, Spain and the U.K., both in absolute and relative terms.

Sweden's Covid-19 strategy may ultimately result in a smaller — albeit historically deep — economic contraction than the rest of Europe is now facing, according to HSBC Global Research economist James Pomeroy.

And while many other countries have introduced strict laws, including hefty fines if people are caught breaching newly minted social-distancing laws, Swedes appear to be following such guidelines without the need for legislation. Trips from Stockholm to Gotland — a popular vacation destination — dropped by 96% over the Easter weekend, according to data from the country's largest mobile operator, Telia Company. And online service Citymapper's statistics indicate an almost 75% drop in mobility in the capital.
As it turns out, this method has performed relatively well and avoided the disastrous economic crash most of the world will inherit: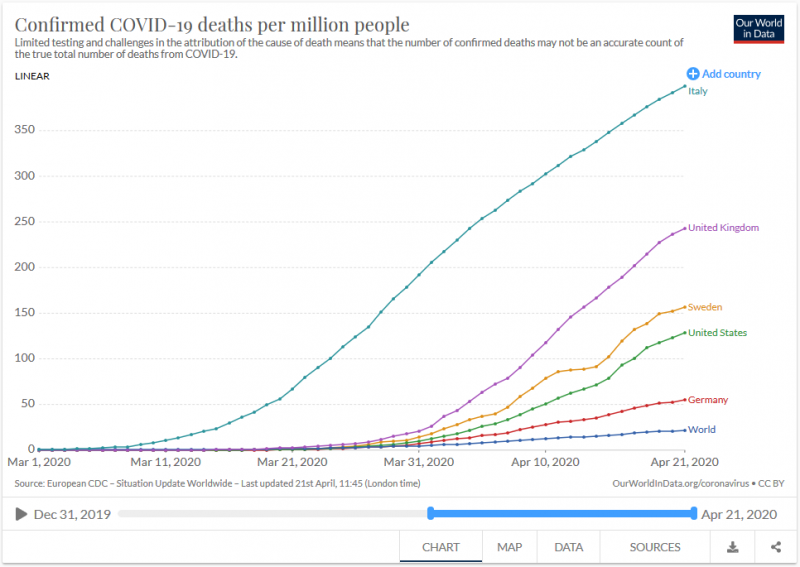 It turns out that much of this has worked because Sweden is a relatively homogeneous high trust society, where people see a reflection of themselves in others, and therefore demonstrate an interest in survival of the group, which makes the Swedish model possibly the best all-around option:
Instead of draconian lockdown, social distancing is a matter of self-regulation. Citizens were instructed to use their judgment, and to take individual responsibility within a framework that rested on mutual trust, rather than top-down control.

We were both convinced that the "Swedish model" could not be exported to countries such as Spain or Turkey, where levels of social and institutional trust are much lower.

In Sweden, the path chosen may be less draconian but it is possibly more demanding, since it shifts the burden from laws and policing to self-regulation.
In other words, instead of government, use culture. High social trust — what Robert Putnam observed that diversity erases — enables groups to be responsible to themselves, and not to require a nanny state reminding them of what to do in any natural disaster like a pandemic.
Even more, it enables them to remain functional in the face of adversity, something that "mall culture" nations of mixed-race, mixed-caste, and a consumer culture driven by the absence of organic culture find difficult.
Would Americans, for example, join together to voluntarily protect each other? Or do we have so little in common that our only response to others getting the disease is, "Well, I'm still fine"? Despite being under assault by diversity, Sweden chose bravery and common sense, and will emerge stronger for it.
In the meantime, the rest of us are left reflecting on the fact that the real virus is equality. With equality you get chaos and diversity making everything worse, and then people depend on a soft totalitarian government to scare them into obedience.
This world never got over the world wars. We are still managed by propaganda, terrorized by media, and kept in a constant state of mass mobilization by economic fears as well as imaginary threats. This alone can keep democracy functional, and explains why people are deserting democracy in their hearts.
Tags: covid-19, epidemic, robert putnam, social trust