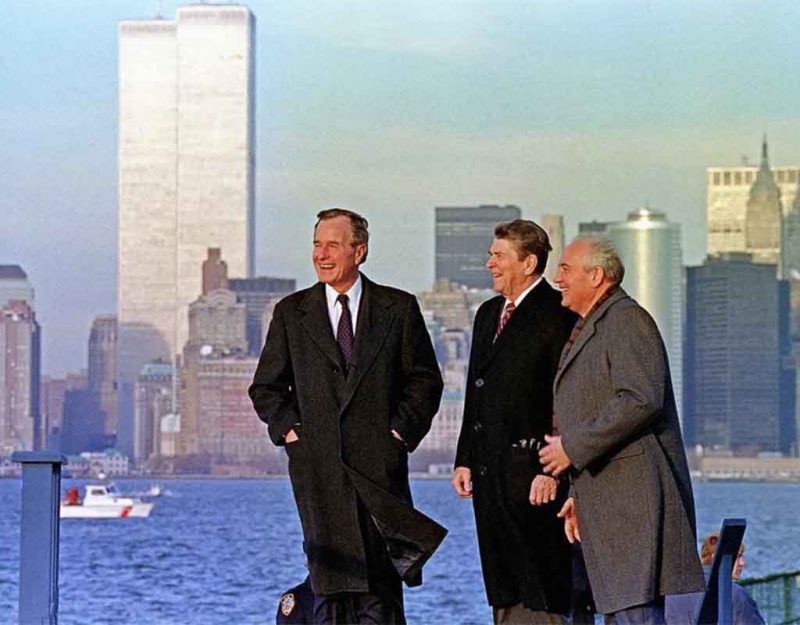 A new world geopolitical direction emerged around 1989 and was declared by Bush senior in 1991. This dispensation was an attempt to usher in a thousand-year peace starting with the fall of the Berlin wall, ending the Angolan war, handing Namibia over to Swapo terrorists and releasing the convicted Nelson Mandela. This was followed up in 1994 by presenting him with a Nobel Peace Prize and a nuclear capable country as a reward for time served.
They called it neoliberalism, or in other words a renewed liberal ideology.  The prefix "neo" indicates a new, young, fresh attempt at liberalism while the opposite would be described as "paleo" liberalism. Some people might prefer the description of "classical liberalism." In the same way it is possible to describe neo-conservativism and paleo-conservatism.
The immediate thought is that a reset in neo-liberalism would indicate a return to classic/paleo liberalism. Well, no. It appears to indicate a desire to repeat or return to 1991. In other words, a "make-over," or as cellphone users might say, "a return to factory settings." The term Leftists use for it is reset, meaning that we start over from where they want us to be, not where history has taken us.
However, it is a bit more complex as usual, because after twenty-eight years, the cellphone is not the same cellphone.
Just like Social Media censors identify narratives they like or dislike, normal people can also identify narratives emanating from the Elites to help them make sense of this chaotic low-trust world.
The term "reset" was taken up by Mainstream Media after Afrikaner billionaire Johann Rupert used it to predict a L-shaped economic recovery for the world.
"I'm very concerned about the global economy, and concerned that many politicians are promising things that are not deliverable," Rupert said on a call. "It's not a pause; it's a reset."
In this same lockdown period, the Prince of Wales launched a "new" global initiative called The Great Reset.
#TheGreatReset initiative is designed to ensure businesses and communities "build back better" by putting sustainable business practices at the heart of their operations as they begin to recover from the coronavirus pandemic.
Although Prince Charles (subsequently echoed by Klaus Schwab of the World Economic Forum and the International Monetary Fund) points to the alignment of investments towards a sustainable nature as motivated by capitalism's success since WW2, he promotes the "build back of better" egalitarian principles exuded by Neo-liberalism.
It is clear from the Elites indicated above, or as we call them, The Establishment, that they are quite happy to continue in place as it were, despite the disasters that has struck and will continue striking society in future.
But the above may be too grand a scheme for street people to relate to, but fortunately, when the Elites speak, we can be sure to pick the trail up downstream. One example is from the Minister of Finance  in South Africa stating (out of the blue) his desire for a "zero-based budget."
So what is a zero-based Budget? In essence, this Budget initially has no amounts set aside for any government department. Each department needed to itemise what they want to spend with a justification for its need. It is then scrutinised to see if it is essential, and is then either approved or denied by the minister.

In the past, the Finance Minister used the Budget from the year before, and each department was given an amount of money that they could then allocate as they saw fit.

This time, no one will receive more than they've asked for. It will also help prevent wasteful and irregular expenditure, as each department will only be given the money they have proven is essential.
Business people are generally aware of zero-based budgets since it is a standard procedure to reduce risks building up over time. Most companies or projects will use this technique every three years, but it is apparently unheard of in the public sphere. This gives the impression that by a "reset" to the old trusted, "proper" ways of classic/paleo-liberalism, everything will be sorted.
But, no. The neoliberal vision of the future is a world without borders filled with cities. Their cellphone still has the factory setting towards a future of smart cities.
This Vision of future Cities populated with economic units otherwise known as humans, has been an IBM marketing stunt for 12 years. This is now also being taken up by the Elites to market their Great Reset. One example is a couple of economists predicting the far future some 400-600 years hence saying "density is destiny" which reminds us of the paleo-liberal expression demography is destiny. But the fresh new insight they reveal now is that bunching up people will eventually be a good thing.
If we look around the world today we see that the places with the densest populations, such as China and India, are poor. But in the long-run of history that doesn't make sense. As Paul Romer, and others, have emphasized, ideas are the ultimate source of wealth and more people means more ideas. As a result, innovation and GDP per capita should be higher in places and times with more people. The fact that China and India are poor today is an out-of-equilibrium anomaly that happened because they were slower than the West to adopt the institutions of free markets and capitalism necessary to leverage ideas into output. China and India weren't relatively poor in the past, however, and they won't be relatively poor in the future. With that in mind, a key long-run prediction of Desmet, Krisztian Nagy and Rossi-Hansberg becomes clear. If people are not allowed to migrate then the places that are densest today will not only equal the West, they will overtake the West in innovation and productivity.
Linking these downstream expressions with Prince Charles is visible in the June 2020 article from the Lincoln Institute.
Other organizations including the World Economic Forum are promoting the idea of "building back better" as the world copes with the repercussions of the COVID-19 crisis. Setting the bar higher will mean confronting persistent and pernicious problems in our cities. It will also mean building on the strongest physical assets of those same cities: walkable, mixed-use environments served by transit and mobility systems other than private vehicles. "Smart density and the agility and creativity of cities is what's going to allow us to not just get through this health crisis, but emerge with a more equitable, healthy environment," says Schaaf.

Resilient cities will recover from this crisis, and density—adjusted as it must be to ensure greater accessibility and affordability for all— is sure to be a critical component. "Americans have always had a love-hate relationship with cities and an aversion to density, so it's no surprise that spreading out would be considered an appropriate response to this moment," Campoli notes. "But in the long run, proximity is essential for healthy communities and the environment. We aren't planning to give up on the essential activities that sustain us."
In summary, the great reset intends to wipe the famous neoliberal slate clean of previous mistakes because now we know "better"? And pushing the world into a conglomeration of borderless cities is the neoliberal opportunity?
But then, I am just a realist and to me humans are not just economic units.