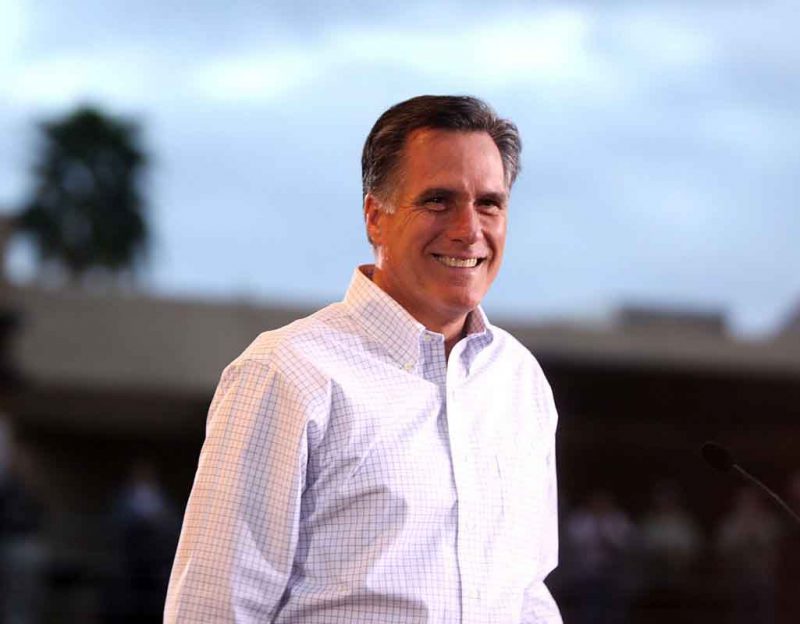 People exist without a point. According existentialist philosophers, existence precedes essence. Sometimes, such as in the case of Senator Mitt Romney, that existence can proceed for several decades before anything even remotely resembling essence bursts into being. Mr. Romney not only exists without a point, but he has also risen to prominence while lacking a gravamen. He not only lacks a point, he also seemingly hates the very concept of any moral coherence.
The man sees his why in the mirror in the morning and then it goes no further than that. He exists to serve himself copious helpings from life's buffet. He does so with no concern over whether he appears to be selfish or conniving. Selfishness perhaps cannot register to the solipsistic. Here is Mitt Romney getting out of The Vietnam War during his youth. Religion and academics, at the time, were more important.
At Stanford, Mr. Romney was exempt from the draft, holding the 2-S student deferment then given to most undergraduates. He kept it but one year; like his older brother, Scott, Mr. Romney left Stanford early to serve for 30 months as a missionary abroad, as is customary for devout Mormon men. During that period in France, from 1966 to 1968, he held another draft exemption as a missionary…

Then there was the question of his children's service to Amerika.
"The good news is that we have a volunteer Army and that's the way we're going to keep it," Romney said. "My sons are all adults and they've made decisions about their careers and they've chosen not to serve in the military and active duty and I respect their decision in that regard. One of the ways my sons are showing support for our nation is helping me get elected because they think I'd be a great president," he added.

What.A.Scumbag.
So maybe Mitt could redeem himself a notch. His President, Donald J. Trump; has offered him a profound opportunity. It seems that Mr. Trump has plans on ending the double-odyssey war in Afghanistan for Amerika's military personnel.
This would even jibe well with what Senator Romney had to say later about Vietnam. This war, he claimed; was pointless and far less ennobling than gobbling up big box retailers with his buddies at Bain Capital. So what then does Senator Wrongney have to say when President Trump announces a draw-down from The Opium Den?
Sen. Mitt Romney of Utah thinks that the U.S. needs to keep troops in Afghanistan and Iraq, stating that even after 20 years of a military presence there, "conditions for withdrawal have not been met. The decision to withdraw our troops from Afghanistan, Iraq, and potentially elsewhere should not be based on a U.S. political calendar," Romney said in a statement. "The Administration has yet to explain why reducing troops in Afghanistan—where conditions for withdrawal have not been met—is a wise decision for our national security interests in the region."

It's almost like the dominoes will fall without us being there until forever. Maybe he can tell us what The Gulf of Tonkin Resolution has to say on the matter. Perhaps Boeing and Lockmart would have balance sheet issues if we disengaged from managed homicide in some sort of a reckless manner. He's never feared or disliked a conflict he will have no possible role in. Other people's kids; not his, can be fed through the grinder like a cheaper grade of beef.
He is loathsome. He hits bedrock and somehow manages to keep tunneling. He's in no way Anti-Amerikan while his country can still do nice things for him. He is Mitt Wormney and truly represents the sort of loathsome creature democracy just couldn't kill us without.
Tags: cucks, mitt romney, neoconservatives, RINOs