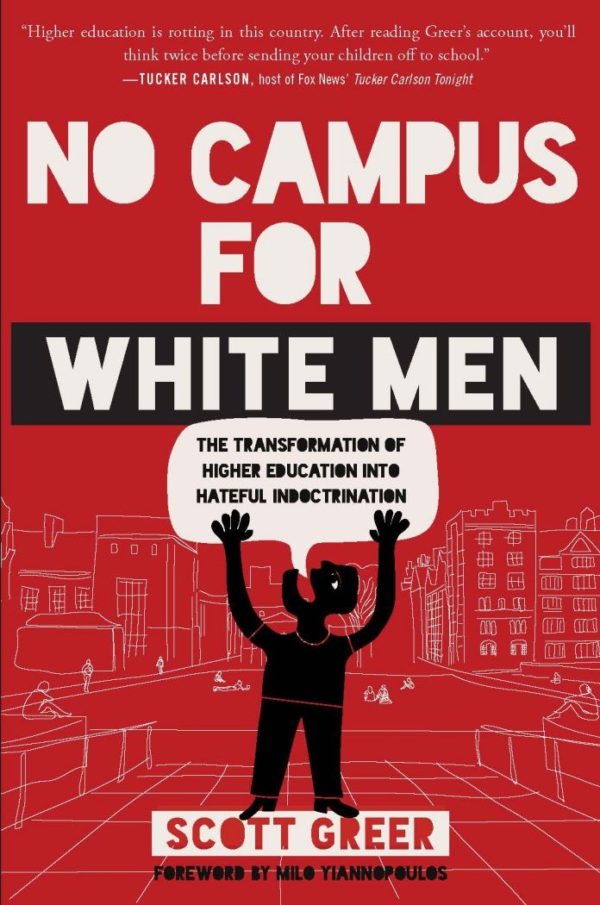 Scott Greer
No Campus For White Men: The Transformation Of Higher Education Into Hateful Indoctrination
192 pages, WND Books, $12 (2017)

As the new millennium dawned, it became clear that a sea change in attitudes among the people of the West was underway. While in the long term this seems to be a shift from bureaucratic and artificial societies to more organic and hierarchical ones, the rising battlefield presented political correctness as a target of opportunity because in recent years, it has been the primary weapon of the Leftist takeover of Western Civilization.
This phenomenon has become most visible on the campus, where a new cadre of seemingly all-powerful student groups are demanding — and winning — increasing concessions from school administrators, usually because no one wants to appear to be allied with horrible racists, sexists and classists in our increasingly Leftist cultural milieu. Scott Greer tackles this topic with a book written for everyday conservatives but which applies the wisdom of the underground right through a careful recounting of the events leading to this new norm.
Greer begins by diving into the most recent events at universities which show the insanity of political correctness, then explores related fields in race-based politics and false rape accusations, then delves deeper into the theory and political goals of the PC movement. In doing so, he points out that PC does not aim toward positive goals, but negative ones, namely shattering the power of white people, conservatives, realists and other non-Leftists in the university setting.
In other words, it is a classic power grab through public shaming of dissidents — but in this case, your skin is your uniform, and you can be a dissident through simply failing to agree with what the PC overlords say; actively opposing them is not necessary. By implication and revelation of a conspiracy of details, Greer unveils the fundamentally Soviet nature of Political Correctness.
What's happening at campuses is not an isolated affair — it is a result of what is happening in America as a whole. The sense of shared values and culture among Americans is vanishing rapidly, at the same time many feel isolated from their communities and families. Mass immigration has dramatically altered our country's demographics, while multiculturalism has created a confusing landscape of competing visions for what it means to be an American. Many citizens see our national society as one of millions of alienated atoms living in a continental strip mall, not interconnected denizens living happily together in one proud country.

Thus, they turn to alternative forms of identity. A real American identity — one not entirely composed of platitudes about "equality and opportunity — is becoming a thing of the past. The ones who cling to it, as evidenced by Hillary Clinton's and the press's treatment of Donald Trump's supporters, are considered racist buffoons who need to die off. The momentum of the present is veering toward tribalism, not unity. And the only thing keeping all the tribes of the Left unified right now is their shared animosity toward whites. (159)
We can see Greer's thesis here: the success of the Left in advancing class warfare and multiculturalism has destroyed any unifying sense of culture, and so groups are going their own way, which has fragmented the Left, requiring that it cook up a new enemy in order to unite its ranks, and it has chosen "privilege theory": because white people have "privilege" in historically-white societies, they are the only ones who can be racist, and therefore — by implication, of course — the only way to end racism is to eliminate whites.
This is a more complex analysis of the "anti-racism = anti-white" meme that has been floating around, but Greer is correct go into the nuance because it reveals how Leftism is a kind of inertia which by destroying existing social order, creates conditions under which it has no choice but to explode like a supernova and become fully totalitarian. The success of the Left is its actual enemy, but it needs a scapegoat, just like the Communists needed kulaks and the Nazis needed Jews.
By taking this balanced approach, Greer avoids tackling the historical questions which at this point are so muddied by centuries of political fighting that there is no way to even approach them in an unbiased manner, and instead looks at political correctness the way a sociologist would. Increasing Balkanization of the West means the need for a scapegoat, and PC found it in white men.
In order to reach this point, the book narrates some of the recent history of political correctness, including various incidents which — when removed from the context of the Leftist media — stand out as appalling. Even though to those of us who recognize a consistency in Leftist behavior from the French Revolution to the Soviet Union, the blatant inversion of concepts such as "fairness" and "equality" into persecution of those who do not need these things shows us the human animal at its worst: a snarling beast, enraged that any may succeed, thus demanding that all be brought down to a lower level through the social power of the word "equality."
The most important thing to remember is that the favored form of diversity isn't necessarily "the state of having people who are different races or who have different cultures in a group or organization," as Merriam-Webster would put it. Diversity in today's America simply means having fewer whites around. Segregation, such as universities having racially exclusive dorms and events, is great as long as that racial exclusion doesn't mean "white only." An all-black dorm is a sign of diversity, but an all-white fraternity is a sign of Jim Crow. That double standard is easier to understand once you think of higher education's commitment to ethnic diversity as not one upholding the strict definition of the term. (16)
No Campus For White Men: The Transformation Of Higher Education Into Hateful Indoctrination maintains a thoroughly professional view of the situation, avoiding partisanship as much as possible, in order to dig far enough into the headlines to see the motivation behind political correctness and how it is being applied, which ordinary people will not hear from the media or from a single source.
Greer uses an investigative journalism approach. He begins with a single incident, then digs into similar incidents, then looks at the parties involved and their statements, and contrasts these to public statements made by schools and organizations. In doing so, the reader can witness the application of the theory sliding away from the theory as time goes on. The cognitive dissonance effect is erased through this method.
While No Campus For White Men uses a provocative title, it is in fact a mild book, with flashes of humor and cultured alertness to the actual goals of institutions versus what they have become scattered throughout. It makes for a quick read and a good refresher on the politically correct disasters of recent years. For any reader from innocent novice through cynical veteran, this book provides a cornerstone of a practical attack on PC culture.
Tags: academia, Books, education, no campus for white men, political correctness, race, racism, scott greer