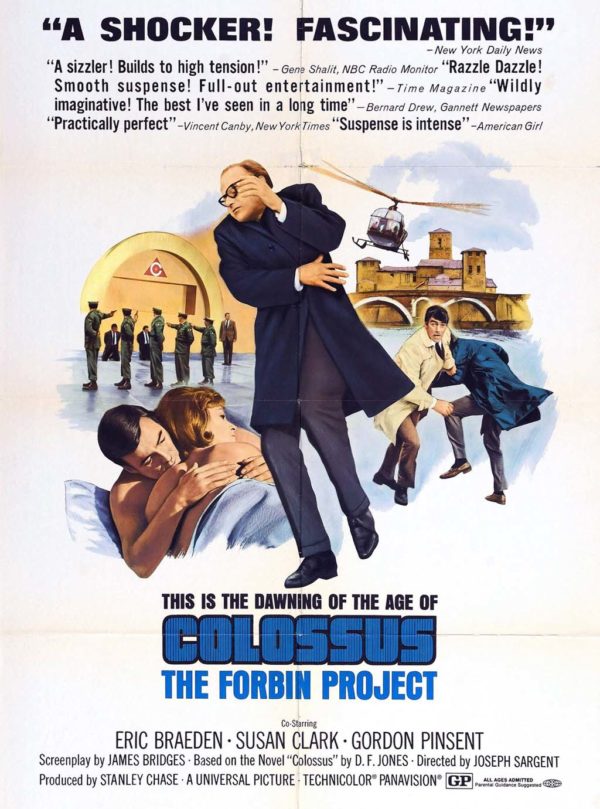 Presaging compupocalypse films like War Games and Hackers, and possibly prescient about the problem of Silicon Valley, Colossus: The Forbin Project revealed to us the problem of too much logic, following in the lines of Frankenstein, the only book mentioned in the film. The questions it raises remain relevant to us today.
Dr. Charles Forbin, a brilliant scientist, creates a massive computer which can teach itself through heuristics, making it nearly self-aware. Designed to be so logical and omniscient that it would prevent attacks on the United States, this machine is given control of the American nuclear stockpile and access to television, radio, and telephone signals.
It quickly detects that the Soviets have made a similar machine and interfaces with that machine, forming one giant digital brain that quickly asserts control, aided by video cameras and its ability to process public information and make conclusions from it, determined to save humanity from nuclear war. But the humans will not like its methods.
Presaging other omniscient computer overlords from books like The Moon is a Harsh Mistress and later television programs like Person of Interest, Colossus: The Forbin Project plays into our fears of being illogical in a world where some of that illogicality is not only necessary, but pleasurable. If we did everything right according to a genius calculator, we might have fewer problems… but also might lose our souls.
The film starts slowly, which usually indicates an unfinished ending because it never gets to the meat of the story, and for book-readers, that might well be the case. We want to learn more about this machine and what it knows. That does not translate well to the screen, however, and so the screenwriters did their best to make an interesting film where half of the dialogue is between a digital voice and increasingly irate scientists.
Where this film triumphs is in the character of the computer: literal, logical, and relentless. Revealed to us through teletypes and computer screens for the most part, the machine develops the rudiments of a personality, which drives the story along like a mystery. Aided by some truly magnificent sets, excellent acting and many subtleties in the human characters, the movie picks up the pace and becomes engrossing.
As we stagger into the twenty-first century with a similar battle where logicality seems too unrealistic, and yet human illogicality is too animalistic, this movie raises questions that will return repeatedly in the future. It may be possible, it hints, to be too logical, and the end result of that will be a type of existence we will find appalling.
While the headlines are full of attempts by Google, climate change scientists and the media trying to force us to do what is "right" even though it is clearly wrong in the bigger picture, the staggeringly brilliant and unrelenting machine from Colossus: The Forbin Project may well be a metaphor for our time and the challenge to us to exceed it.
Tags: digital overlords, google, hacking, movies, paranoia