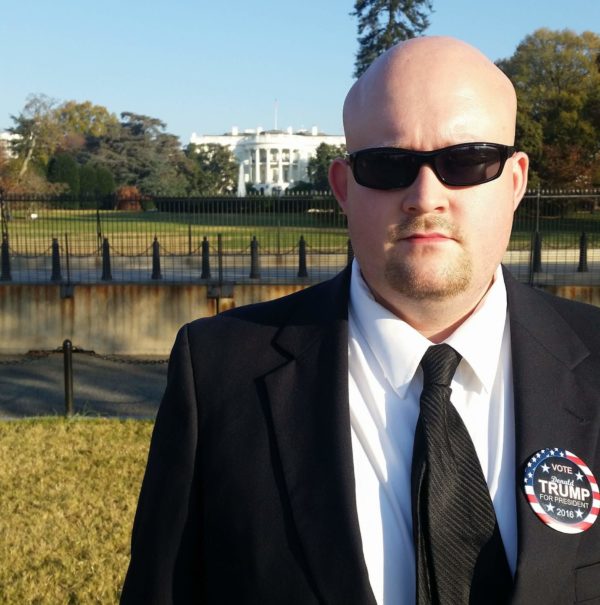 When you live under a control-based regime, your brain longs for accurate depictions of reality, because almost everything you encounter is propaganda, whether advertisers trying to trick you into buying useless products, chatty acquaintances pimping their bands and lifestyles, or outright ideological mental viruses beamed into your head by media, government and academia.
Back in the day, many of us encountered a site called In Mala Fide whose author was notoriously pseudonymous, and since that time those who thirst for pragmatic realism have followed the work of Matt Forney, an incredibly talented writer with whom we are pleased to present an interview that must have taken no short amount of time to complete. Please join me in extending a big thank you to Matt Forney, and reading his very deliberate words with a sense of intellectual curiosity.
You have been active for nearly twenty years as a writer, moving from a Men's Rights direction to a more Alt Right perspective and now, sort of choosing your own path. How did you get into writing, and how did these different outlooks lead to one another and to where you are now?
I got into writing back in 2009 due to persistence and luck. At the time, I was graduating college and moving into an unrewarding civil service job, as well I was coming off a couple of crises in my personal life. I'd spent the past three years obsessively reading books on politics, sociology, and philosophy, and I also followed proto-manosphere/proto-alt-right sites such as Steve Sailer's blog, Taki's Magazine, Roissy in DC, CORRUPT.org and others.
I started a blog called In Mala Fide mainly to vent and talk about the ideas I'd learned about and thought up. I'd attempted to start blogging before several times but gave up because I wasn't able to earn an audience. With In Mala Fide, I struck paydirt: I didn't just earn a large audience (peaking at 50,000 unique visitors a month), but an intelligent one, one that was able to help me grow and mature as a thinker and a man. Some of the people I encountered online during that period have become close real-life friends of mine. The site has also been acknowledged by many as a formative influence on the manosphere and alt-right.
I transitioned to writing under my real name in 2012 after reading Jack Donovan's The Way of Men and realizing that I would eventually have to stop being a pseudonymous shadow if I wanted any credibility. I was also tired of the "Ferdinand Bardamu" pen name and wanted to take my writing in a different direction. Since then, I've gone through several different focuses, from travel writing to sex to anti-feminism to political journalism to morality and ethics.
With regards to the different outlooks I've had over the course of my writing career, I've always been good at studying and synthesizing different viewpoints — men's rights, white nationalism, etc. — to see the merit in them. In the In Mala Fide days, I had an excessive amount of free time at my job and spent it reading blogs and websites (because reading a book at my desk would get me in trouble), and would link to interesting stuff on my blog on a weekly basis. At NPI's fall conference two years ago, a reader of mine told me that my weekly roundups of manosphere and white nationalist/alt-right articles were a big influence in driving the growth of the alt-right, because they helped connect segments of the Internet that had overlapping ideas but little contact.
Can you tell us what your worldview is comprised of today? What are your philosophy, religion, political direction and general existential outlook?
I describe myself as a nationalist, full stop. Labeling in the social media era is more about group identity and posing than actual belief: for example, see how "alt-lite" personalities like Paul Joseph Watson used to describe themselves as "alt-right" when it was fashionable, then dropped the branding after the Heilgate incident. The same can be said for anime-watching teenagers who claim to be "alt-right" despite also being Satanist furries or whatever (and claiming I'm not "truly" alt-right even though I started writing before they entered puberty). I describe myself as a nationalist (or more generically as "right-wing") because it encapsulates my beliefs — white identity, ethnic pride, putting family and nation first — without the baggage that other labels such as "alt-right" have accumulated.
Economically, I have libertarian leanings, but libertarianism as a complete ideology is unworkable because it cannot address the fact that our world is already post-capitalist, as James Burnham described in The Managerial Revolution. It's because of managerialism that corporations are now enforcers of leftist orthodoxy and Silicon Valley has done an end-run around the First Amendment: big business and government are essentially fused at the hip. At the same time, I'm utterly opposed to socialism, because socialism breeds weak people who are more focused on anal sex and smoking pot than being productive, which is obvious to anyone who's spent time in a left-wing area.
I used to consider myself an agnostic or apatheist, but I've gradually warmed to Christianity for many reasons, one of which is its importance as a unifying force in European and American life. I've realized over the past year that a large amount of whites' problems are self-inflicted, due to our fixation on pleasure and comfort above all else. It's evident in the mass acceptance of homosexuality, transsexuality, and the 31 flavors of gender in white countries, evident in our cowardly rationales for mass immigration (we "need" immigrants because whites can't be bothered to have children to prop up failing social welfare programs with their taxes), it's evident in the way we stick our heads in the sand when the third-world immigrants we import openly hate us and try to kill us.
While the churches of the West have become deeply corrupted (as evidenced by an Argentine communist becoming pope), it's also true that the only white countries that are actively resisting globalism — such as Poland and Hungary — are overly Christian ones. Atheism is a social experiment that has failed miserably. Ultimately, I believe that a shift towards right-wing and nationalist politics is insufficient on its own to preserve white and European societies; some sort of spiritual revival needs to occur in order to stem social decay. The events of the past two years have (depressingly) borne my predictions out.
As I've gotten older, I've also become more comfortable in admitting that I don't know as much as I thought I did. Young people are always overconfident in their knowledge and abilities: I can't look back on some of my In Mala Fide-era writing of mine without cringing a little. This overconfidence is driving a lot of dysfunction in the alt-media (my term for non-mainstream right-wing commentators, including the alt-right and alt-lite) landscape, as people make snap decisions based on incomplete information. For example, see Richard Spencer's completely pointless and unnecessary anti-war protest in the wake of President Trump's Syria strike in April. It's because of this that I've pulled away from commenting on day-to-day politics.
Did you always want to be a writer, and how did you break into writing professionally? If you could do it again, would you do anything differently?
I've obsessively written privately since I was a kid — journal entries, short stories, the like — so expanding into blogging and online writing was a natural extension of what I was already doing. As Jim Goad put it, "If I don't work, I'll starve. If I don't write, I'll die." I started out in college as a journalism major primarily because I wanted to write: a really dumb move, and I ended up transferring out of the program a year later after uncovering widespread plagiarism among my colleagues.
While I switched to majoring in English after that, most of my important writing experience and work came from studying and reading on my own and networking with like-minded people. I spent most of my teenage years reading books by the likes of Philip K. Dick, Hunter S. Thompson and Charles Bukowski; it didn't help my sad social life, but it paid off as an adult because I knew what separated good writing from bad. I also owe a great debt to Mark Ames and John Dolan; as dumb and pathetic as they've become, they were my gateway to understanding the mechanics of good writing and honest journalism.
If I were to do anything differently, I'd have studied how to monetize my writing much earlier. I started In Mala Fide basically as a hobby, and had I figured out how to make money doing it sooner, I'd have been able to get my career going earlier. Alternately, I would have skipped going to college entirely, or majored in something useful like engineering.
You had quite a following as "Ferdinand Bardamu," but changed direction to write under your real name. What encouraged you to go in that direction? Did it coincide with your desire to write about more than manosphere themes?
As I mentioned above, three years into In Mala Fide's existence, it felt like I had outgrown the "Ferdinand Bardamu" pseudonym. I started the blog during a time of upheaval in my personal life and it felt like I was being forced to write in a voice that was no longer authentically mine. To paraphrase my friend Trevor Blake, when you need to cross a river, you build a bridge, but you don't take the bridge with you when you get to the other side. I didn't feel the need to keep using a name that was tied to a period in my life that was ancient history by that point.
Moreover, while I recognize the value of pen names (and encourage anyone who wants to write in this day and age to use one), the danger with them is that you can develop an unhealthy divide between your private and public lives. Internet anonymity has the side effect of encouraging defective personalities to develop elaborate fantasy lives in pursuit of narcissistic supply. See: all the manosphere dweebs who brag about "spinning plates" and having multiple LTRs, yet still have time to post on r/TheRedPill twenty times a day. When people like this get doxed, it usually ruins their lives, because the gulf between what they claim to be online and who they are in real life destroys their credibility.